Description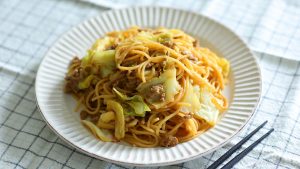 ---
---
Instructions
Cook spaghetti in salted boiling water by following the directions of the package you are using.
Meanwhile, mix miso, mirin, soy sauce, garlic, and pasta water in a mixing bowl and set aside.
Heat a large skillet over high heat, add cooking oil; add ground meat, cabbage and pinch of salt. Cook until pork is fully cooked and cabbages are soften, about 3 to 4 minutes.
Add the sauce mixture. Mix everything real quick then add the spaghetti and butter. Toss everything together. Transfer to a serving plate and serve immediately. Enjoy!