Description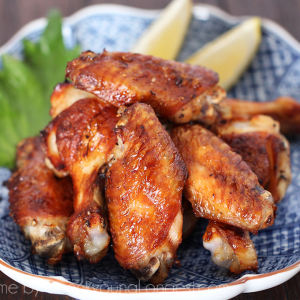 ---
---
Instructions
In a large mixing bowl, combine chicken wings and sake. Make sure sake is cover chicken wings completely. Set aside and let it sit for 15 minutes. Half way though time, toss upside down so chicken wings will marinate evenly.

Place a wire rack(cooling rack) on a baking pan. Pat dry chicken wings with paper towels, and place on a wire rack lined baking pan skin side up. Let them at least 1/4-inch to 1/2-inch a part so they can air through to be crispy.

Season wings with generous amount of sea salt and freshly ground black pepper and flip it over, season the other side- now, chicken wings skin side is down.

Broil chicken wings 10 minutes and then flip them over- now chicken wings skin side up. Broil another 10 minutes or until chicken is fully cooked, golden and crispy.

Serve warm with shichimi togarashi and lemon wedges to taste! Enjoy!

Prep Time:

15 mins

Cook Time:

20 mins