Description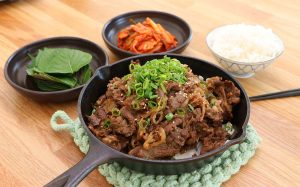 ---
3 tbsp

soy sauce

2 tbsp

mirin

2 tbsp

sugar

1 tbsp

sesame oil, plus more for garnish

1 tbsp

sesame seeds, plus more for garnish

1

lb thinly sliced beef, such as ribeye, chuck or skirt steak

1

large onion, sliced, divided in half

5

to

6

cloves garlic, chopped

3

green onions, 3/4 from the bottom – cut into halves in lengthwise then cut into

2

-inch long pieces. Chopped the rest of the dark green part.

2 tbsp

cooking oil
---
Instructions
Combine soy sauce, mirin, sugar, plum extract, sesame oil and sesame seeds in a mixing bowl.
Add beef, half of the onion, garlic, and long strip green onions. Mix well with your hand and marinate for 30 minutes to over night in a refrigerator.
Heat a large skillet over high heat, add 1 1/2 tbsp cooking oil and swirl to coat. Add marinated beef and cook until beef is fully cooked about 7 to 9 minutes. Stir occasionally. Remove from heat.
You can serve this bulgogi right away on a serving plate, but if you want to be a little bit fancy, go ahead and bring a small cast iron pan and heat over medium high heat. add 1/2 tbsp of remaining oil and the rest of the sliced onion. Place bulgogi right on top of the onion and garnish with sesame seeds, sesame oil and the green onion that we chopped earlier.
Serve with warm cooked rice, kimchi and lettuce wrap if you desire! Enjoy!