Description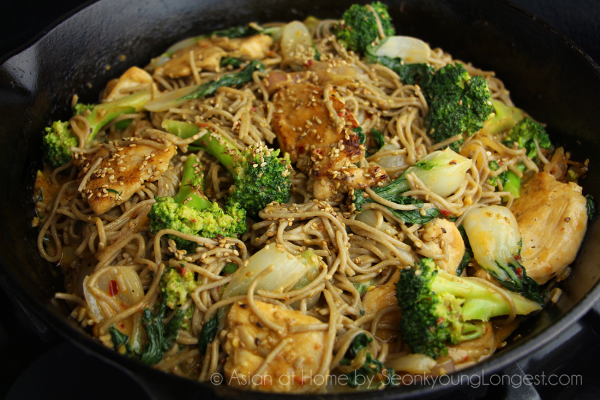 ---
For the Creamy Spicy Sesame Dressing
2

Tbs. tahini

3

Tbs. mayonnaise (possibly Japanese Kewpiebrand)

2

Tbs. soy sauce

2

Tbs. honey

2

Tbs. sesame oil

1

Tbs. rice vinegar

1

Tbs. sesame seeds, plus more for garnish

1/4 cup

dashi stock (you can substitute to chicken stock)

2

Tbs. sambal

2 tsp

. chopped garlic
For the Vegetables & Soba
6 oz

. broccoli

10 oz

. baby bok choy

1

shallot

1

Tbs. salt

2

bundles soba
For the Chicken
1

boneless & skinless chicken breast

1/2 tsp

. salt

1/4 tsp

. black pepper

1

Tbs. cooking oil

1 tsp

. sugar
---
Instructions
In a mixing bowl, add all ingredients for creamy spicy sesame dressing and mix well with a whisk. Set aside.

Bring a large pot of water to boil. Meanwhile, wash and cut broccoli and bok choy into bite sizes and slice shallot thinly.

Into boiling water, add 1 Tbs. salt and add soba. Cook soba following directions of package you are using. During last minute of cooking soba, add broccoli and bok choy into boiling water. Cook all of them together for 1 minute.

When soba and vegetables are cooked, drain and rinse under cold water to stop cooking process and get rid of starch from soba. Drain well, set aside.

Slice chicken about 1/4-inch thin and season with 1/2 tsp. salt and 1/4 tsp. black pepper.

Heat a large skillet- such as cast iron pan over medium high heat; add cooking oil and sprinkle sugar evenly. Let sugar caramelize and dark brown, about 5 minutes. Be careful not to burn too much. Swirl pan as needed.

Place chicken slices on skillet where caramel is on bottom. Cook chicken 2 minutes and flip over, cook another minute and add sliced shallot. Sauté all together about 30 to 45 second.

Pour dressing we made earlier (make sure whisk right before you pour into skillet, honey is probably sinked in bottom of mixing bowl) and stir. Bring dressing to a light simmer then reduce heat to low and add drained soba and vegetables.

Toss everything together until soba and vegetables are coated evenly with sauce. Remove from heat and sprinkle extra sesame seeds for garnish.

Serve immediately, enjoy!

Prep Time:

15 mins

Cook Time:

25 mins