Description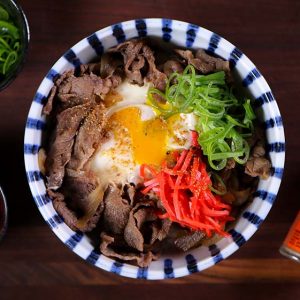 ---
1

Tbs soy sauce

1

Tbs sugar

2

Tbs mirin, seasoned rice wine

2

Tbs sake, rice wine

1/2 cup

dashi broth

2

slices ginger

4 oz

onion, sliced (approximately

1/2

of medium size onion)

8 oz

thinly sliced beef (I recommend sirloin, new york strip or ribeye)

2

eggs

2 cups

rice
benishoga, shredded pickled ginger
chopped green onion
---
Instructions
In a large skillet, combine soy sauce, sugar, mirin, sake, dashi and ginger. Cover and bring it to boil over high heat. Let it boil for 1 minute so alcohol will evaporates and flavor will combine.

Reduce heat to medium high. Add sliced onion, cover and simmer for another minute.

When onion is soften, remove ginger slices. Add thinly sliced beef and spread evenly on skillet. Stir occasionally so beef will cook evenly.

minutes later or when beef is 3/4 way cooked, it will still be a little pink. This is time to add egg. I recommend you to crack eggs in a small bowl then pour into skillet, so there is no chance egg shell can get into gyudon. Cover and simmer for 1 minute for runny yolk, 2 minutes for medium cooked egg or 3 minutes for fully cooked egg.

Serve in a bowl, on top of rice. Garnish with pickled ginger, chopped green onion and sichimi to your taste. Serve immediately and enjoy!