Description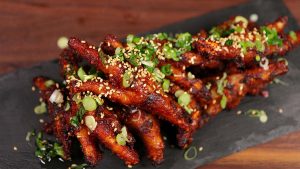 ---
For the Chicken Feet
For the Sauce
3

cloves garlic

3

small chunks ginger

1

to

9

Thai chili (as many as you wish, it's optional.)

1

Tbs soy sauce

1

Tbs mirin

1

Tbs oyster sauce

1

Tbs sugar

1/4 tsp

black pepper
For the Garnish
sesame seeds
chopped green onion
---
Instructions
Cut chicken feet nails one by one using a pair of kitchen scissors.

In a large mixing bowl, combine nail-less chicken feet, coarse sea salt and soju. Give them a good massage for about 1 minute. Let it sit in same liquid for 10 to 20 minutes, then drain and wash in cold water at least 3 times.

Bring water to boil in your steamer pot or a wok. Place a steamer liner on steamer and gently place clean chicken feet on top of steamer liner. Cover with a lid and steam for 1 hour or until chicken feet is fall-off-bone tender.

Meanwhile make sauce by blending all ingredients for sauce in a hand blender. Set aside.

Remove chicken feet form steamer and toss in sauce while it's still hot so it will absorb flavor well. Use plastic glove if you're using hands or a spoon.
Cover and let it cool completely in a refrigerator at least 2 hour to overnight.

At this stage, you can choose either grill, broil or stove top cooking. Either way, all you need to do is cook them 4 to 5 minutes each side over medium high heat, (For stove top, please use a little bit of oil.) until they are reheated completely and have some char around edges.

Transfer to a serving plate and garnish with sesame oil, sesame seeds and chopped green onion. Serve immediately and enjoy!

Prep Time:

20 mins

Cook Time:

1 hour 10 mins