Description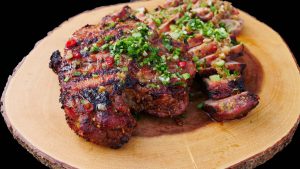 ---
Scale
Ingredients
For The Marinade
1

large lemongrass, finely chopped (approximately

1/3 cup

)

4

Thai chili, chopped

8

garlic cloves, chopped

2

small shallots, finely chopped (approximately

1/2 cup

)

1/4 cup

fish sauce

1/4 cup

sugar

1 tsp

black pepper

2 Tbsp

vegetable oil
For the Pork and Garnish
2

pieces of 1lb bone-in pork center loin, 1 1/2-inch thick
Chopped cilantro and green onion
---
Instructions
In a glass jar, combine all the ingredients for the marinade and close the lid to shake it.
Pour half of the marinade on a baking dish and place pork loin and pour rest of the marinade, move around the coat it evenly. Cover with a plastic wrap and marinate for over night. You can do this in a plastic bag as well.
Heat a grill over medium heat (You can just cook it on a stove top or indoor grill too, follow the same directions). Scrap off the marinate from the pork and place the pork on the grill. Cook the pork until 145 degrees inside and nicely chard outside, about 10 to 12 minutes each side. I highly recommend to use meat thermometer.
When it's done cooking on the grill, remove from the heat and let it rest for 3 minutes.
Meanwhile, we are going to cook the marinate. Pour all the marinate in a sauce pan with 2 tablespoons of water. Bring it to boil over high heat and let it hard boil for 1 minute. Skim all the scums as you go,
Slice the pork chop and pour the sauce right on top. If you like to, garnish with chopped cilantro and green onion. Enjoy with a warm bowl of rice!
---