Description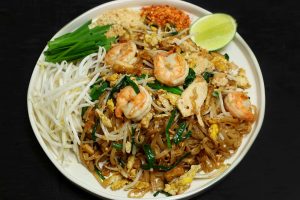 ---
8 oz

semi-fresh rice sticks or

4 oz

dried rice sticks


1/2

boneless skinless chicken breast, sliced thinly

3

to

4

oz large/jumbo peeled & deveined shrimp

3 oz

pressed, fried or extra firm tofu (If you are using extra firm tofu, wrap with paper towel to get rid of excess moisture)

1/2

shallot (approximately 2 oz)

2 oz

Thai preserved sweet radish (approximately

2

Tbs)

2 oz

garlic chives, plus more for garnish

4 oz

beansprouts, plus more for garnish

1/4 cup

roasted peanuts, plus more for garnish

2

eggs

3

Tbs cooking oil, plus more if needed
Lime wedges
For the sauce
---
Instructions
Soak dried rice sticks into warm water for 10 to 15 minutes until soften and drain completely. If you are using semi-fresh one, skip this presses.
Chop shallot and preserved sweet radish finely. Cut tofu small bite sizes and chive into 2-inch long pieces. Chop roasted peanuts finely. Set all vegetables a side.

In a mixing bowl, combine all ingredients for sauce and mix well until tamarin and sugar has dissolved.

Heat a wok over high heat and add 1 Tbs of cooking oil; add slicked chicken and shrimp and cook until they are 3/4 way cooked and golden edges, about 1 minute each side. Remove from wok and set aside.

In same wok, add 1 Tbs cooking oil; add tofu and cook for 1 to 2 minutes or until golden edges. If you are using extra firm tofu, cook a little longer to get more harden outer skin- that will prevent from breaking.

Add hopped shallot and radish. Stir fry everything together about 1 to 2 minutes. Add noodles and sauce we made earlier. Stir fry until noodle observed sauce completely and no more liquid on bottom of wok, about 2 to 3 minutes. If your noodles are cooking slowly, add more water 2 Tbs at a time. If your noodles are sticking together too much, add 1 Tbs oil at a time.

Push everything to side of wok to make room for eggs. Add a bit more oil and crack 2 eggs right into wok. Don't scramble yet, let them cook half way though. Then break yolks and start scramble. This way you will have nice egg bites. Now mix scrambled eggs and noodles together by tossing and stirring.

Now add beansprouts, garlic chive, peanuts, chicken and shrimp. Toss everything together for about 1 minutes. Remove from heat and transfer to a serving plate.

If you like to serve with extra fresh beansprouts, garlic chive, chopped peanuts, dried Thai chili powder and lime. Enjoy!

Prep Time:

15 mins

Cook Time:

11 mins