Description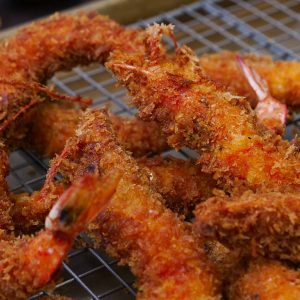 ---
12

to

15

Whole 30/40 head on shrimp or

23

to

25

smaller head on shrimp
salt
black pepper

1/2 cup

all propose flour

2

eggs

1 1/2 cup

panko bread crumbs

1 tsp

garlic powder

1 tsp

onion powder

1 tsp

gochugaru, Korean red pepper flakes

1 tsp

turmeric
Frying oil
---
Instructions
Peel the shrimp only the body part and leave the head and the tail. Cut the eye, spiky part of the head and from the between tails using a pair of kitchen scissors. Using a toothpick or a bamboo skewer, carefully remove the "vein". Season the shrimps lightly with salt and pepper. Set aside.
Prepare flour, beaten eggs and panko in 3 separate wide and shallow dishes or small baking sheets.
Season and mix well each flour, eggs and panko with garlic powder, onion powder, gochugaru and turmeric evenly. (You need to divide the amount of the ingredients calling into three.) Season all three of them with pinch of salt and pepper.
Heat frying oil over 375°F
Dust shrimp in the flour mixture, shake off the excess then dip in the beaten eggs and coat evenly. Finally coat evenly with the prepared panko, by pressing down panko slightly on to the shrimp. In this process, trying to hold shrimp tail and not get the breading on the tail.
Let's deep fry the shrimp!
Hold the shrimp tail tightly with a pair of tongs and dip only the shrimp head part for 10 to 15 seconds. Then carefully dip the whole shrimp and cook for 4 minutes or until fully cooked inside and golden brown crispy outside. This way the shrimp head will be nice and crispy!
Remove shrimp from the oil and place on a paper towel or cooling rack lined baking sheet and repeat with rest of the shrimp.
Enjoy with ice cold beer as we did in Korea or any beverage you'd like to have!