Description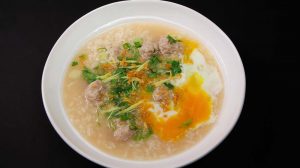 ---
For the Meatballs
8 oz

ground chicken

2

cloves garlic, chopped

1 tsp

fish sauce

1/2 tsp

white pepper
For the Soup
6 cups

chicken stock

1/2

stalk lemongrass, smashed with back of knife


1

clove garlic, chopped

2 Tbsp

fish sauce

2 Tbsp

Thai thin soy sauce or light soy sauce

1/4 tsp

white pepper

3 cups

leftover cold jasmine rice or any leftover cold rice
Garnish
4

eggs

2

green onions
handfull cilantro

2

to

4

oz ginger
---
Instructions
In a large mixing bowl, add all ingredients for meatballs and mix well until they are sticky and elastic texture. Set aside.

Combine chicken stock, lemon grass, garlic, fish sauce, soy sauce and white pepper in a large pot. Turn on heat to high; now start dropping meatballs by scooping with a melon scoop in to soup. ]Trying to scoop only half-full so meatballs will perfect one bit size. Stir to make sure meatballs are not stick to each others.

When soup is start boiling, reduce heat to medium low and simmer for 10 minutes or until meatballs are fully cooked and rice is your desire softness. If you prefer more of porridge texture, just cook longer on low heat. Stir occasionally.

Meanwhile rice and soup is simmering, prepare garnish.
Bring enough water to cover 4 egg to simmer and remove from heat. Carefully add eggs into hot water, cover and let it sit for 10 minutes. It will make super runny egg, so if you prefer more cooked, let it sit for 15 minutes for soft boil egg like texture. You can also just do fried egg or poached egg.

Chop green onion, cilantro and thinly slice ginger.

Transfer soup to a serving bowl and crack one of egg. Swirl egg into soup a bit with a chopsticks so it will continually cook by popping hot rice soup. Sprinkle green onion, cilantro, ginger and finally fried garlic. Enjoy!!

Notes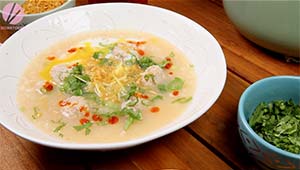 Add chili oil to your taste!
Prep Time:

5 mins

Cook Time:

15 mins