Description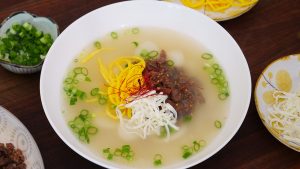 ---
Scale
Ingredients
For the Egg Jidan
2

eggs
pinch of salt
cooking oil
For the Soup
2

green onions

2

cloves garlic, crushed
palm size dried kelp

1

lb lean beef such as brisket, 3 large chunks

10 cups

water

1 1/4 tsp

salt

1 tsp

Korean soup soy sauce or light color soy sauce

1 1/2

lb sliced rice cake, washed under cold water
For the Beef
2 tbsp

Korean soup soy sauce or light color soy sauce

1 tbsp

sugar

1 tbsp

sesame oil

1/4 tsp

black pepper

1 tsp

sesame seeds, crushed with your fingers

2

cloves garlic, chopped

1

green onion, chopped
---
Instructions
Separate egg whites and yolk into two different bowl and season with pinch of salt. Mix them gently without making bubbles.
Heat a nonstick skillet over low heat and add a dash of cooking oil. Wipe the oil with paper towel so it will all evenly coat the pan.
Pour egg white mixture on the pan as you are making thin egg omelet. Cook until the surface is settle then flip it over, cook another 30 second to 1 minute and remove from the pan then let it cool. Repeat with the egg yolk.
Roll the each white and yellow egg omelets and slice thinly to thin strips. Set aside.
In a large pot, add green onions, garlic, dried kelp, beef and water. Cover, bring it to boil over high heat, remove the kelp and skim the scums on the surface as needed. When the broth looks clean, cover then reduce heat to medium and simmer for 30 minutes.
Remove the beef and set aside. Remove all the solid ingredients in the pot and discard. Season the soup with salt and soy sauce. Cover and keep it warm.
Chop up the beef into fine pieces and season with soy sauce, sugar, sesame oil, black pepper sesame seeds, garlic and green onions. Mix well with your hand with squeezing action and set aside.
Now, increase heat to high and add rice cakes into the broth. Keep stirring until it starts boiling and from the boiling point, cook the rice cakes 2 to 3 minutes or until it's soften. Stir frequently because rice cakes are easy to stuck on the bottom of the pot.
Serve rice cake soup in a bowl, sprinkle some chopped green onions if you like and garnish with the beef mixture, white and yellow egg omelets and Korean chili threats if you have any. Enjoy!
---