Description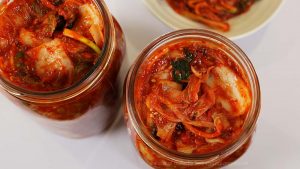 ---
For Salting Cabbage
5

lb napa cabbage (approximately

1

large or

2

medium size)
For Vegan Kimchi Paste
1 1/2 cup

water

1

sheet of 5"x5" dried seaweed (Konbu/Dahsima)

2

Tbs sweet rice flour

4

cloves garlic

1 oz

ginger root

1

to

2

fresh red chili (optional)

6

to

8

oz well ripped persimmon (approximately

2

medium size), peeled

1

Tbs salt

3/4 cup

gochugaru, Korean red pepper flakes (reduce amount to

1/3

to

1/2

cup if you like mild spicy)
For Vegetables

8

to

10

oz Korean radish or daikon, peeled and thinly julienne

4

green onions, halves in lengthwise then cut into

1

-inch long pieces

4 oz

Korean mustard, thinly julienne carrot or garlic chive

2

Tbs sesame seeds
---
Instructions
Cut napa cabbage in quarter lengthwise, and remove stem then cut into bite size.

Place cut cabbage in a large strainer and splash water. Add 1/4 of wet cabbage leaves in a bottom of large mixing bowl and sprinkle handful of salt. Repeat until cabbage leaves and salt are all in large mixing bowl as 4 to 5 layers.Salt down cabbage for 3 hours. Rotate and mix from bottom to top to salt evenly, once or twice of whole entire process of salting.

After 3 hours, you will see that water from cabbage actually can cover cabbage. Check if cabbage has salted enough by bending thick stem part. If it snaps, it's not ready so soak more, if it bends nicely then it's ready to rinse. Since at least 3 to 5 times thoroughly under running cold water and place to a large strainer and drain completely, about 1 hour before mix with kimchi paste.

Meanwhile, let make kimchi paste. 
In a small sauce pan, add water, dried shiitake and seaweed. Bring it to boil; when it starts boiling, remove seaweed then reduce heat to medium and keep simmer for 10 minutes. True off heat and remove shiitake mushrooms. Add sweet rice flour and whisk. Turn heat back to medium and bring it to soft boil and keep whisking, about 1 to 2 minutes. Cook rice flour is very important process, it depends how kimchi will cements laster on. Remove from heat and cool completely in a refrigerator for 20 to 30 minutes.

In a blender add garlic, ginger, fresh chili, persimmon, slat and rice flour porridge. Blend away until it has combined well and smooth.

In a large mixing bowl, pour kimchi paste, gochugaru (Korean red pepper flakes) and add vegetables. Mix all with your hand if you have a plastic glove, if not, using a spoon.

Add drained cabbage and mix well with your hand. (again, I recommend you to wear a plastic glove, if you don't have one, just us a spoon)

Add sesame seeds and give a light final toss. Transfer to a air tight container and make sure give container about 1-inch room, so kimchi has a room to ferment. (it will create air bubbles) Close tightly and place on your kitchen counter for 24 to 48 hours and then place to a refrigerator. Enjoy homemade vegan kimchi!