Description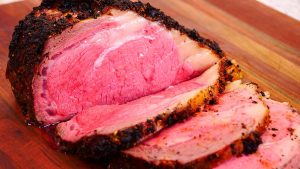 ---
For the Buttery Rub
20

to

25

cloves garlic

2

small or

1

large shallot
handful of cilantro

1 cup

melted unsalted butter
fresh juice from 1 lime (Optional. If you want more richer flavor, skip lime)

2 Tbsp

salt

2 Tbsp

black pepper
For the Roast Vegetables
1

bulb garlic, cut into halves

1

red onion, cut into quarter

2

small carrots, cut into halves
For the Gravy
8 Tbsp

all propose flour (Plus more as needed)

4 cups

water
---
Instructions
Bring the prime ribs to room temperature by place on a kitchen counter at least 6 hours before cooking.
Preheat oven to 500 degrees.
In a food processor, add garlic, shallot and cilantro for buttery rub. Pulse a few times or until the vegetables are finely chopped but not pasty.
Add the chopped vegetables into melted butter along with fish sauce, lime, salt and pepper. Combine well.
In a roaring pan or large cast iron pan, place the room temperature prime ribs. (Do not need a rack.) Place all of the roasting vegetables around and bottom of the pan and coat the prime ribs evenly with the butter mixture.
Roast prime ribs for 35 minutes* in the preheated oven. Then turn off the oven and let it sit in the oven for 2 hours. Do not open the oven door. This is the perfect time to prepare all the side dish that you want to serve with the prime ribs. I recommend Spicy Stir Fried Long Beans and Honey Butter Smashed Potatoes.
Remove primes ribs from the oven and take the meat out from the pan. Remove all the solid ingredients from the roasting pan and burnt bits. Bring it to a stove and turn the stove over medium heat. Whisk in flour and cook it for 1 to 2 minutes.
Pour water while whisking into the pan. Bring it to soft boil then reduce heat to low and let it simmer 5 to 10 minutes or until the consistency is perfect to your taste.
Finally, remove bones from the meat and slice as desired and serve with your favorite side dishes and gravy. Enjoy!
Notes
How to measure cooking time of prime ribs:
Prime Ribs Weight x 5 = Cooking Time
Cook Time:

2 hours 35 mins