Description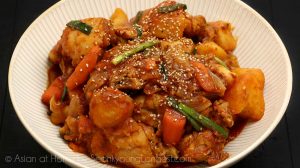 ---
4

lb. whole chicken, cut into

11

pieces with bone in and skin on


1

lb yukon gold potatoes, peel, halved or quartered (approximately

3

potatoes)

1/2

lb carrot, peel, cut into nice big chunks (approximately

3

–

4

carrots)

1 1/2

lb onion, cut into nice big chunks (approximately

2

onions)

8

cloves garlic, chopped

3

Tbs Gochujang, Korean red pepper paste

2

Tbs soy sauce

1

Tbs Gochugaru, Korean red pepper flakes (Optional)

1

Tbs sugar or honey

2

Tbs rice wine

1

Tbs sesame oil

1 tsp

sesame seeds, plus for garnish

4

green onions, sliced into

2

inch long pieces
---
Instructions
Bring enough water to boil to blench chicken in a large dutch oven or thick bottom pot; add chicken into boiling water, bring back to boil, about 5 to 10 minutes.

Drain chicken into a strainer and rinse pot quickly. Rinse chicken under cold water and place back to pot.

Add potato, carrot, onion and garlic into pot.

In a small mixing bowl, combine gochujang and next 6 ingredients. Add combined sauce into pot and toss everything together until chicken and vegetables are evenly coated with sauce. Cover, bring it to boil over medium high heat. Stirring frequently.

When it starts boil, reduce heat to medium and simmer for 40 minutes, stirring frequently for first 20 minutes of simmering to prevent burn bottom of pot.

Stir in green onion and remove from heat.

Transfer to a serving plate, garnish with some more sesame seeds. Serve with warm cooked rice, kimchi and other your favorite side dishes! Enjoy!!