Description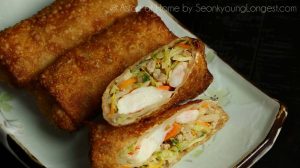 ---
4 oz

ground pork

1 tsp

soy sauce

1 tsp

rice wine

1/4 tsp

white pepper

3 tsp

cooking oil, divided

3

cloves garlic, chopped

1 tsp

chopped ginger

8 oz

green cabbage, thinly slice or shredded

4 oz

carrot, julienned

1 tsp

salt

2

to

3

green onions, chopped

2 oz

bamboo shoots, julienned

4 oz

. beansprouts, roughly cut

24

to

26

peeled and deveined 41/50 or 51/60 shrimps

12

to

14

egg roll wrappers
Frying oil
For the Cornstarch Water
1

Tbs cornstarch

4

Tbs cold water
---
Instructions
Combine ground pork, soy sauce, rice wine and white pepper, set aside.

Heat a wok over hight heat; add 1 tsp oil and pork, cook for 1 to 2 minutes. Keep breaking down pork with a wooden spoon or specula to small pieces. Remove from heat and place into a large mixing bowl.

Into same wok, add 2 tsp of remaining oil along with chopped garlic and ginger. Stir fry until you can smell the fragrance, about 30 seconds to 1 minute.

Stir in cabbage, carrots and salt; Stir fry all together until vegetables are soft but still have crunch bite, about 1 to 2 minute. Remove from heat and add into large mixing bowl with pork along with green onions, bamboo shoots, and beansprouts. Toss everything together. Let filling to cool so it will be easier to handle.

Combine cornstarch with water in a small mixing bowl. (You can use beat egg instead)

Place a egg roll wrapper on a work surface as diamond shape, a conner pointed toward you. Place 2 to 3 Tbs amount of filling, horizontally on a third of egg roll wrapper that close to you. Place 2 shrimps on top of filling. Brush top conner with cornstarch water.

Roll a corner closest to you over filling. Fold left and right corners toward center and continue rolling until it's closed. lightly press to tightly seal and continue with remaining ingredients. You will make 12 to 14 egg rolls.

If you want to freeze egg rolls, you can freeze it now, please see the note for how to freeze egg rolls. Heat frying oil to 350 to 370 degrees. (oil should be at least 1 1/2 to 2 inch deep)

Fry egg rolls until golden brown on all sides, about 3 minutes. Using tongs or long chopsticks to turn them. Remove from oil and place on a paper towel lined plate or a rack. Serve when cool enough to eat with your favorite egg roll dipping sauce.

Notes
To freeze egg rolls: Place egg rolls on a a baking sheet as one layer.
Make sure none of the egg rolls are touching or they will stick together. Freeze them for about 2 to 3 hours or and now you can put them together into a freezer safe ziplock bag and place bag into freezer. freeze for up to three months.
Prep Time:

30 mins

Cook Time:

15 mins