Description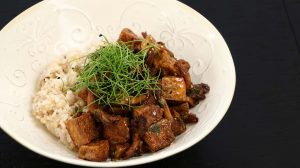 ---
1/2 block (6 oz) of firm or extra firm tofu, wrap in a paper towel for 5 min to get rid of excess water then cut into 1/2″x1/2″ cubes (If you are using only tofu, use whole 14oz)


2 tbsp

soy sauce

2 tbsp

agave nectar, honey, or sugar

1 tbsp

sesame oil

1 tsp

sesame seeds

3

cloves garlic, minced (approximately

1 tbsp

)

2 tbsp

cooking oil

3 cups

beech, oyster, or any mushrooms

2

green onions, chopped
chive sprouts for garnish, optional
---
Instructions
Heat a large skillet over medium-high heat; add oil and swirl to coat. Add tofu cubes carefully and spread out evenly. Toss or stir around every 2 to 3 minutes so they will brown up evenly. It will take about 7 to 8 minutes total. If it takes too long, increase the heat to high.

Meanwhile, in a small mixing bowl, combine soy sauce, agave nectar, sesame oil, sesame seeds, and minced garlic Then set aside.

When tofu is browned on all sides, add mushrooms and combine with tofu. Cook for 3 minutes, but don't stir too much- this will allow the mushrooms to turn nicely golden brown.

Stir in the sauce we made earlier, and cook for about 1 minute. The moisture should evaporate quickly. Remove from heat, and stir in the green onion.

Serve with warm cooked rice and sprinkle with sesame seeds and green onion. Add chive sprouts if you have them as well. Enjoy!

Notes
Tofu and mushrooms needs a bit more patient to be golden brown, so let them do their magic in the skillet!
Prep Time:

5 mins

Cook Time:

15 mins