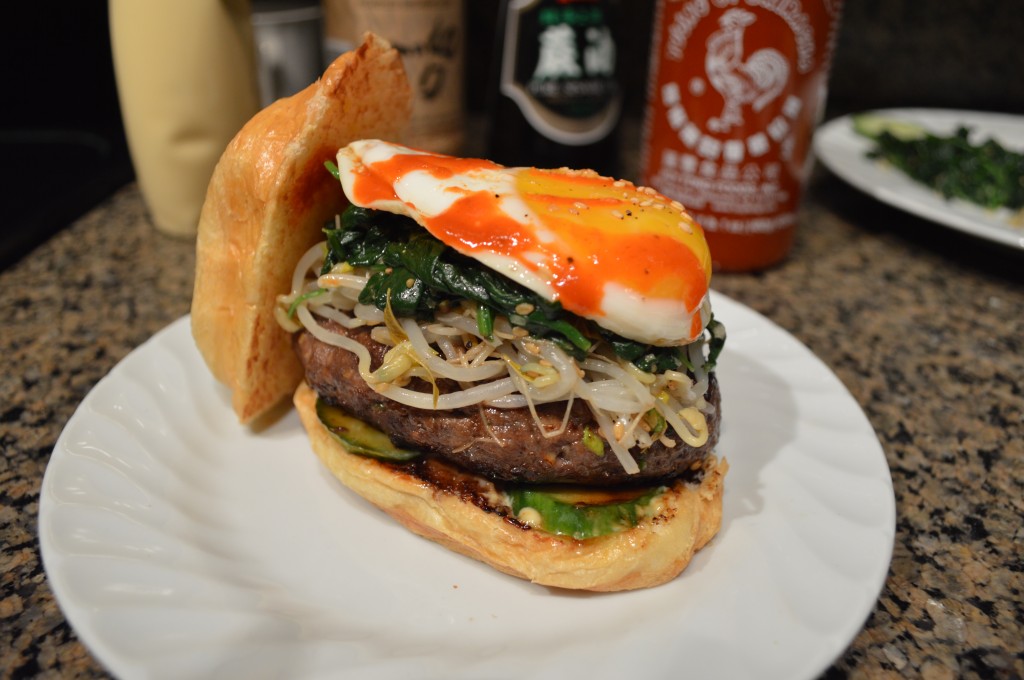 Hi guys! Today I brought my Bibim Burger recipe from the Food Network show, Restaurant Express! This burger was HUGE HIT so it is must try!!! 
I inspired this recipe from bibimbap, which is traditional Korean rice dish in a bowl.
Here is my Bibimbap cooking video! 

I pretty much brought all the flavors from bibimbap to a burger. hope you enjoy this recipe at your home!! 


Bibim Burger
This recipe has created during Seonkyoung Longest is filming Restaurant Express on Food Network.
Author:
Seonkyoung Longest
Ingredients
*** For the Bibim Burger Patties ***
½ lb. Ground beef (I used 85/15)
2 Tbs. Soy sauce
1 Tbs. Toasted sesame oil
½ tsp. Toasted sesame seeds
1½ Tbs. Sugar
Pinch of black pepper
1 Garlic clove, chopped
1 Green onion, chopped
*** For the Vegetable Toppings ***
10 oz. Bean sprouts
15 oz. Baby spinach
1 Garlic clove, chopped, divided halves
1 Green onion, chopped, divided halves
2 Tbs. Toasted sesame oil, divided halves
1 tsp. Toasted sesame seeds, divided halves
Salt and Pepper to taste
*** To Assemble the Bibim Burger ***
2 Brioche buns, toasted
2 Tbs. Mayonnaise
4 sliced cucumber
2 eggs, cook it as you desired
1 Tbs. Seonkyoung's Bibimbap sauce(See note) or Sriracha
Instructions
In a large mixing bowl, add al ingredients for patties; mix well with your hand until everything combined together. Cover with a plastic wrap and keep it in a refrigerator while we are prepping toppings
In a large pot, bring water to boil to blench bean sprouts and spinach; add handful salt to boiling water and drain well. Blench bean sprouts 30 sec and remove from boiling water. Blench baby spinach 10 sec and remove form boiling water; let it cool and squeeze out excess water from spinach. Place blenched bean sprouts and spinach in 2 separate bowls, and season both with ½ chopped garlic, ½ chopped green onion 1 Tbs sesame oil, ½ tsp sesame seeds, salt and pepper to taste. Mix each bean sprouts and spinach well with your hands. Set aside.
Divided in halves and foam the beef mixture to fit your buns. Make sure middle of your patties are thiner than the edge. Heat a skillet over medium heat; add beef patties and cook 3 min each side or until your desire doneness.
Alright, let's assemble Bibim Burger! Spread 1 Tbs mayo on bottom of each toasted buns. Place cucumber slices, cooked beef patties, bean sprouts, spinach, fried eggs and finally Bibimbap sauce or Sriracha! Enjoy!!
Notes
Seonkyoung's Bibimbap Sauce
2 Tbs. gochujang(Korean red pepper paste)
1/4 of fuji apple, seeded, peeled
1/4 cup Sweet onion
1 Clove garlic
1 Tbs. sugar
1 Tbs. Toasted sesame oil
1 Tbs. Rice vinegar
1 Tbs. Mirin(Seasoned rice wine)
1/2 Tbs. Soy sauce
black pepper
Mix all ingredients in a food processor and blend until it becomes smooth sauce texture. You can keep this sauce in a refrigerator for 10 days.
Nutrition Information
Serving size:
2
Calories:
1312
Fat:
60g
Saturated fat:
13g
Unsaturated fat:
41g
Trans fat:
1g
Carbohydrates:
149g
Sugar:
28g
Sodium:
2157mg
Fiber:
35g
Protein:
66g
Cholesterol:
262mg