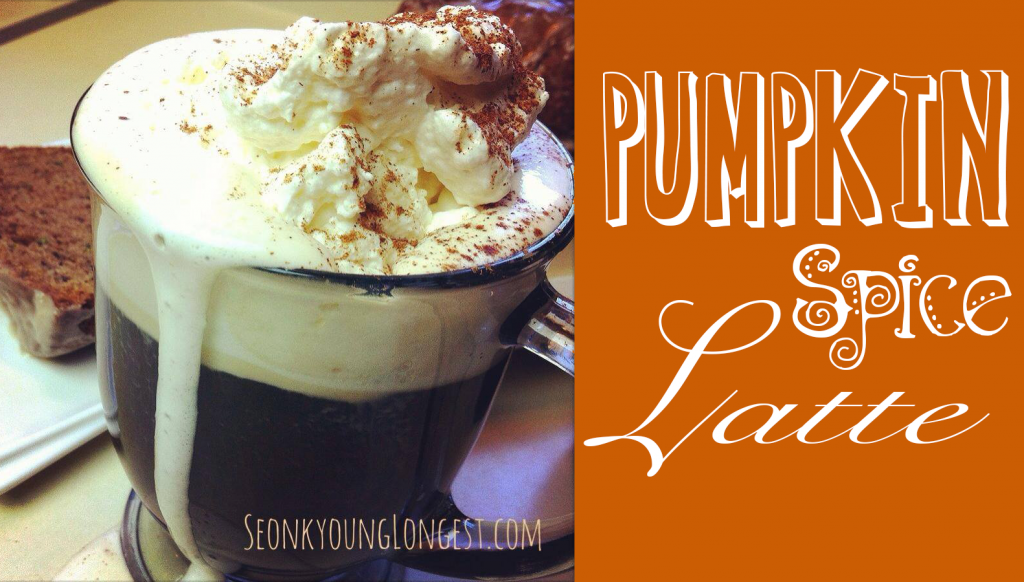 The weather finally got chilled  which means, "Pumpkin EVERYTHING" time has come. 
I shared this recipe last year, but why not share again right? It is ultimate pumpkin spice latte/coffee recipe, because all you have to prepare for yourself is make the pumpkin spice syrup. Add anywhere you want to add pumpkin spice flavor, even in your whipped cream or hot chocolate! 
This is how easy to make my pumpkin spice syrup, and this one recipe will last whole entire your fall! (Well, you might have to make one or two more times if you have more than 2 people in your house using this syrup! lol)
In the recipe, I used cane sugar because it gives more heavier and darker flavor that we want for fall season.
Watch my video recipe/instruction, and take/prink my recipe!!  
Pumpkin Spice Latte (PSL)
Author:
Seonkyoung Longest
Ingredients
Pumpkin Spice Syrup
1 cup water
1 cup cane sugar sugar
2 sticks of cinnamon
¼ of whole nutmeg
7 cloves
a couple of thin slice of ginger, optional
1. Add all ingredients in a small pot; bring it to boil and simmer for 5 minute over medium heat and let it cool.
2. Move pumpkin spiced syrup with spices into a jar and cover tightly.
Instruction for latte
3 Tbs. pumpkin spiced syrup
¼ cup espresso
1 cup hot milk, skimmed
2 Tbs whipped cream, optional
pumpkin pie spice for garnish
1. In a mug, add pumpkin spice syrup and espresso. Add skimmed milk slowly and top with milk foam.
2. Add whipped cream if you like, but you don't have to. Sprinkle with pumpkin pie seasoning right on top! Enjoy!
Instruction for regular coffee
3 Tbs. Pumpkin spiced syrup
1 cup freshly brewed coffee
3 - 4 Tbs. Whipped cream. optional
Pumpkin pie spice for garnish
1. In a mug cup, add pumpkin spiced syrup and your everyday coffee. Stir well and then top with whipped cream. Sprinkle with pumpkin pie seasoning you are done!
Nutrition Information
Calories:
6706
Fat:
263g
Saturated fat:
83g
Unsaturated fat:
149g
Trans fat:
1g
Carbohydrates:
973g
Sugar:
641g
Sodium:
7184mg
Fiber:
38g
Protein:
115g
Cholesterol:
763mg