Bourbon Sweet Tea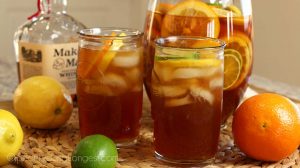 Author:
Seonkyoung Longest
Ingredients
6 cups water
1 cup sugar
6 black tea bags
2 oranges, sliced
2 lemons, sliced
2 limes, sliced
2 cups bourbon
Instructions
Combine water and sugar in a saucepan and bring it to boil, whisking to dissolve sugar. Slightly cool sugar water, add tea bags and let steep for 5 to 10 minutes, depending on how strong you want your tea. (If you like your tea very strong, leave tea bags in tea for longer.) Remove tea bags.


Pour sweet tea into a pitcher or a jar; add orange, lemon and lime slices. Pour in bourbon. Cover and chill in a refrigerator.


Serve in a glass with ice if you prefer and enjoy!

Notes
The Original Recipe is from "Smoke & Pickles" by Edward Lee