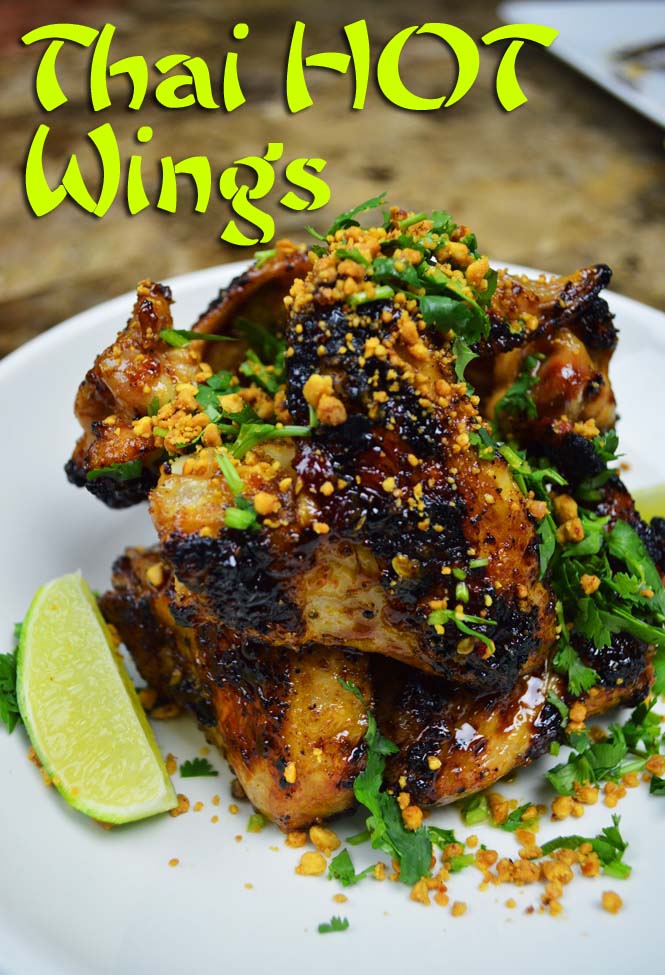 Hi everyone!
Today I'm sharing my favorite recipe of hot wings… Thai Hot Wing!!
I love hot wings and I've tried lots of different hot wing recipes. Hot wings are one of easiest food to cook and perfect for entertaining at home!! This Thai hot sauce will bring your ordinary hot wings to extraordinary hot wings!!!
You've tried lots of hot wings but you've never tasted like this one!!!
It's must to try this recipe at home, so easy to make!!!
Hope you enjoy~!!!
Thai Hot Wings
Author:
Seonkyoung Longest
Ingredients
3 to 5 Thai chili, chopped
1 Tbs. Chopped garlic
1 tsp. Fresh ginger, grated
2 Tbs. Palm sugar
½ Tbs. Tamarind paste
2 Tbs. Rice vinegar
2 Tbs. Fish sauce
1 Tbs. Thai soy sauce (you can use regular soy sauce)
1½ lb. chicken wings (about small size 9 whole wings)
1 tsp. Salt
¼ tsp. Black pepper
¼ tsp. Garlic powder
¼ tsp. Onion powder
⅛ tsp. Ginger powder
Chopped cilantro for garnish
Roasted chopped peanut for garnish
Lime wedges
Instructions
In a mortar combine Thai chili and next 6 ingredients (until soy sauce) and grind everything together by using pestle. (You can use food processor or blender, just pulse until everything well combined) More grind, more flavor. Set aside.
Season chicken wings with salt, pepper, garlic powder, onion powder and ginger powder on both side.
Preheat grill over medium heat.
Pace chicken wings and grill 5 minutes each side, it will cook about half way through.
Now flip every 2 minutes, each time brush sauce on chicken. After 10 to 12 minutes chicken should be cooked all the way through and sauce should have gone!
Remove cooked chicken wings from grill. Transfer to a serving plate, garnish with cilantro and roasted chopped peanut. Serve immediately with lime wedges.
Nutrition Information
Calories:
1629
Fat:
56g
Saturated fat:
16g
Unsaturated fat:
31g
Carbohydrates:
58g
Sugar:
38g
Sodium:
6729mg
Fiber:
5g
Protein:
215g
Cholesterol:
578mg