Hi everyone! 
Today I will share with you all how I made this beef curry that I posted on my Instagram (@Seonkyoung) a few days ago and shared my Twitter (@Seonkyoung).
I sharing this because I've go a request from a Twitter follower  @AnaLivesHerLife. Thank you Ana for the request! 🙂
It's very easy and simple to make, because we are using already pre-made curry paste.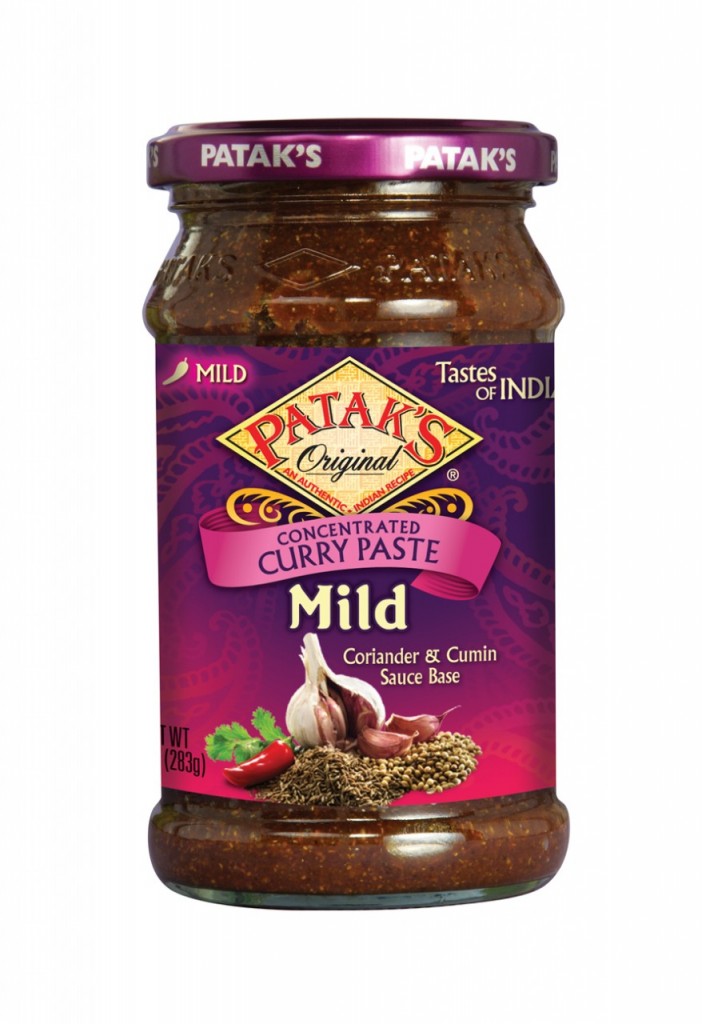 I just found this Patak's curry paste(Exactly same one as shown the picture above) from local Asian market and wanted to give it a try. To make 2 to 4 servings you will need a few Tablespoons (about 1/3 of jar) instead of whole entire jar, which is I love! One day, I had some beef chuck in my refrigerator that I had no idea what to do, so I decided to give this curry paste a try!  I was going to follow the direction, but I figured it won't be enough flavor as I want it. So I made my own way. I added some chicken stock and coconut milk instead of just water and for vegetables and I used large diced onion,  yellow squash and cherry tomatoes. Oh, I added 1 Serano pepper that I ground to make this mild curry to spicy curry! lol  I finished with chopped cilantro right on top and served with jasmine rice instead Indian basmati rice. 🙂  
If you want to give this a try, please do! I'm just so happy that I found a new way to enjoy my semi-homemade curry at home!  🙂 
Semi-Homemade Beef Curry
Author:
Seonkyoung Longest
Ingredients
2 Tbs. Grape seed oil (you can substitute to any other cooking oil)
1 lb. Beef chuck, cut into 1"x1" cubes
1 yellow onion, large diced
¼ cup Patak's original mild curry paste
1 cup chicken stock
1 cup coconut milk
1 Serano chili grated (optional)
1 Yellow squash, cut into 1"x1" cubes
10 cherry or grape tomatoes, cut into halves
Handful cilantro, chopped
Salt and pepper for taste
Warm cooked jasmine or basmati rice to serve
Instructions
Season beef cubes with generous amount of salt and pepper. Heat a large deep skillet over medium high heat, add oil and swirl to coat. Add beef in skillet and sear all surface of beef, about 3 minutes for first side and 2 minutes for each side. Remove nicely golden browned beef to a plate and set aside.
In now-empty skillet, add onion, season with a pinch of salt and pepper and saute for 3 minutes.
Add curry paste and saute with onion for a minute, add bit more oil during this process if it's necessary.
Add chicken stock, coconut milk, Serano chili and beef cubes into skillet. Cover, bring it to boil and reduce heat to medium low. Simmer for 1 hour 30 minutes, or curry has reduce to ½ amount. Stir occasionally.
Add in squash and simmer additional 20 minutes. Finally add tomatoes and cilantro and simmer 10 more minutes. Season with salt and pepper for taste.
Serve with warm cooked rice or buttered naan. 🙂 Enjoy!
Nutrition Information
Calories:
1900
Fat:
108g
Saturated fat:
56g
Unsaturated fat:
45g
Carbohydrates:
91g
Sugar:
51g
Sodium:
1460mg
Fiber:
21g
Protein:
154g
Cholesterol:
415mg