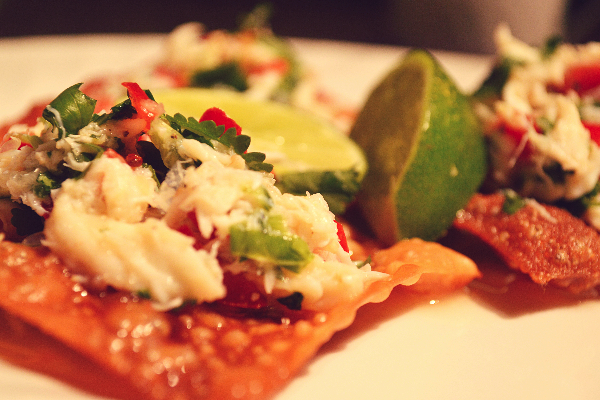 Hi guys!
I'm finally start working on written recipes!! I'll try to upload one by one and hope I can catch up soon!! 
Today's recipe is "Crab Salad with Crispy Wonton". I made this dish at very first episode of Restaurant Express on Food Network. It made Chef Robert Irvine laugh after the first bite because he didn't expect me to be that good of a cook who learned how to cook from Food Network and been cooking only 3years. 
Hope you guys enjoy this recipe!!!


Crab Salad with Crispy Wonton
This recipe has created during Seonkyoung Longest is filming Restaurant Express on Food Network.
Author:
Seonkyoung Longest
Ingredients
*For Sweet Chili Sauce*
½ cup sugar
¼ cup water
¼ cup white vinegar
1 Tbs. Sambal
*For Crab Salad*
8 oz. Lump Crab Meat
1 Green onion, chopped
¼ cup chopped red bell pepper or red chili, if you prefer spicy
½ Tbs. Grated ginger
A handful Cilantro, leaves picked
¼ tsp. Salt
Pinch Black pepper
1½ Tbs. Freshly squeezed juice from lime
*For Crispy Wonton*
Frying oil, such as canola, sunflower seeds, grape seeds, vegetables, peanut or coconut as I used on the video.
20 wonton wrappers
Salt to sprinkle
Lime wedges
Instructions
In a small sauce pan, add all ingredients for Sweet Chili Sauce over medium high heat. Bring it to boil, reduce heat to low and simmer for 5 to 7 min. Let it cool and keep it in a refrigerator.
Mean while, in a medium size mixing bowl, add all ingredients for crab salad, mix until everything combined well. Keep it in a refrigerator for 20 min to 1 hr before serve.
Sauce and crab salad is chilling, now time to make crispy wonton!
In a skillet pour frying oil until it comes up ½ inch high from the bottom of the skillet. Heat the skillet over medium high heat, add wonton wrappers one by one. Cook one side of wonton wrapper 15 sec and flip it over cook another 15 sec. Take out from hot oil, and place on paper towel lined plate. Sprinkle some salt on top and keep repeat until wonton wrappers are all fried golden brown.
Serve crab salad, crispy wontons, sweet chili sauce and lime wedges all together.
Notes
You can serve this dish as "Chips and Dips" or serve as shown on the pictures in this blog.
Nutrition Information
Serving size:
5
Calories:
231
Fat:
1g
Carbohydrates:
43g
Sugar:
21g
Sodium:
540mg
Fiber:
1g
Protein:
12g
Cholesterol:
47mg