Hi guys!
Today I'm going to show you how to make Banh Mi Pizza!
I came up with this idea about 3 or 4 years ago while we were living in Mississippi. We always loved Banh Mi, but it was really hard to find Vietnamese baguette Where we were living.
So one day I though,
let's make a pizza!
TAAADAAAAAA~!!!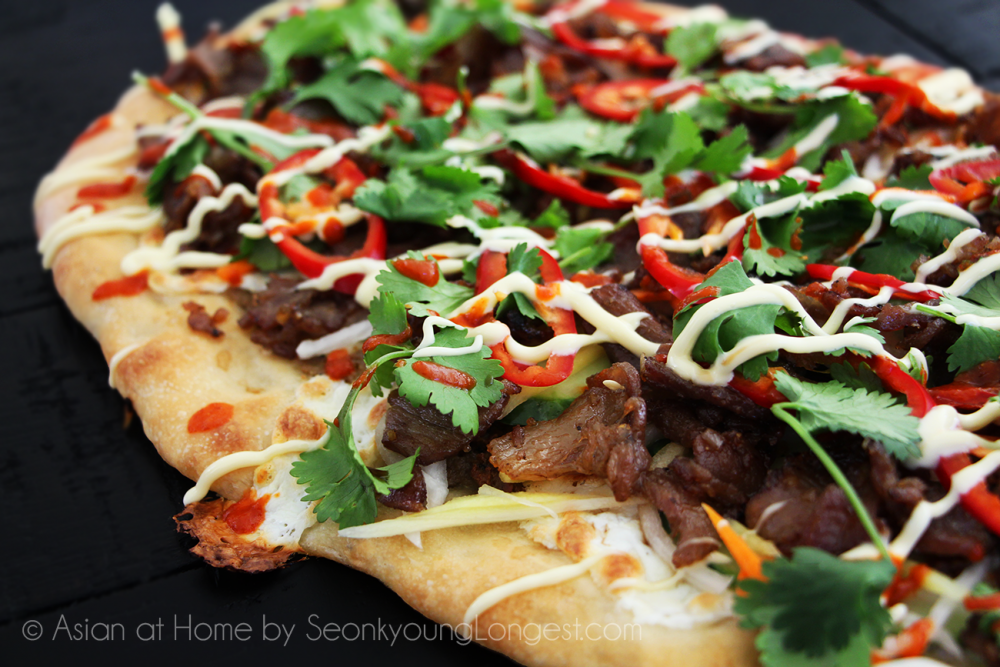 It was one of the genius ideas I've had! Because it came out SO DELICIOUSLY!!
So since then I've made so many different versions of it, because the option was endless. But our all time favorite is BBQ pork with classic Banh Mi vegetables and lots of cilantro. 🙂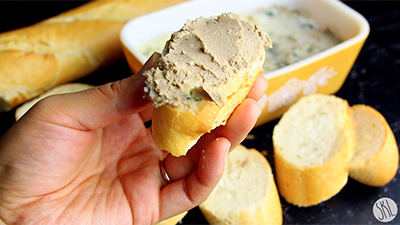 To make authentic Banh Mi or Banh Mi pizza recipe, liver pate is a must item to add on. It surely make it taste so much richer, authentic and full of flavors!
You can definitely use your favorite pate recipe or pate from your favorite deli market.
But if you are still looking for a great & delicious pate recipe, try mine! It is SO good, I even surprised myself! lol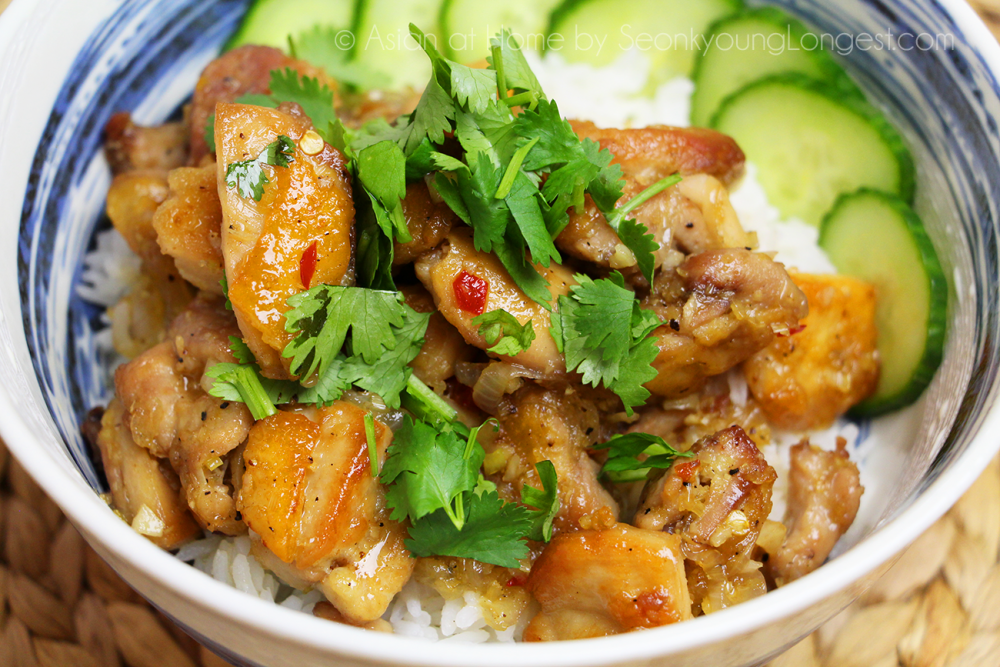 If you prefer to use chicken, you can substitute the pork in the recipe to chicken or even beef. Plus my Lemongrass Chicken also goes really well with Banh Mi or Banh Mi Pizza. 🙂
Hope you guys give this delicious Banh Mi Pizza recipe a try sometime soon!
Print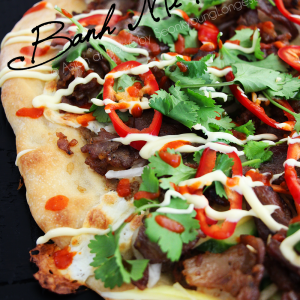 Banh Mi Pizza
---
Author:

Prep Time:

15 mins

Cook Time:

25 mins

Total Time:

40 mins

Yield:

2

to

3

1

x
Description
[url href="http://seonkyounglongest.com/wp-content/uploads/2015/12/IMG_4655-copy-600×400.png"]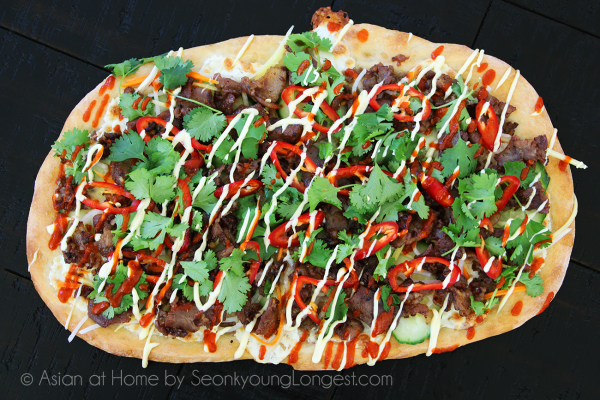 [/url]
---
Scale
Ingredients
For the BBQ Pork
8 oz

. / 225g Thinly sliced or

one

bite size pork butt, shoulder or belly

1 tsp

. / 3g Chopped garlic

2

Tbs. / 20g Chopped shallot

1 1/2

Tbs. / 19g Sugar

1

Tbs. / 15g Fish sauce

1/2 tsp

. / 2g Black pepper
For the Pizza
12 oz

/ 340g Pizza dough (You can use your favorite pizza dough recipe or store bought)
[url href="http://seonkyounglongest.com/wp-content/uploads/2015/12/Screen-Shot-2015-12-02-at-4.03.12-PM.png"][/url]

3

Tbs. / 45g Chicken liver pate (Recipe click HERE)

3

to

4

oz. / 85 to 110g Fresh mozzarella slices or shredded mozzarella

2 oz

. / 55g Cucumber slices

4 oz

. / 110g Pickled radish and carrot (Recipe clickHERE)
[url href="http://seonkyounglongest.com/wp-content/uploads/2015/12/Screen-Shot-2015-12-02-at-4.04.38-PM.png"][/url]
Handful cilantro, leaves are picked

1

Red chili, sliced
Kewpie mayonnaise
Sriracha
Maggi sauce
[url href="http://seonkyounglongest.com/wp-content/uploads/2015/12/Screen-Shot-2015-12-02-at-4.05.57-PM.png"][/url]
---
Instructions
Preheat oven to 450°F / 230°C.
In a small mixing bowl, combine all ingredients for BBQ pork; mix well with your hand, spoon or chopsticks. Set aside.
[url href="http://seonkyounglongest.com/wp-content/uploads/2015/12/Screen-Shot-2015-12-02-at-4.04.10-PM.png"][/url][url href="http://seonkyounglongest.com/wp-content/uploads/2015/12/Screen-Shot-2015-12-02-at-4.04.02-PM.png"][/url]
Sprinkle flour or oil onto pizza dough and stretch into a round disc or oval shape and slightly tap pizza dough with fingertips until dough shaped your desire thickness.
[url href="http://seonkyounglongest.com/wp-content/uploads/2015/12/Screen-Shot-2015-12-02-at-4.03.23-PM.png"][/url]
Place little dollops of liver pate on pizza dough evenly and then place mozzarella. Bake in preheated oven for 12 to 15 minutes or until cheese is melted, dough is fully cooked and golden.
[url href="http://seonkyounglongest.com/wp-content/uploads/2015/12/Screen-Shot-2015-12-02-at-4.03.42-PM.png"][/url][url href="http://seonkyounglongest.com/wp-content/uploads/2015/12/Screen-Shot-2015-12-02-at-4.03.55-PM.png"][/url][url href="http://seonkyounglongest.com/wp-content/uploads/2015/12/Screen-Shot-2015-12-02-at-4.03.58-PM.png"][/url]
Meanwhile prepare vegetables and cook BBQ pork.
Heat a large skillet or a wok, add 1 Tbs. oil; add marinated pork. Stir fry until pork is fully cooked and edges are golden brown, about 8 to 9 minutes. Set aside.
[url href="http://seonkyounglongest.com/wp-content/uploads/2015/12/Screen-Shot-2015-12-02-at-4.04.53-PM.png"][/url][url href="http://seonkyounglongest.com/wp-content/uploads/2015/12/Screen-Shot-2015-12-02-at-4.04.57-PM.png"][/url][url href="http://seonkyounglongest.com/wp-content/uploads/2015/12/Screen-Shot-2015-12-02-at-4.05.07-PM.png"][/url][url href="http://seonkyounglongest.com/wp-content/uploads/2015/12/Screen-Shot-2015-12-02-at-4.05.10-PM.png"][/url]
Remove pizza from oven and top with cucumber slices, pickled radish, BBQ pork, cilantro and chili.
[url href="http://seonkyounglongest.com/wp-content/uploads/2015/12/Screen-Shot-2015-12-02-at-4.05.16-PM.png"][/url][url href="http://seonkyounglongest.com/wp-content/uploads/2015/12/Screen-Shot-2015-12-02-at-4.05.26-PM.png"][/url][url href="http://seonkyounglongest.com/wp-content/uploads/2015/12/Screen-Shot-2015-12-02-at-4.05.37-PM.png"][/url][url href="http://seonkyounglongest.com/wp-content/uploads/2015/12/Screen-Shot-2015-12-02-at-4.05.42-PM.png"][/url]
Drizzle with mayonnaise, sriracha and maggi sauce. Enjoy!
[url href="http://seonkyounglongest.com/wp-content/uploads/2015/12/Screen-Shot-2015-12-02-at-4.05.48-PM.png"][/url][url href="http://seonkyounglongest.com/wp-content/uploads/2015/12/Screen-Shot-2015-12-02-at-4.05.51-PM.png"][/url][url href="http://seonkyounglongest.com/wp-content/uploads/2015/12/Screen-Shot-2015-12-02-at-4.06.01-PM.png"][/url]
---
Notes
If you can't make homemade pate, here is an option for you!
[url href="http://seonkyounglongest.com/wp-content/uploads/2015/12/Screen-Shot-2015-12-02-at-4.03.35-PM.png"]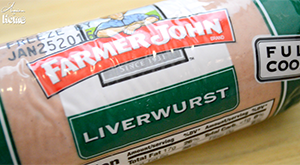 [/url]
This is the closest thing you can get from a store. Or visit your local deli if they sell any house made pate! 🙂