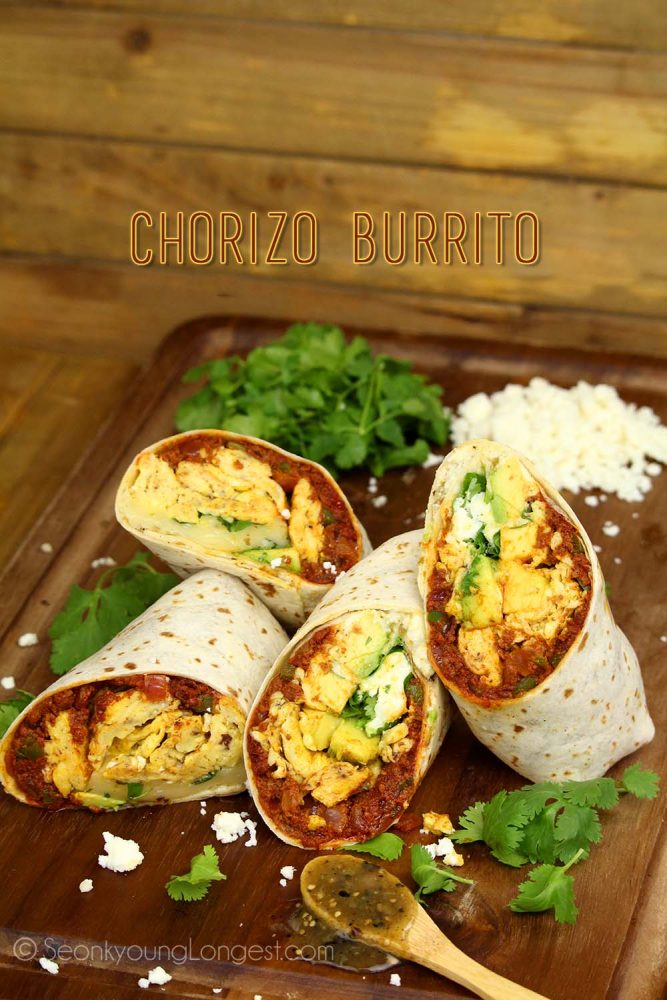 Chorizo Burrito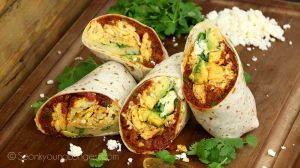 Author:
Seonkyoung Longest
Serves:
Makes 2 Large Burrito
Ingredients
9 oz / 255g pork or beef chorizo
2 oz / 56g red onion, diced
1 jalapeno, seeded and small diced
4 eggs
½ tsp / 2g salt
¼ tsp / 1g pepper
1 Tbs olive oil
2 of 8 to 10-inch flour tortillas
1 avocado, cubed
Handful cilantro
½ cup shredded pepper jack cheese, melted in a microwave or queso fresco[b]

2 Tbs salsa verde
Instructions
Heat a large skillet over high heat; add chorizo and cook until fully cooked and browned, about 5 to 6 minutes. Add in red onion and cook another minutes or until onion is soften. Add in jalapeño and turn off heat. Remove chorizo mixture from skillet and set aside.


Beat eggs with salt and pepper. Heat same skillet over medium high heat and add olive oil. Pour beaten eggs and scramble, about 1 to 2 minutes. Remove from skillet.


Toast tortilla on a clean dry pan until warm. Arrange half amount of chorizo mixture, scrambled eggs, avocado, cilantro, your choice of cheese and salsa verde. Repeat with rest of ingredients. For each wrap, fold two side of warp over filling then roll tightly, ending seam side down. Enjoy!