Hi guys!
Today, I'm finally sharing my version of General Tso's Chicken recipe! 😀 YAY!!
Hope you guys are excited as I am about this recipe!
It is spicy, tangy, slightly sweet and full of flavors!! UMMM!!!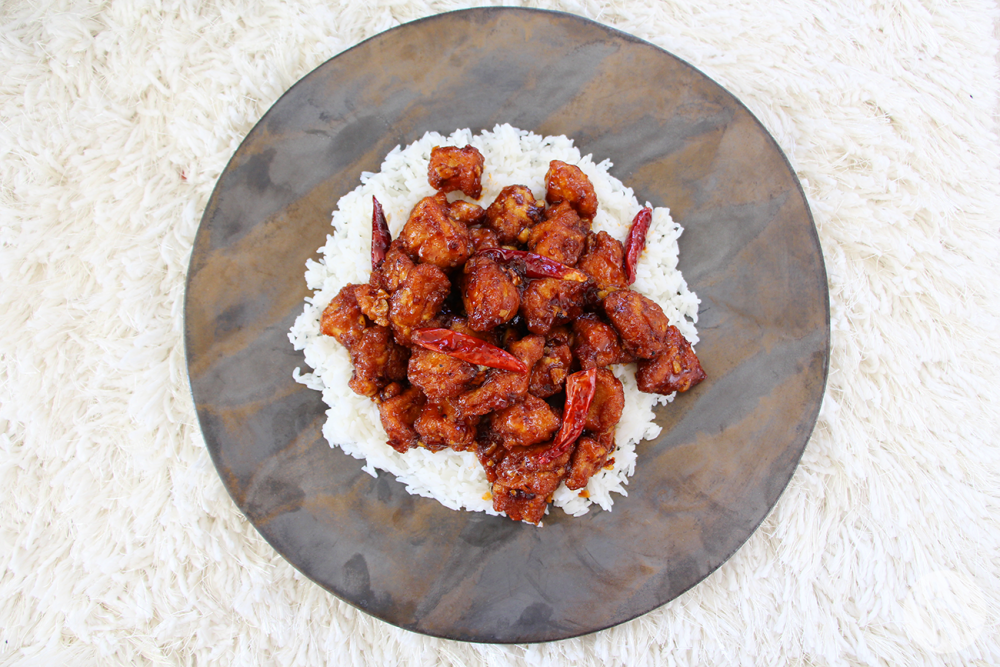 Honestly, I've never had General Tso's Chicken until I got the recipe requesting from you guys. I heard about this delicious chicken, but I've never gave a chance!
But since I had to re-create the recipe, I tried a few General Tso's Chicken from different Chinese restaurant and I finally could come up with my own recipe!
I know, I know, I always brag about my food but man, this is a real deal Genral Tso's Chicken! I wish General Tso could come over my house, I would love to serve this to him!! He would be very proud of this Korean girl!
lol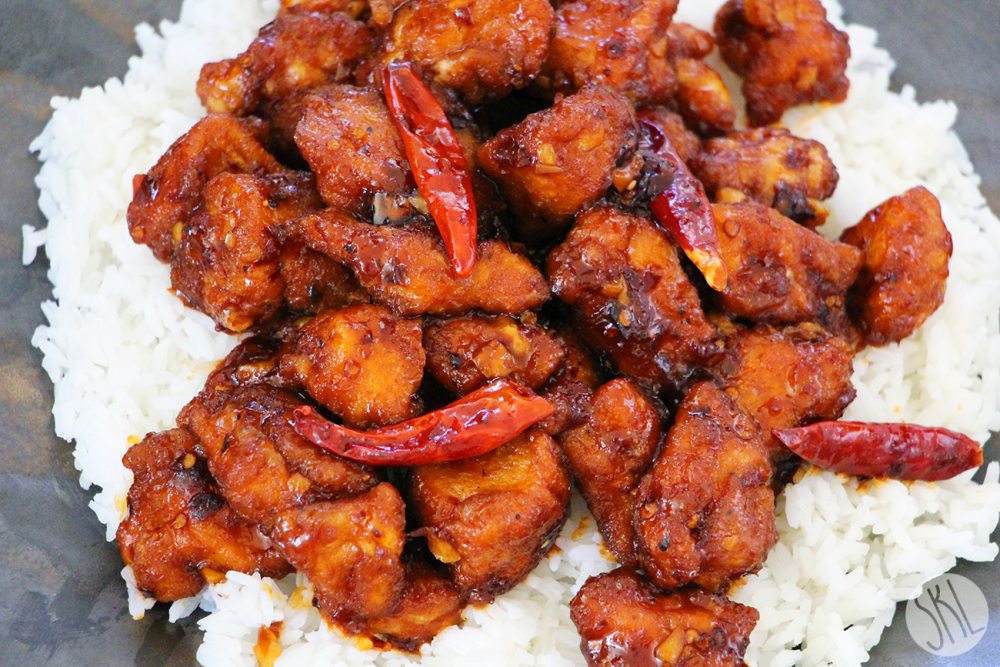 I hope you guys give this recipe a try and enjoy at home!! So much better than from Chinese restaurants out there!! 😉
Print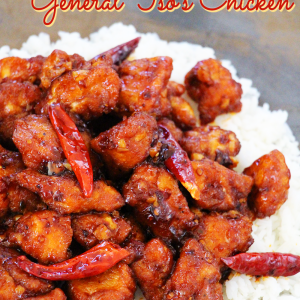 General Tso's Chicken
---
Author:

Prep Time:

10 mins

Cook Time:

30 mins

Total Time:

40 mins

Yield:

4

1

x
Description
[url href="http://seonkyounglongest.com/wp-content/uploads/2015/11/IMG_4250-copy-600×400.png"]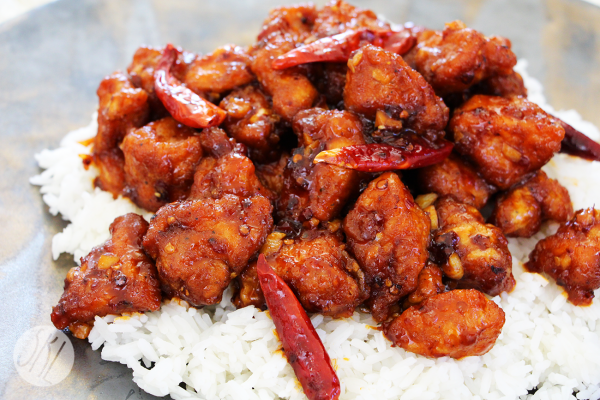 [/url]
---
Scale
Ingredients
Marinade for the Chicken
1

lb. boneless & skinless chicken breast, cut into

1

-inch cubes

1 tsp

. baking soda

1/4 tsp

. black pepper

2 tsp

. shaoxing wine (Chinese cooking wine)
For the Sauce
2

Tbs. sugar

1

Tbs. sambal

1

Tbs. soy sauce

3

Tbs. white vinegar

2

Tbs. Shaoxing wine (Chinese cooking wine)

1/4 cup

chicken stock

1 tsp

. corn starch
For the Batter
1

egg

1/4 cup

corn starch
For Frying & Stir-fry
---
Instructions
In a mixing bowl, combine all ingredients of marinade for chicken; mix well with your hand and set aside.
[url href="http://seonkyounglongest.com/wp-content/uploads/2015/11/Screen-Shot-2015-11-03-at-1.27.25-PM.png"][/url][url href="http://seonkyounglongest.com/wp-content/uploads/2015/11/Screen-Shot-2015-11-03-at-1.27.44-PM.png"][/url]
In another mixing bowl, combine all ingredients of sauce; whisk until sugar has dissolved. Set aside.
[url href="http://seonkyounglongest.com/wp-content/uploads/2015/11/Screen-Shot-2015-11-03-at-1.28.22-PM.png"][/url][url href="http://seonkyounglongest.com/wp-content/uploads/2015/11/Screen-Shot-2015-11-03-at-1.30.42-PM.png"][/url]
Pour frying oil into your wok, at least 1-inch deep. (My wok needed about 2 cups, but it's depending on your wok size.) Heat oil over medium-high heat to 325°F (160°C).
[url href="http://seonkyounglongest.com/wp-content/uploads/2015/11/Screen-Shot-2015-11-03-at-1.30.49-PM.png"][/url]
Meanwhile oil is heating up, add egg and corn starch into marinated chicken to create batter. Mix well with your hand.
[url href="http://seonkyounglongest.com/wp-content/uploads/2015/11/Screen-Shot-2015-11-03-at-1.31.01-PM.png"][/url][url href="http://seonkyounglongest.com/wp-content/uploads/2015/11/Screen-Shot-2015-11-03-at-1.31.25-PM.png"][/url][url href="http://seonkyounglongest.com/wp-content/uploads/2015/11/Screen-Shot-2015-11-03-at-1.32.00-PM.png"][/url]
Carefully add half amount of chicken into wok one by one. Make sure the chicken doesn't stick to each other and not crowed the pot. (You have to do 2 or 3 batches) Fry chicken for 2 to 3 minutes and turn it over, cook 2 more minutes or until chicken is fully cooked and golden. Stir with a spatula as needed. Gently take them out from wok to a plate or wide bowl that lined with paper towels. Repeat with rest of chicken. Set aside.
[url href="http://seonkyounglongest.com/wp-content/uploads/2015/11/Screen-Shot-2015-11-03-at-1.32.09-PM.png"][/url][url href="http://seonkyounglongest.com/wp-content/uploads/2015/11/Screen-Shot-2015-11-03-at-1.32.40-PM.png"][/url][url href="http://seonkyounglongest.com/wp-content/uploads/2015/11/Screen-Shot-2015-11-03-at-1.32.56-PM.png"][/url]
Let it cool completely, so they will be ready to deep fry one more time! This double frying process will make the chicken extremely crunch and last longer.
Now, increase heat to high and bring oil's temperature to 375°F (190°C)
Deep fry the cooled once-deep fried chicken one more time, about 1 minute. Gently take them out from wok to a plate or wide bowl that lined with paper towels. Repeat with rest of chicken. Set aside.
[url href="http://seonkyounglongest.com/wp-content/uploads/2015/11/Screen-Shot-2015-11-03-at-1.33.09-PM.png"][/url][url href="http://seonkyounglongest.com/wp-content/uploads/2015/11/Screen-Shot-2015-11-03-at-1.33.17-PM.png"][/url]
Pour out oil into a heat proof bowl. If you would like to use this oil again, let them cool while you are cooking and eating and then strain through a paper towel lined strainer so you can reuse it another time.
Wipe your wok with paper towel lightly, inside and out. Add 2 tsp. chili oil with chili flakes, dried chili and chopped garlic into cold wok then heat the wok over medium-high heat. Keep stirring with a spatula until you can smell the fragrance from garlic and chili (Be careful not to burn the garlic bits!), about 45 second to 1 minute.
[url href="http://seonkyounglongest.com/wp-content/uploads/2015/11/Screen-Shot-2015-11-03-at-1.33.28-PM.png"][/url][url href="http://seonkyounglongest.com/wp-content/uploads/2015/11/Screen-Shot-2015-11-03-at-1.33.38-PM.png"][/url]
Stir the sauce we made earlier and add into the wok. Keep stirring as the sauce gets thicken as syrup and boiling, it takes about 1 to 2 minutes.
[url href="http://seonkyounglongest.com/wp-content/uploads/2015/11/Screen-Shot-2015-11-03-at-1.33.44-PM.png"][/url][url href="http://seonkyounglongest.com/wp-content/uploads/2015/11/Screen-Shot-2015-11-03-at-1.34.02-PM.png"][/url]
Add fried chicken into sauce and toss everything together and let chicken coated with sauce evenly all over, about 30 second. Remove from heat immediately.
[url href="http://seonkyounglongest.com/wp-content/uploads/2015/11/Screen-Shot-2015-11-03-at-1.34.28-PM.png"][/url][url href="http://seonkyounglongest.com/wp-content/uploads/2015/11/Screen-Shot-2015-11-03-at-1.34.45-PM.png"][/url]
Transfer to a serving plate and enjoy with warm cooked rice or noodles!
[url href="http://seonkyounglongest.com/wp-content/uploads/2015/11/Screen-Shot-2015-11-03-at-1.34.55-PM.png"][/url]
---