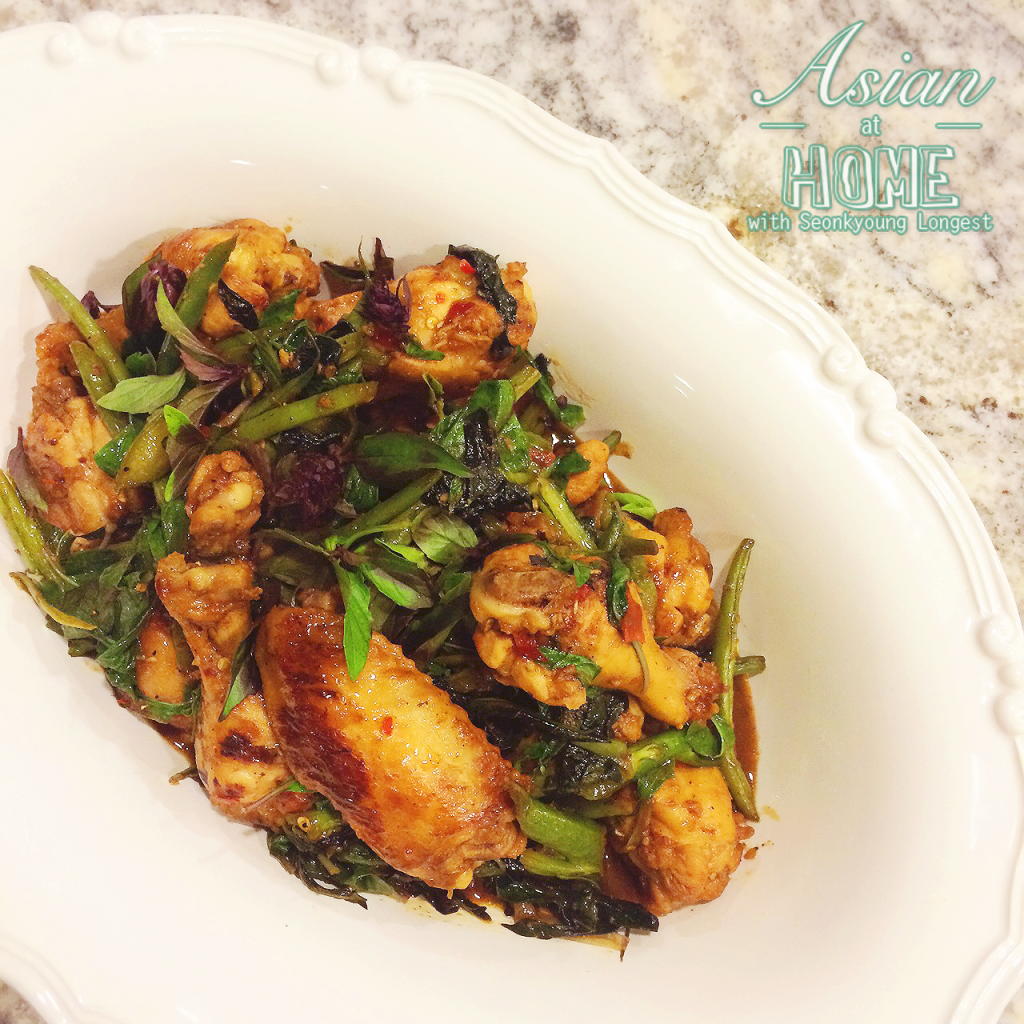 Hi guys!
Today I woke up a bit earlier than usual, which was awesome, so I've done lots of things in the house! Since I'm super busy to let my new kitchen to be camera-ready, there are so many things to do as well as all other parts of the house! Which is I'm enjoying so much because it keeps me very busy!
This morning, I had some extra time so I decided to clean and prepare for dinner as well while I'm watching documentary movie. Yes, I love multitasking! lol 
So since I knew what I was going to make for dinner, it was easy prep!
Recently we went a new Thai restaurant and Jacob ordered Thai Basil with Pork. It was super yummy and it reminded of me how long it's been we haven't had Thai food and Jasmine rice! I couldn't believe but look back, I understood why. Because we were living in hotel for 3months and I was really minimized all the ingredients I was having during the time. So…. It's time to re-fill up my pantry, refrigerator and cook!! 😉
Since I had leftover chicken wings from the weekend after we had Yakitori(Japanese grilled chicken), I decided to use it for Thai Basil. Now, this is the story where it goes from "Thai Basil with Chicken Wings" to "Thai Basil (kinda) Curry with Chicken Wings". 
To make long story short, it turned out slightly different than what I pictured in my head. But it was super yummy and delicious, so I'm sharing the recipe!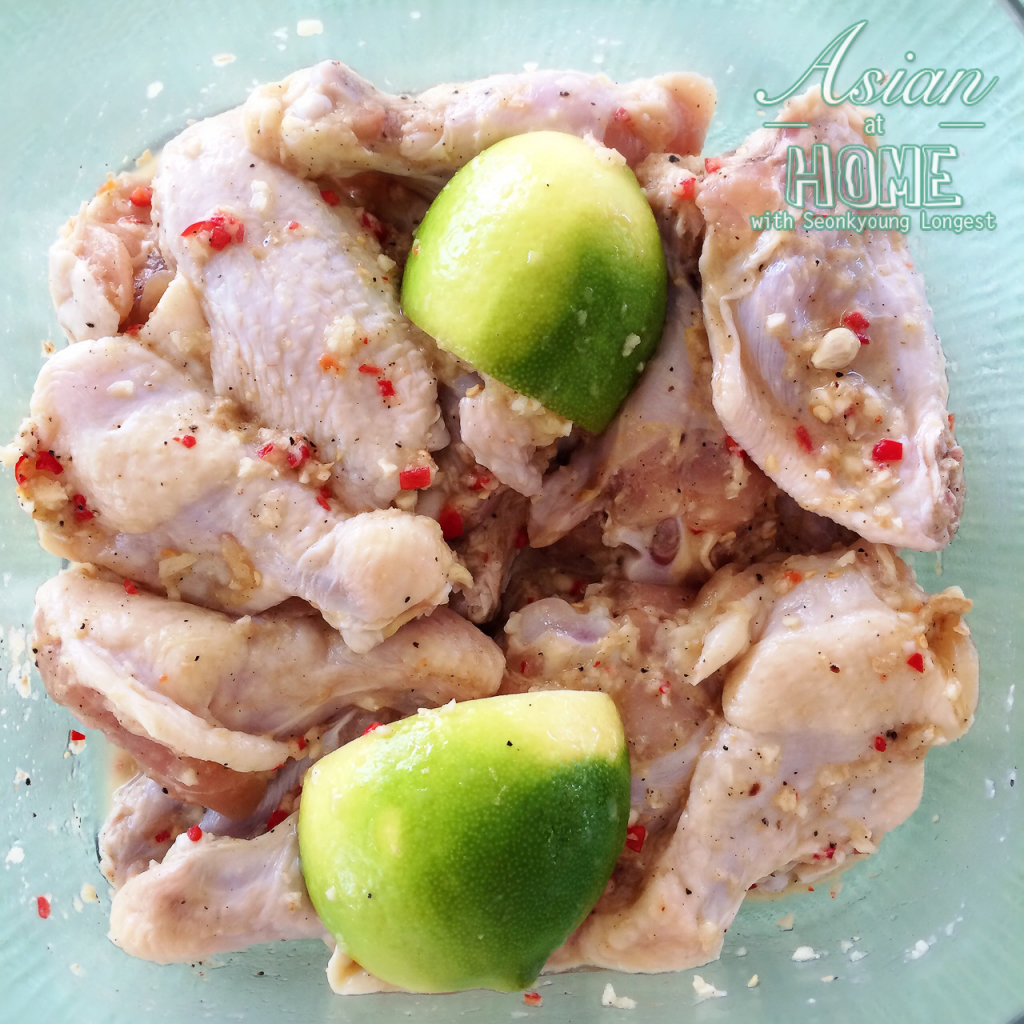 First, marinate chicken wings. I used about 11 cage free chicken wing pieces, mixture of drum sticks and flats. 
Cage free/organic chicken wings are smaller than regular ones; it's about 2/3 lb.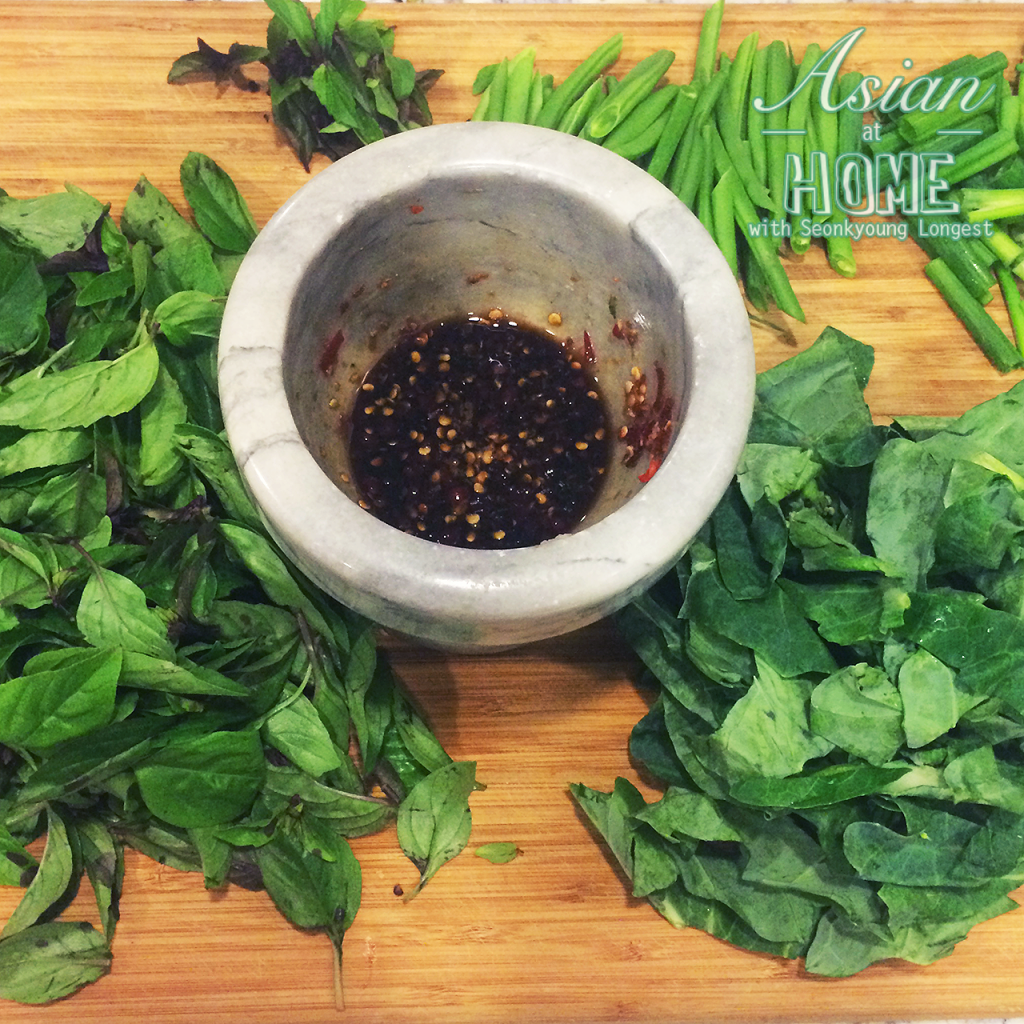 Now, let's get all vegetables and sauce ready! 
I used green beans and Chinese broccoli, but it's totally up to you. I really liked green beans/snake beans in this dish and I just happen to have Chinese broccoli in my refrigerator but you can use bell pepper, broccoli, carrot or any other vegetables as well.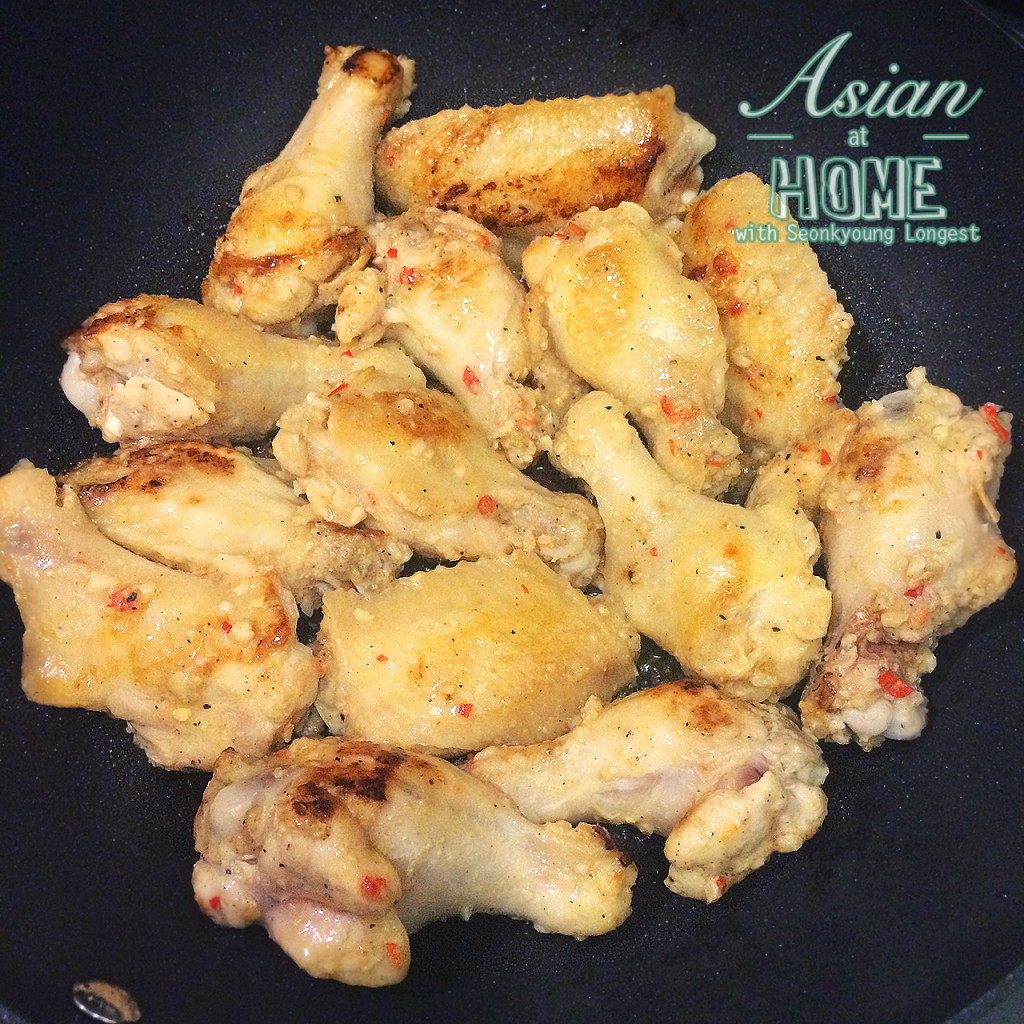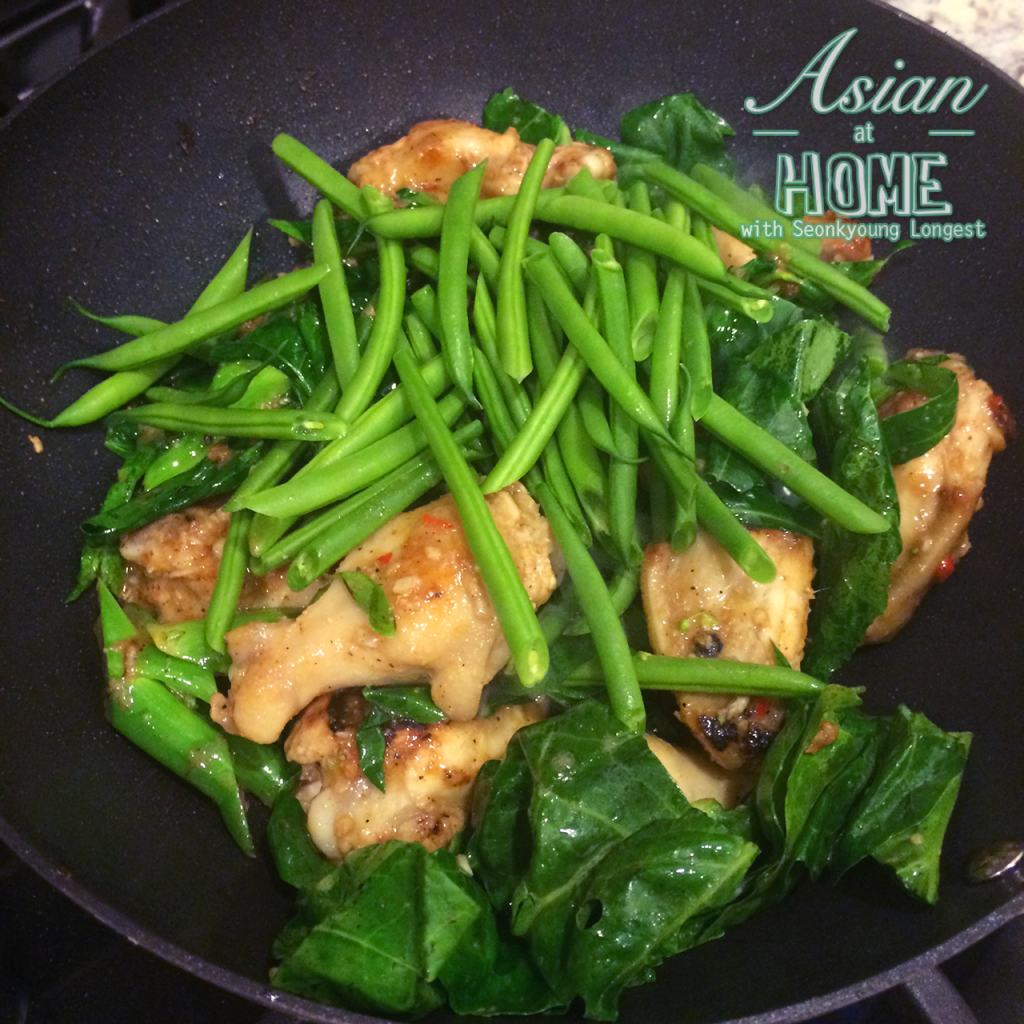 Thai Basil (kinda) Curry with Chicken Wings
Author:
Seonkyoung Longest
Ingredients
Chicken Marinate
1 lime
2 Tbs. palm sugar, coconut sugar or brown sugar
3 Tbs. fish sauce
½ Tbs. shrimp paste (you can substitute with 1 Tbs fish sauce)
3 garlic cloves, chopped
2 Tbs. grated ginger
2 Thai bird eye chili, chopped (You can omit if you want mild)
½ tsp. black pepper
Pinch of salt
12 cage-free/organic chicken wing pieces, about ⅔ lb.
For Sauce
5 Thai bird eye chili, chopped
1 Tbs. fish sauce
1 Tbs. rice vinegar
1 Tbs. soy sauce
2 Tbs. palm sugar, coconut sugar or brown sugar
For Stir-Fry
1 Tbs. cooking oil
Handful of green beans, cut into bite size (approximately 1 cup)
1 cup of Chinese broccoli, bell pepper, broccoli or any other vegetables you prefer
⅓ cup coconut milk
2 green onions, cut into 1" long pieces
Handful of Thai basil, leaves picked
Instructions
In a mixing bowl, add lime juice and next 8 ingredients and mix throughly. Add chicken wings and coat chicken wings with marinate evenly. Marinate wings at least 30 minutes to over night in a tight container or a ziplock bag.
Combine all ingredients for sauce in a bowl and set aside.
Heat a wok over medium high heat; add oil and swirl to coat. Add marinated chicken and sear both side until golden brown, then add rest of marinate sauce into wok, ¾ way cooked about 10 to 12 minutes. (depending on chicken wing size) Stir occasionally to prevent burning.
Add green beans and Chinese broccoli, bell pepper, broccoli or any other vegetables you choose. Stir fry for a minute, then add coconut milk and sauce we made earlier. Increase heat to high and evaporate ½ of moister as soon as possible by keep string, a couple of minutes.
Stir in green onion and Thai basil. Remove from heat.
Serve warm, with a bowl of warm cooked jasmine rice!
Nutrition Information
Calories:
4139
Fat:
163g
Saturated fat:
51g
Unsaturated fat:
91g
Carbohydrates:
125g
Sugar:
80g
Sodium:
8307mg
Fiber:
18g
Protein:
527g
Cholesterol:
1560mg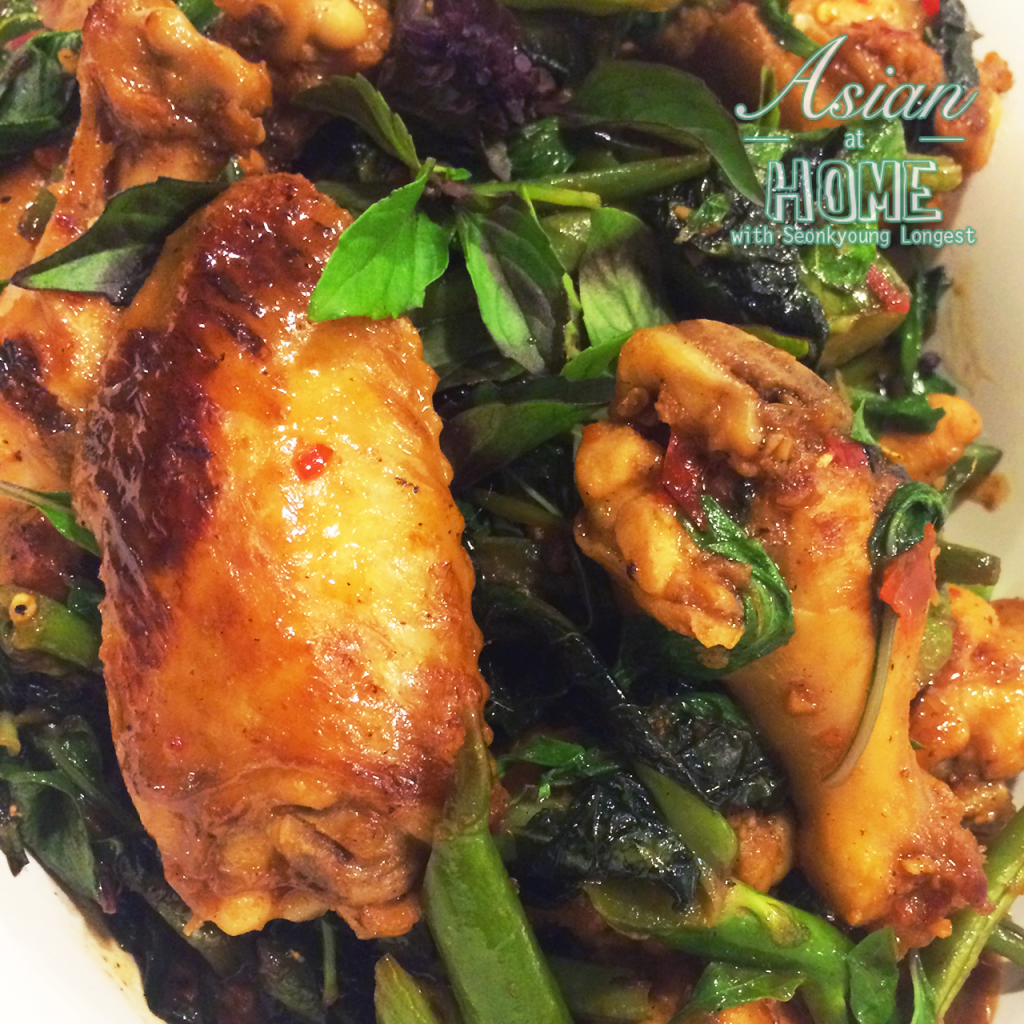 Have a delicious day!!