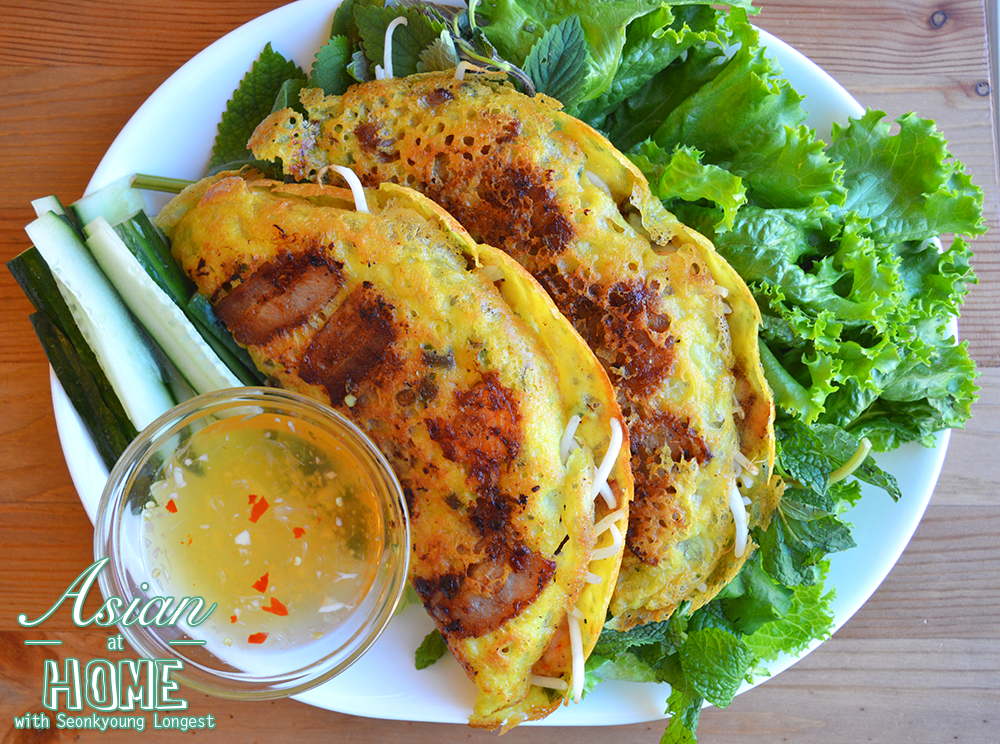 Hi guys!
In this post, I will be sharing very special recipe with my very special friend Be. She is Vietnamese and such a master of Vietnamese cooking!
So far I learned so much from her and can't wait to learn more about Vietnamese cuisine and give her more knowledge of Korean cuisine! She is such a great cook with a super fun personality, as you can tell if you watched the video down below that I filmed with Be in her kitchen! 
In the video, she taught us how to make Bánh Xèo, Vietnamese Sizzling Crepes. It was super fun and easy as all Asian at Home is about.
Of course, super delicious too!
I'm going to make this Banh Xeo again this weekend by myself! I can't wait to taste this because since I tasted homemade version, I was dying to eat it again!! 
Be gives us so much great tips of cooking Banh Xeo at home, so you've got to watch this video!!! Also, if you want to know "How to EAT" Banh xeo, this video will be very helpful as well! 😀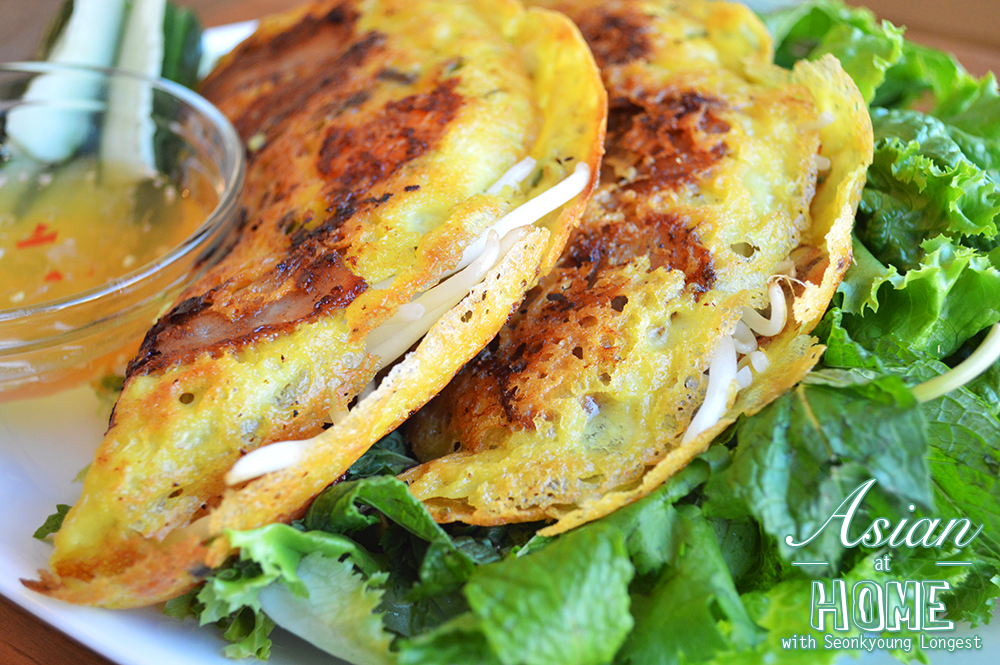 The written recipe I'm sharing on this post is her original recipe as well, so please don't forget to thank Be about this deliciousness sharing!! 
Bánh Xèo (Vietnamese Sizzling Crepes)
This Bánh Xèo recipe is originally written by Be Ngo on Love For Rice & Noodles.
Author:
Seonkyoung Longest
Ingredients
1 12oz. bag Bánh Xèo mix (mix according to the instruction on the bag)
Pinch of salt
1 12-oz. can of coconut milk (for the flour mixture)
3½ cups cold water
3 sprigs of green onions, chopped
Cooking oil
1 lb of pork shoulder/butt or pork belly, thinly sliced, marinate with 1 Tbs fish sauce and pepper
15-20 large shrimp, peeled, deveined, marinate with a few sprinkle of salt and pepper
Bean sprouts
Accompanied Vegetables
Red/green leaf lettuce
Cucumbers
Cilantro
Mints
Perilla leaves (tia to) - optional
Sorrel leaves (sour, la chua) - optional
Balm leaves (kinh gioi) - optional
Pickled daikon & carrot - optional
(Pickled daikon & carrot recipe: http://seonkyounglongest.com/?p=1388)
Rice paper (3-Ladies brand is my personal favorite)
Instructions
Combine Bánh Xèo mix and next 3 ingredients in a large mixing bowl and set it aside for a least 30 minutes so the flour can work its magic.
Add the green onions once you're about ready to cook.
Bring a clean pan to medium heat (see notes). 8" to 12" in diameter preferably. Once your pan is hot, add a few slices of the pork belly and allow it to cook until crispy on both sides. Add a few shrimp in along with the pork. Then add in about 1 tablteaspoon of cooking oil and allow the oil to heat for a few more seconds. (You need both your pan and oil to be hot because you want the batter to sizzle and cook right on contact.) Careful because this part will spatter so work fast.
Ladle in ½-2/3 cup of the batter (more or less depending on your pan size) and swirl the pan quickly and constantly until the batter covers the flat surface of the pan completely.
Now cover the pan with a lid and turn the heat down to medium or medium low.
When the crepe is half way cooked (2 minutes in), uncover the lid, and add in 1 more teaspoon of cooking oil (going around the rim of the pan). Cover for an extra minute.
Remove lid, add a handful of bean sprouts only half of the surface and fold in half as a half-moon shape; cook for another 1-2 minutes uncovered.
Repeat until all ingredients are gone, it will make about 8 to 10 crapes.
Serve with accompanied vegetables, Nuoc Mam Chua Ngot(Vietnamese Sweet & Tangy Dipping Sauce, Recipe down below), pickled daikon & carrot and rice paper.
You can wrap vegetables and crapes in a rice paper or just wrap crapes in lettuce with herbs and deep it in Nuoc Mam Chua Ngot, the Vietnamese signature dipping sauce! Enjoy!
Notes
*To achieve a really crispy crepe you want to use a non-stick heavy bottom pan (sturdy) to ensure even heat distribution.
*The extra oil will help create that crispiness. If you're worried about all that extra oil, no worries, it really won't stick to the crepe....it'll stay put for the next batch to cook in. I mean, you are eating fried batter right?!
*Patience is key when it comes to making these crepes. It usually takes about 5-6 minutes to cook each banh xeo.
*Another thing is you wouldn't want it too cook for too long or make them tooooo crunchy because then it will be hard as a rock and that's NOT good either. Find a happy medium in between!
Nutrition Information
Calories:
2457
Fat:
149g
Saturated fat:
86g
Unsaturated fat:
51g
Carbohydrates:
128g
Sugar:
26g
Sodium:
4478mg
Fiber:
29g
Protein:
169g
Cholesterol:
634mg
 If you want to know much more authentic Vietnamese recipes from my lovely friend Be, please visit her Facebook page, Love for Rice & Noodles and like her page!