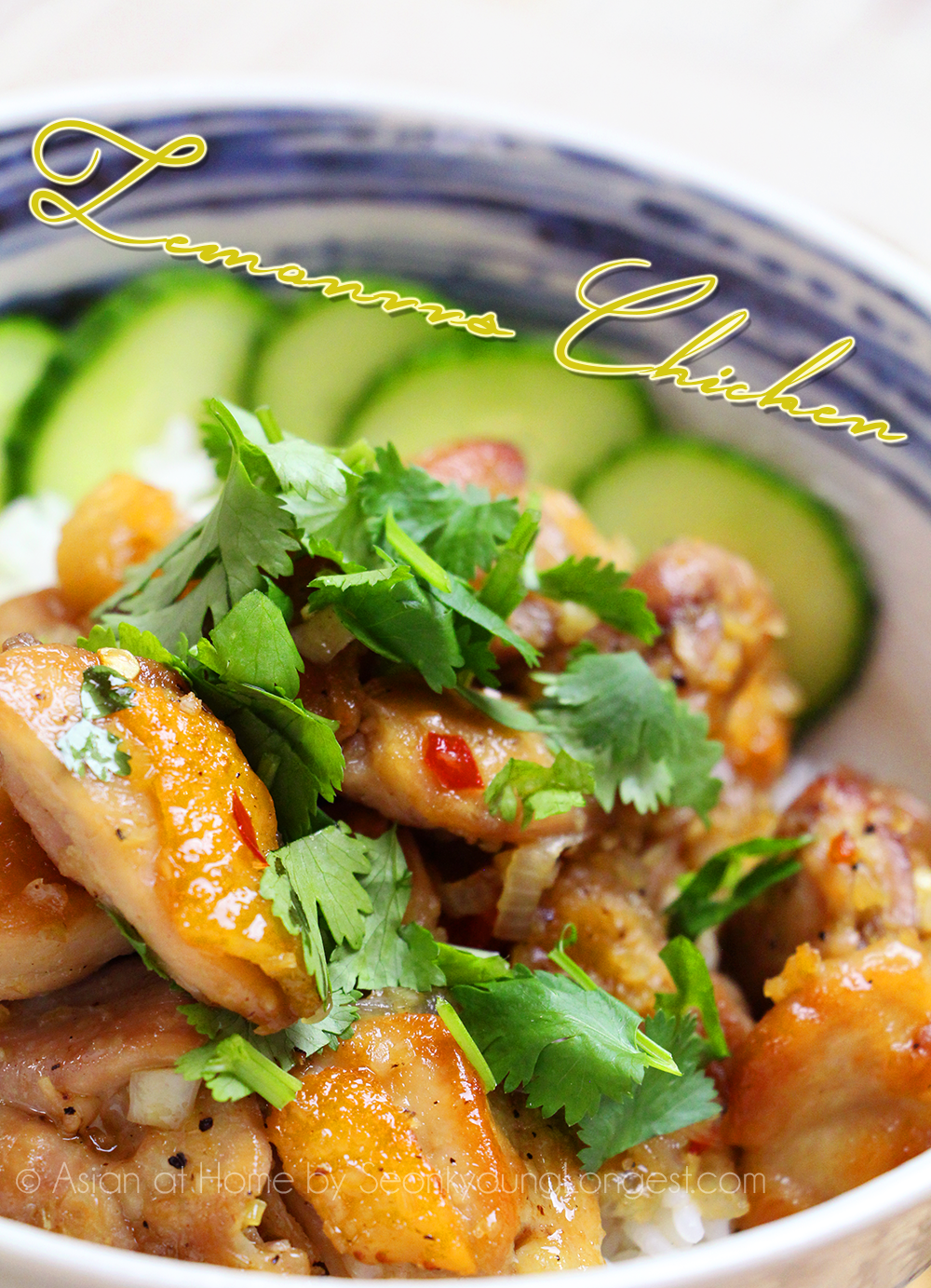 Hi guys,
Today I'm going to show you how to make Vietnamese Lemongrass Chicken!
I love this recipe because it is so good on top of Jasmine rice or Banh Mi(Vietnamese sandwich) and also I can make with pork, it works perfectly as well!
If you are a vegetarian, no worries, you can make this with fried tofu! Superb!!!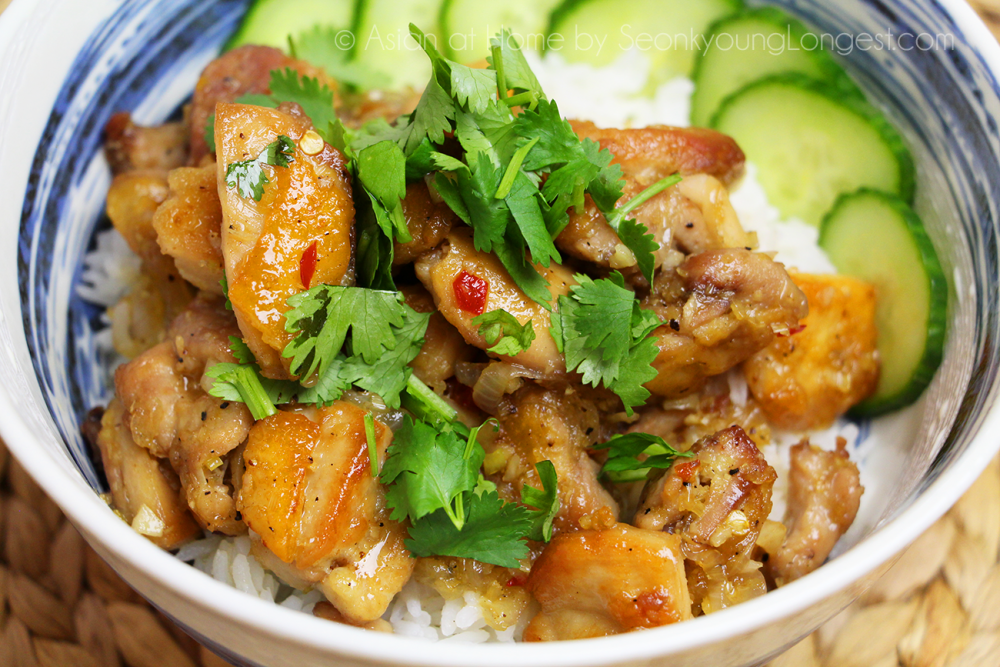 I love my lemongrass chicken to be a bit spicy, because it is perfectly balance with savory and sweet flavor.
But it is totally up to you, if you can't take spicy, just leave out the chili.
Crispy chicken skin and juicy meat in this recipe is quite important, so if you can, please use chicken thigh with skin on. But doesn't mean you cannot make with chicken breast with no skin, just remember it will have a bit less flavor than the original recipe.
I show you how to debone chicken thigh on my Teriyaki Chicken, please check out link HERE and watch the video!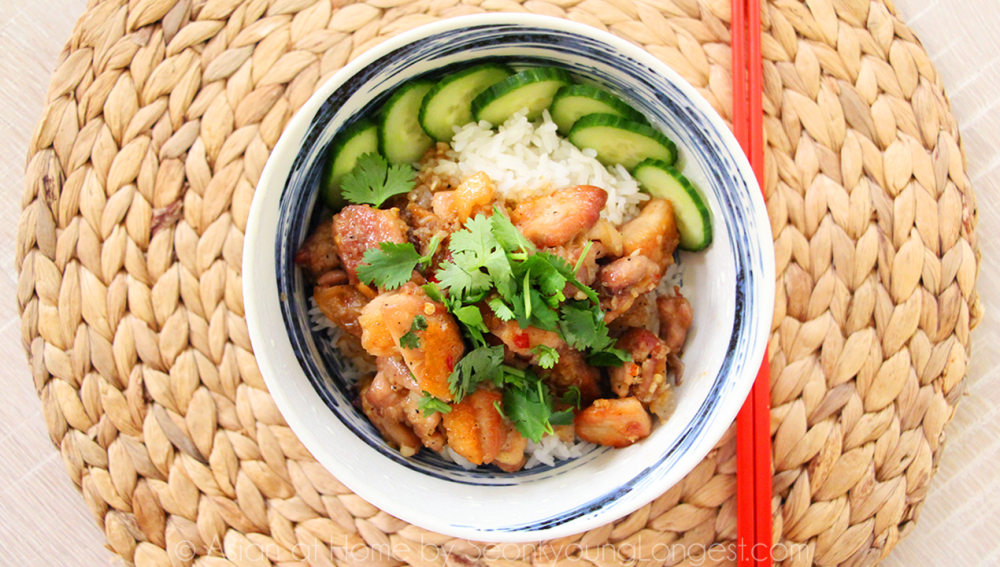 Hope you guys give this heavenly delicious lemongrass chicken recipe a try at home!
It is wayyyyyyy too gooooooooood to miss out!
Print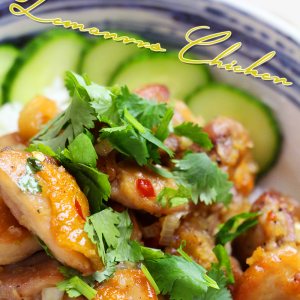 Vietnamese Lemongrass Chicken
---
Author:

Prep Time:

5 mins

Cook Time:

20 mins

Total Time:

25 mins

Yield:

2

1

x
Description
[url href="http://seonkyounglongest.com/wp-content/uploads/2015/09/IMG_3836-copy-600×340.png"]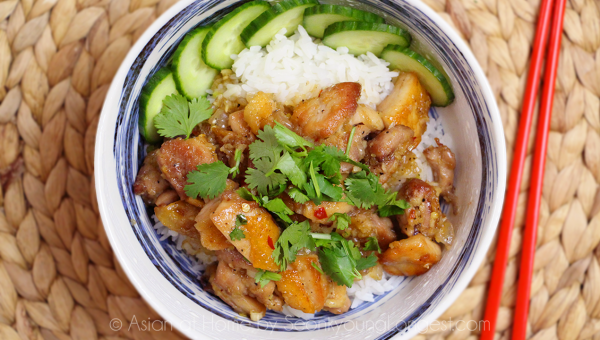 [/url]
---
Scale
Ingredients
4

Chicken thighs, boneless, skin on (Approximately

1

lb.)

1/2

Stalk of lemongrass (using only bottom white part)

4

Cloves garlic

2

Thai chili

1

Shallot

2

Tbs. cooking oil
For the Sauce
2

Tbs. Fish sauce

2

Tbs. Sugar

1/4 tsp

. Black pepper
To Serve with
Cilantro leaves
Warm cooked Jasmine rice
Cucumber slices
---
Instructions
Cut chicken thighs in bite sizes and set aside.
[url href="http://seonkyounglongest.com/wp-content/uploads/2015/09/Screen-Shot-2015-09-21-at-6.02.58-PM.png"][/url] [url href="http://seonkyounglongest.com/wp-content/uploads/2015/09/Screen-Shot-2015-09-21-at-6.03.06-PM.png"][/url]
Pill first and second layers of lemongrass as needed; thinly slice and very finely chop it. This step is very important for pleasant texture of lemongrass. Set aside.
[url href="http://seonkyounglongest.com/wp-content/uploads/2015/09/Screen-Shot-2015-09-21-at-6.03.09-PM.png"][/url] [url href="http://seonkyounglongest.com/wp-content/uploads/2015/09/Screen-Shot-2015-09-21-at-6.03.18-PM.png"][/url] [url href="http://seonkyounglongest.com/wp-content/uploads/2015/09/Screen-Shot-2015-09-21-at-6.03.40-PM.png"][/url]
Roughly chop garlic and chili and thinly slice shallot. Set aside.
[url href="http://seonkyounglongest.com/wp-content/uploads/2015/09/Screen-Shot-2015-09-21-at-6.03.50-PM.png"][/url] [url href="http://seonkyounglongest.com/wp-content/uploads/2015/09/Screen-Shot-2015-09-21-at-6.04.01-PM.png"][/url] [url href="http://seonkyounglongest.com/wp-content/uploads/2015/09/Screen-Shot-2015-09-21-at-6.04.07-PM.png"][/url] [url href="http://seonkyounglongest.com/wp-content/uploads/2015/09/Screen-Shot-2015-09-21-at-6.04.12-PM.png"][/url]
In a small mixing bowl, add all sauce ingredients and whisk until sugar has dissolved. Set aside.
[url href="http://seonkyounglongest.com/wp-content/uploads/2015/09/Screen-Shot-2015-09-21-at-6.04.18-PM.png"][/url]
Heat a wok over high heat and add oil; swirl to coat. Add chicken, skin side down and cook for 5 minutes without touching. This way chicken skin will turn out nice golden brown and crispy. Turn it over and cook additional 1 to 2 minutes or until chicken is fully cooked. 

[url href="http://seonkyounglongest.com/wp-content/uploads/2015/09/Screen-Shot-2015-09-21-at-6.04.29-PM.png"][/url] [url href="http://seonkyounglongest.com/wp-content/uploads/2015/09/Screen-Shot-2015-09-21-at-6.04.35-PM.png"][/url] [url href="http://seonkyounglongest.com/wp-content/uploads/2015/09/Screen-Shot-2015-09-21-at-6.04.38-PM.png"][/url] [url href="http://seonkyounglongest.com/wp-content/uploads/2015/09/Screen-Shot-2015-09-21-at-6.04.47-PM.png"][/url]
Turn off heat for now and remove excess oil from wok by scooping out with a spoon to another bowl. Leave only 2 Tbs. oil in wok to keep cooking with.
[url href="http://seonkyounglongest.com/wp-content/uploads/2015/09/Screen-Shot-2015-09-21-at-6.04.59-PM.png"][/url] [url href="http://seonkyounglongest.com/wp-content/uploads/2015/09/Screen-Shot-2015-09-21-at-6.05.26-PM.png"][/url]
Turn your stove back to high heat and add lemongrass, garlic, chili and shallot into wok. Stir fry for 1 to 2 minutes or until all the vegetables are soften and you can smell beautiful aroma.
[url href="http://seonkyounglongest.com/wp-content/uploads/2015/09/Screen-Shot-2015-09-21-at-6.05.48-PM.png"][/url] [url href="http://seonkyounglongest.com/wp-content/uploads/2015/09/Screen-Shot-2015-09-21-at-6.05.53-PM.png"][/url]
Add in sauce we made earlier and stir fry until sauce has thicken, chicken's coated evenly with sauce, about 1 minute. Remove from heat.
[url href="http://seonkyounglongest.com/wp-content/uploads/2015/09/Screen-Shot-2015-09-21-at-6.06.15-PM.png"][/url] [url href="http://seonkyounglongest.com/wp-content/uploads/2015/09/Screen-Shot-2015-09-21-at-6.06.20-PM.png"][/url]
Serve with warm cooked Jasmine rice, sliced cucumber, and some fresh cilantro.
Enjoy!
[url href="http://seonkyounglongest.com/wp-content/uploads/2015/09/Screen-Shot-2015-09-21-at-6.06.23-PM.png"][/url] [url href="http://seonkyounglongest.com/wp-content/uploads/2015/09/Screen-Shot-2015-09-21-at-6.06.40-PM.png"][/url] [url href="http://seonkyounglongest.com/wp-content/uploads/2015/09/Screen-Shot-2015-09-21-at-6.06.49-PM.png"][/url]
---
[yumprint-recipe id='73']