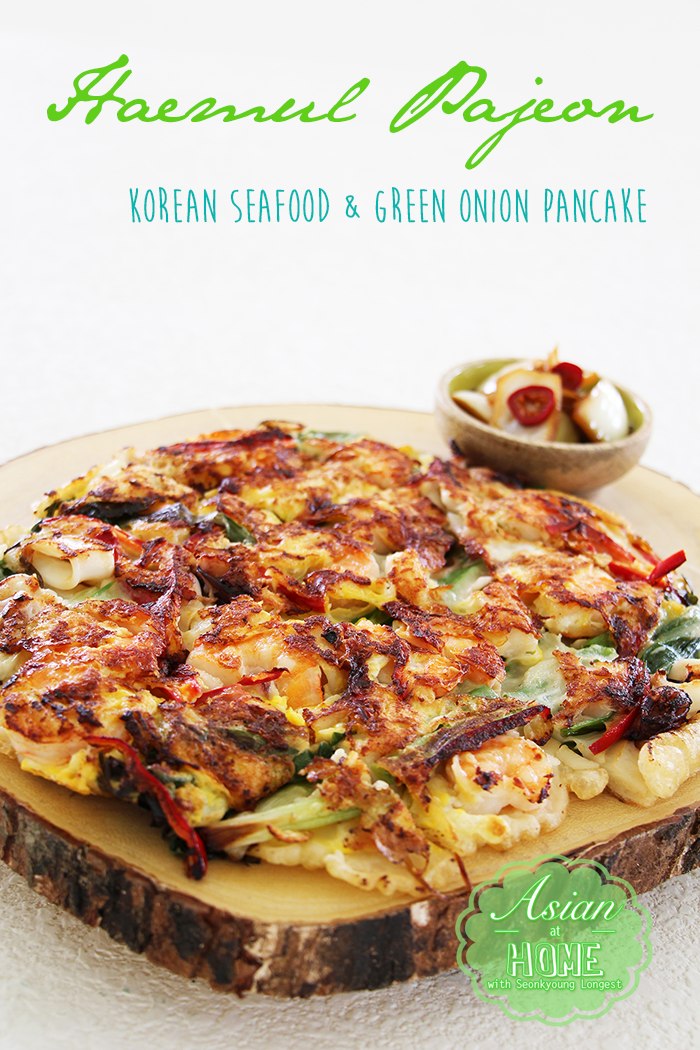 Hi guys!
Today I'm going to share one of my favorite pancake recipe, Haemul Pajeon! Korean Seafood Pancake!  
It is super yummy, everybody looooooves it!!!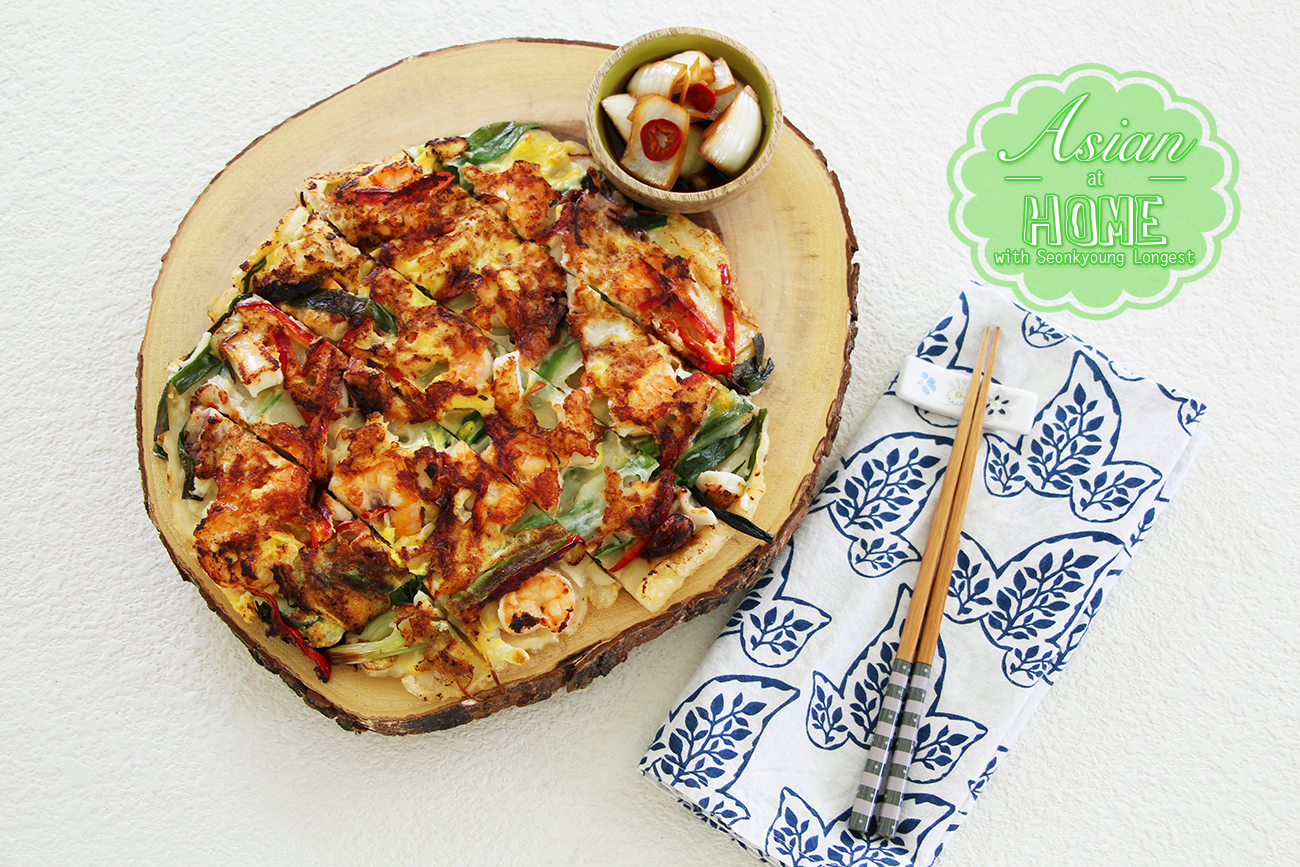 In Korea we eat this food with Maggeolli- Korean milky rice wine, which is AMAZING together!!
But no worries, without maggeolli, it is still faaaantastic!!!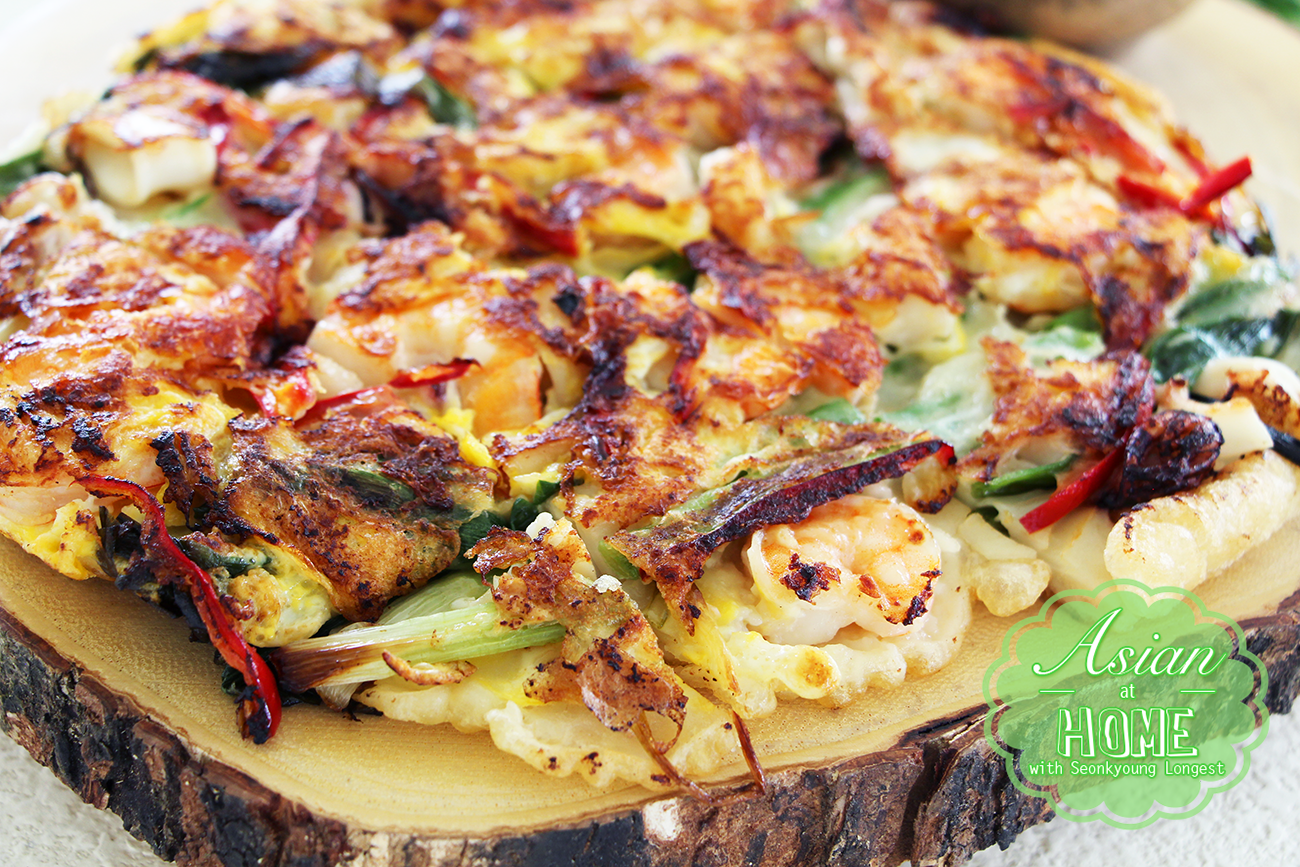 The seafood is totally your choice, because even in Korea, you will never get the same seafood every restraints you go. But commonly calamari/squid, shrimp, clam, mussel and oysters are used for this Korean Seafood Pancake. You can put 5 different kinds seafood or just only 1 kinds. It is really up to you!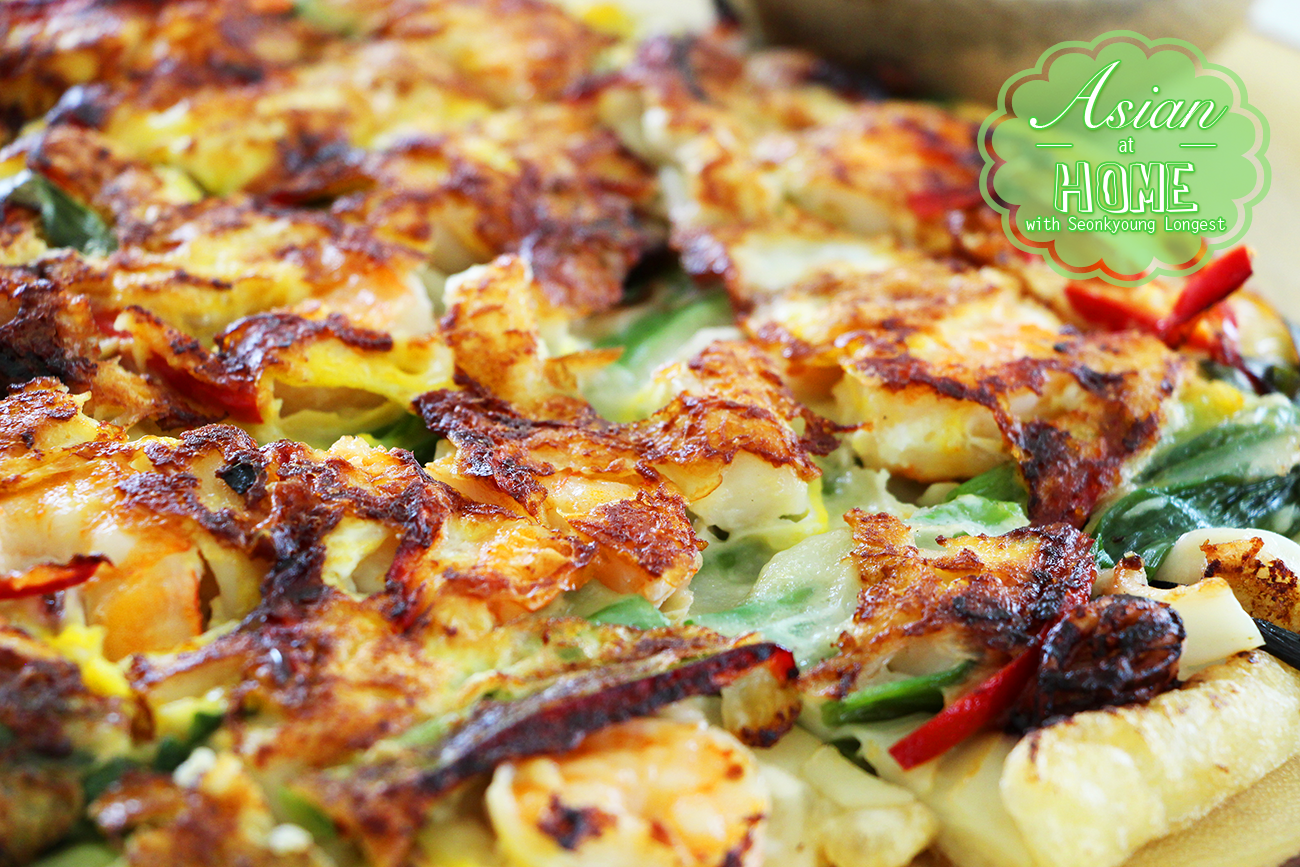 This recipe is super fun, quick and easy to make! 
I used Sempio's Tempura powder for this recipe, but if you are having hard time find one, you can make the tempura powder from scratch, just look at the recipe down below! 🙂
Oh, don't forget to check out this delicious Korean pickled onion recipe to serve with! It is the best dipping sauce (which add lots of texture and flavor than just a vinegar soy sauce) in my opinion for Korean pancakes! 🙂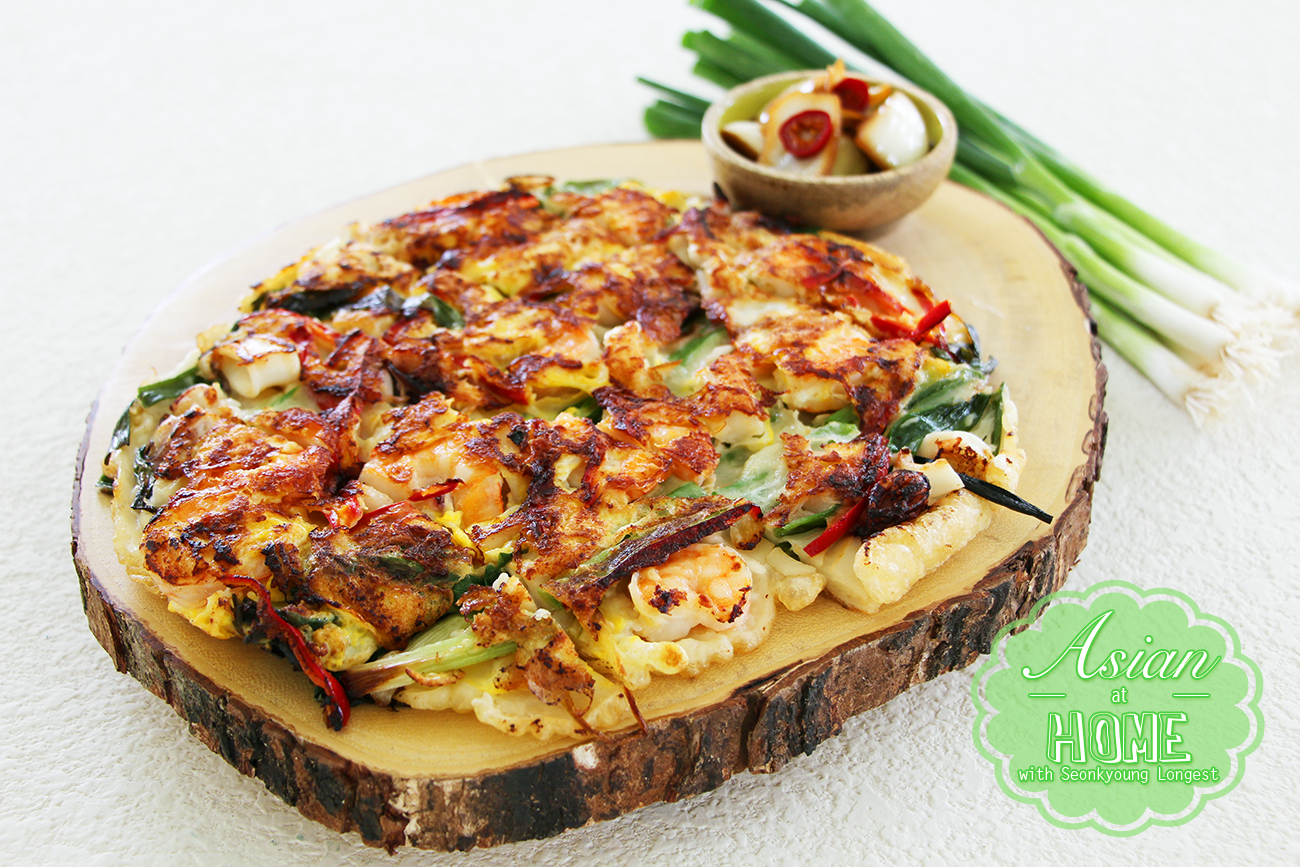 Hope you give this recipe a try on the weekend or for your crowd, they gonna fall in love whit this! 
Good luck in your kitchen and have fun~!! 😀
Haemul Pajeon (Korean Seafood & Green Onion Pancake)
Author:
Seonkyoung Longest
Ingredients
For the Batter
¾ cup Sempio's tempura powder*
¾ cup Cold water
2 Bundles of Green onion, about 13 to 15 (After washed, dry completely with paper towel.)
1 Red chili
6oz. Shrimp and calamari, peeled and deveined (Approximately 1 cup)
4 Tbs. Cooking oil
1 Egg
Instructions
In a mixing bowl, combine tempura powder and water; which until you don't see any lumps, but don't over mix. Set aside.


Trim completely washed and dried green onion's roots and dry ends. If your green onions are thick, cut into halves in lengthwise.


Place seafood evenly then sprinkle julienne red chili and pour rest of batter. Cook for 4 to 5 minutes.


Pour egg right on top of pancake, and cook another 2 to 3 minutes, until pancake is ¾
Cook additional 1 to 2 more minutes or until pancake is fully cooked. Carefully flip your skillet upside down onto cutting board so you can see egg and seafood part faces up.

Notes
You can make the tempura powder from scratch by mix the ingredients down below:
1 cup all-purpose flour
1/4 Tablespoon black pepper
1/3 Tablespoon sea salt
1/4 Tablespoon sugar
1 teaspoon garlic powder
1 teaspoon onion powder
1/2 teaspoon baking powder
1 teaspoon corn starch
Korean Seafood & Green Onion Pancake (Haemul Pajeon)
Author:
Seonkyoung Longest
Ingredients
For the Batter
¾ cup tempura powder (See Note)
¾ cup cold water
2 bundles of Green onion, about 13 to 15 (After washed, dry completely with paper towel.)
1 red chili, seeded and julienne
6 oz. shrimp and calamari, peeled and deveined (Approximately 1 cup)
4 Tbs. cooking oil
1 egg
Instructions
In a mixing bowl, combine tempura powder and water; which until you don't see any lumps, but don't over mix. Set aside.
Trim completely washed and dried green onion's roots and dry ends. If your green onions are thick, cut into halves in lengthwise.
Cut prepared seafood into bite sizes.
Heat a large skillet over medium high heat; add oil and swirl to coat.
Place green onions into skillet and spread evenly. Pour ¾ of batter we made earlier.
Place seafood evenly then sprinkle julienne red chili and pour rest of batter. Cook for 4 to 5 minutes.
Meanwhile, crack an egg into a small bowl and break yolk a little bit, but not mixing.
Pour egg right on top of pancake, and cook another 2 to 3 minutes, until pancake is ¾
way cooked and bottom is crispy and golden brown. Flip it over carefully with 2 spatulas.
Cook additional 1 to 2 more minutes or until pancake is fully cooked. Carefully flip your skillet upside down onto cutting board so you can see egg and seafood part faces up.
Cut into bite sizes and serve immediately with Korean pancake dipping sauce. (Soy sauce and vinegar/lemon mixture)
Notes
1 cup all-purpose flour
1/4 Tablespoon black pepper
1/3 Tablespoon sea salt
1/4 Tablespoon sugar
1 teaspoon garlic powder
1 teaspoon onion powder
1/2 teaspoon baking powder
1 teaspoon corn starch
Nutrition Information
Serving size:
2
Calories:
398
Fat:
32g
Saturated fat:
3g
Unsaturated fat:
27g
Carbohydrates:
5g
Sugar:
2g
Sodium:
849mg
Fiber:
1g
Protein:
23g
Cholesterol:
272mg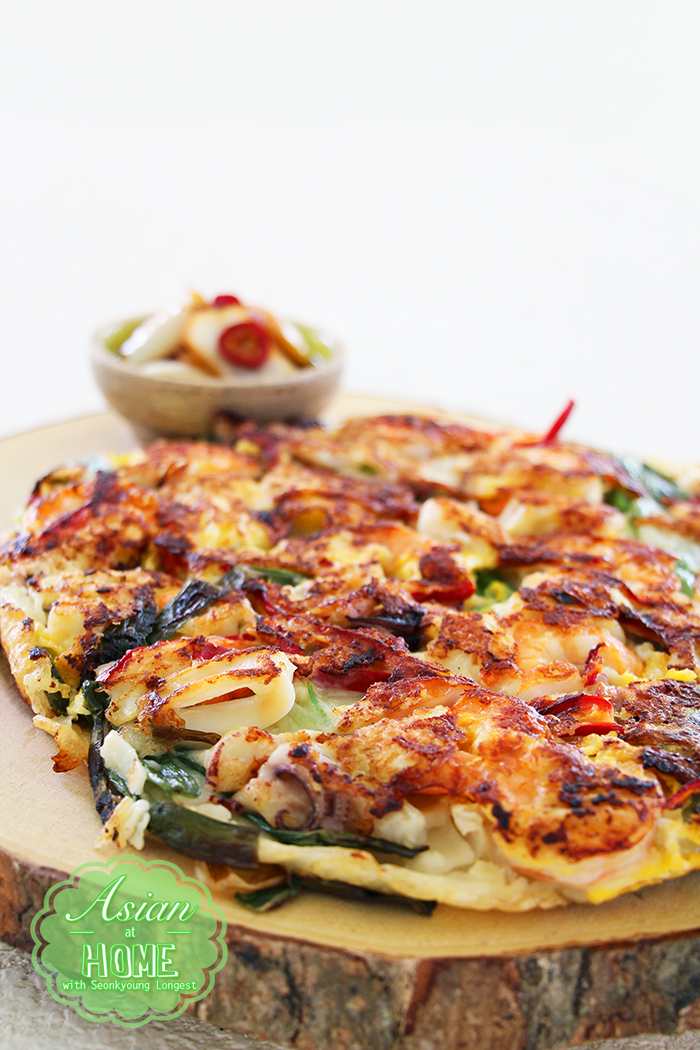 ===================================
♥  For more Sempio product visit:
http://www.amazon.com/sempio
http://www.sempio.com/eng
http://www.facebook.com/sempio
===================================