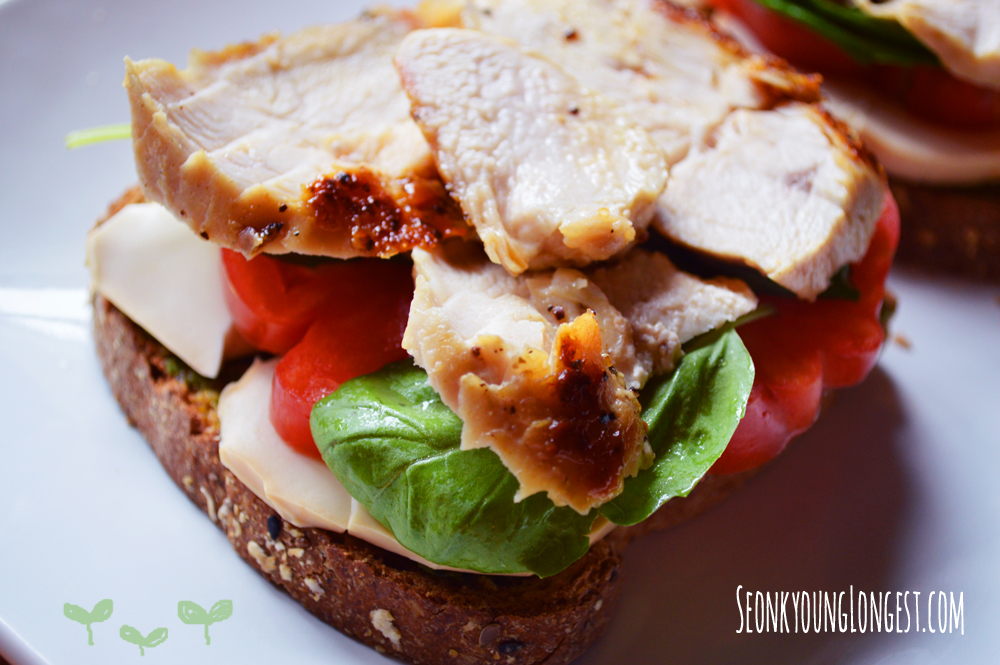 I've posted this open sandwich last month (Simply Delicious : Chicken & Basil Pesto Open Sandwich), with introducing my basil pesto recipe. I made same open sandwich again, because we love it so much! It's so easy and simple to make yes, SO satisfying!
Jacob and I are very luck to able to enjoy some very complex flavor dish, and same time, we really enjoy some simple and natural flavor. I really appreciated that I'm able to enjoy all these deliciousness all around world with my, only love Jacob. 🙂 He makes everything extra special and delicious by just being there with me! 
I know lots of you probably understand what I'm talking about. Food always taste better when you share with your loved ones. 
Jacob loves 'simple' Italian dishes. One of his favorites of favorites is Pizza Margherita. The pizza has only 3 ingredients. Tomato sauce, mozzarella and basil. So when I make pizza at home (unless I'm trying new flavor or come up with new ideas), I always make pizaa margherita. When I hear him going "WootWoot" and dancing his own happy dance after seeing the pizza in the oven, makes me want to make more and more of his favorite dishes. 
That's why I came up with this open sandwich too. I know it's really simple, probably there are restaurants out there selling same sandwich. But my open sandwich is very special because I made all the components by thinking of my love. Even though it's exist menu somewhere, this is my open sandwich I dedicate to Jacob. 🙂
Yesterday he came home for lunch(he does almost everyday unless he has meeting or something), he was so happy to eat this sandwich. He knew I was making this again with a bit different ingredients. I used smoked mozzarella and heirloom tomatoes this time. I also added fresh basil leaves since he love love loves basil. 
Oh, and I had to use our chia seed bread instead of ciabatta this time (even though we like ciabatta better with this sandwich!) because that was only one kind of bread I had in my pantry.. lol
If you want to omit chicken and make vegetarian, go ahead!  
 Make this simple yet deliciously satisfying sandwich at home for your loved ones or for yourself! 
Hope you enjoy my recipe and good luck!!
Love you!!
XoXo
Caprese Open Sandwich with Chicken
Author:
Seonkyoung Longest
Ingredients
1 Tbs. olive oil
2 organic or cage free chicken breast*
2 tsp. salt
1 tsp. black pepper
4 of ½" thick ciabatta bread slices (You can substitute to your desire bread)
4 Tbs. basil pesto (see link down below to get my homemade pesto recipe. You can also use store bought one)
8 oz. Smoked or fresh mozzarella, sliced into ¼" thick
1 heirloom tomato, sliced into ¼" thick
A few fresh basil leaf (optional)
Instructions
Heat a skillet over medium high heat; add oil and swirl to coat. Season chicken with salt and pepper and place on hot skillet. Cook 5 minutes and flip it over. Cook 4 to 5 more minutes or until it's golden brown out size and fully cooked inside. Set aside and let it rest for 10 minutes on a plate or a cutting board.
Cut chicken into ¼" thick slices, give it an angle of 45 degrees when you slice chicken, so you can have wider chicken slices.
Toast bread slices in a toaster as you desire, but not too harsh.
Spread each toasts with 1 Tbs peso evenly, then place mozzarella right on top. Place tomato slices on top of mozzarella and then basil leaf. Finally place chicken right on top of basil, and now you are ready to take a bite!
Notes
*You can use any kind of chicken breast but the size is matter for the cooking time. Usually organic or cage free chickens are smaller than tyson or other brands that are not cage free/organic.
*If you are making this for a big crowd, make as 'build your-own' style for self serving or drizzle some olive oil on top of chicken to prevent from drying.
Nutrition Information
Calories:
2228
Fat:
145g
Saturated fat:
43g
Unsaturated fat:
94g
Carbohydrates:
103g
Sugar:
10g
Sodium:
7712mg
Fiber:
7g
Protein:
128g
Cholesterol:
325mg