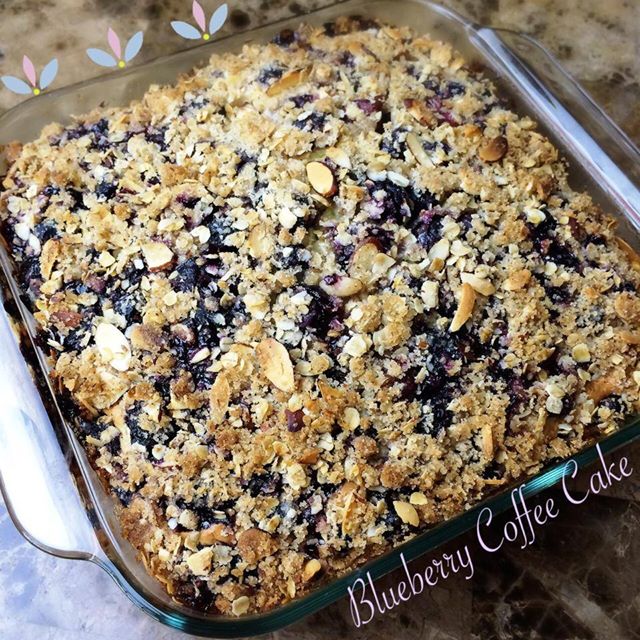 Hi guys!
2 days ago, I made this delicious blueberry coffeecake to release my stress and unnecessary thoughts in my head. Baking always helps me out to have a calm mind because I'm doing something physically with following directions that I don't need to think too hard. I believe I'm not the only one feeling this way. 😉  
So, that day I shared some pictures on my Instagram (@Seonkyoung), Facebook page and twitter (@Seonkyoung). And I received a few messages that want to have this coffeecake recipe, so I'm sharing right now! 😀 
Special Thanks for the whom requested this recipe!
*** Tammy Chan, Lidia Baron De Matus, Liz Tray and Amy Chang. ***
Keep all the request coming please~!! 😀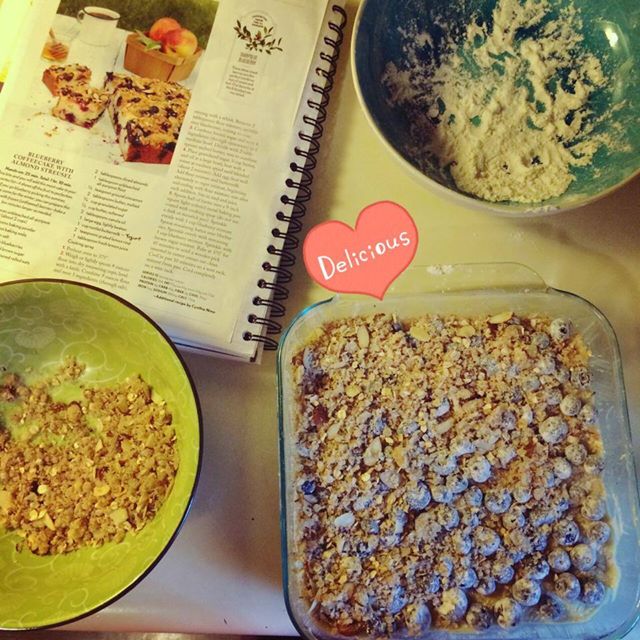 The original recipe is from Cooking Light Magazine(2014 Summer Cookbook); Additional recipe by Cynthia Nims. It looked just SO GOOD so I had to try out, especially I had 2 cases of 18 oz. blueberries in my freezer! I also had all the ingredients accept buttermilk and brown sugar. So I substitute buttermilk to plain yogurt and brown sugar to organic cane sugar. I used all the sugar in the recipe organic cane sugar. It was super easy to make, and really yummy!!
Next time, I would love to make this as a vegan version, substitute all the butter and oil to coconut oil, egg to apple sauce and buttermilk to coconut milk yogurt! 🙂 I'm already so excited to try it out!!  
But today on this post, I will share the original recipe, so you have choice whatever you want to substitute! 
 Enjoy blueberry coffeecake in the morning with a cup of coffee, tea or a cold glass of milk! YUM!!!  Probably great idea for a potluck too!! 😀 
If you try it, please share the picture with me via Instagram or twitter @Seonkyoung!! 
Love you!!  
XoXo
Blueberry Coffeecake with Almond Streusel
The original recipe is from Cooking Light Magazine 2014 Summer Cookbook, Additional recipe by Cynthia Nims
Author:
Seonkyoung Longest
Ingredients
9 oz. unbleached all-purpose flour (about 2 cups)*
1½ tsp. baking powder
½ tsp. baking soda
½ tsp. salt
2 cups fresh blueberries (you can use unthawed frozen blueberries, bake a few min longer as needed)*
⅓ cup packed brown sugar*
¼ cup old-fashioned rolled oats*
2 Tbs. sliced almonds
1 Tbs. unbleached all-purpose flour
¼ tsp. ground cinnamon
2 Tbs. butter, melted
¾ cup granulated sugar*
¼ cup butter, softened
2 Tbs. canola oil*
1 large egg, lightly beaten
1 cup nonfat buttermilk*
2 tsp. grated lemon rind
1 Tbs. fresh lemon juice
Instructions
Preheat oven to 375 degrees.
Weigh or lightly spoon 9 oz. flour into dry measuring cups; level with a knife. Combine 9 oz. flour and next 3 ingredients (through salt), stirring with a whisk. Remove 2 Tbs. flour mixture; sprinkle over blueberries, tossing to coat.
Combine brown sugar and next 4 ingredients (through cinnamon) in a medium bowl. Drizzle with 2 Tbs. melted butter; toss to combine.
Place granulated sugar, ¼ cup butter, and oil in a large bowl; beat with a mixer at medium speed until blended (about 2 minutes). Add egg; beat well. Add flour mixture and buttermilk alternately to sugar mixture, beginning and ending with flour mixture; mix after each addition. Stir in rind and juice.
Spoon half of batter into a 9-inch square light-colored metal baking pan coated with cooking spray (do not use a dark or nonstick pan).* Sprinkle evenly with 1 cup blueberry mixture. Spoon remaining batter over blueberries. Sprinkle evenly with remaining 1 cup blueberry mixture.* Sprinkle with brown sugar mixture. Bake at 375 degrees for 45 minutes or until a wooden pick inserted in center comes out clean.
Cool in pan 10 minutes on a wire rack; remove from pan. Cool completely on a wire rack.
Notes
* I used regular all-purpose flour, doesn't have to be unbleached.
* I used frozen blueberries and baked 12 more minutes to finish. So bake 5 more minutes each time and check to not over bake the cake. If cake's start separating from the baking pan, means over baked.
* I substitute to organic cane sugar for brown and granulated sugar both.
* I used quick oats, but turned out pretty good.
* I used grape seed oil, you just need to use a light oil that doesn't have strong flavor. Such as vegetable, sunflower, light olive, etc. Oil is for keep the cake moist and prevent from too sticky.
* I substitute to whole milk plain yogurt, turned out nicely.
* stir with a butter knife the better and blueberry so blueberry will be in the cake all through, not only at the bottom and the top.
* I used glass baking pan and turned out fine.
Nutrition Information
Serving size:
12
Calories:
276
Fat:
10g
Saturated fat:
4g
Unsaturated fat:
5g
Carbohydrates:
43g
Sugar:
22g
Sodium:
182mg
Fiber:
2g
Protein:
5g
Cholesterol:
32mg