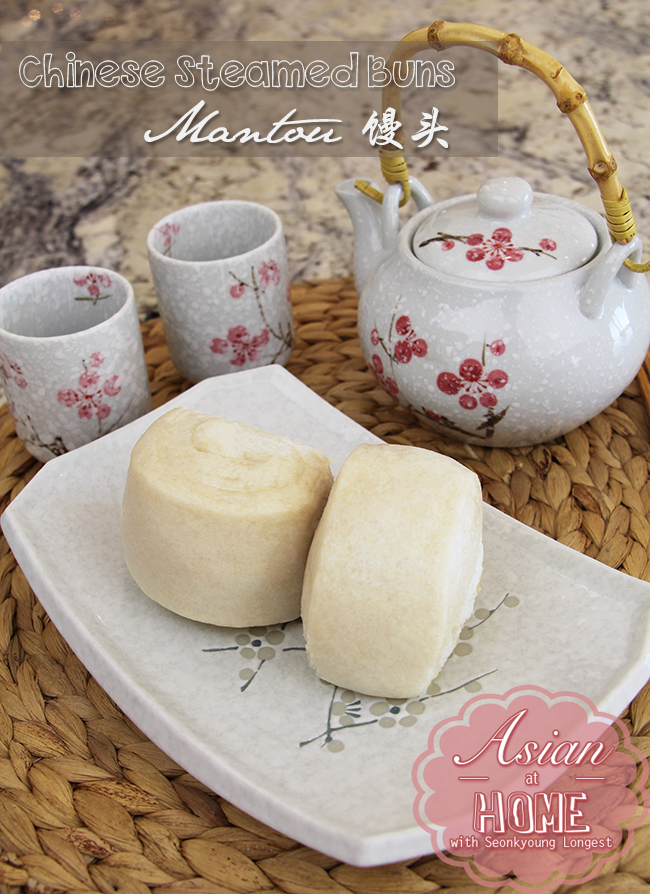 Hi guys!
When I was a little kid, I remember when we order chili pepper pork from Chinese restaurant, they mostly served with this warm glorious steamed buns with it. 
I loved it so much, ended up having frozen Chinese steamed buns in our freezer. As a little kid, I didn't even know it was possible to make it at home from scratch! lol
Now I grew up and learned so much about cooking, I had to try making Chinese steamed buns at home.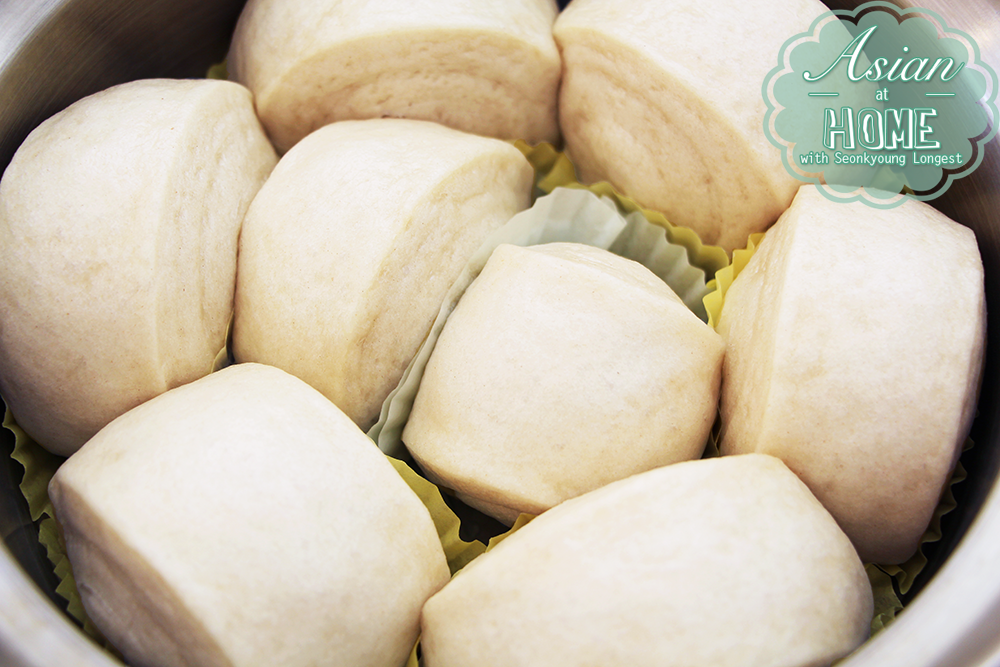 The most lovely part of this buns is so light, sweet, fluffy and just makes you a big smile when you bite into it. It is great substitute for rice, noodles or regular bread. 
Also the beauty of this steamed bun recipe is can be savory or sweet if you decided to fill up with delicious filling. 
I'm showing you the classic shape of Mantou, but you can shape this dough recipe as you desired.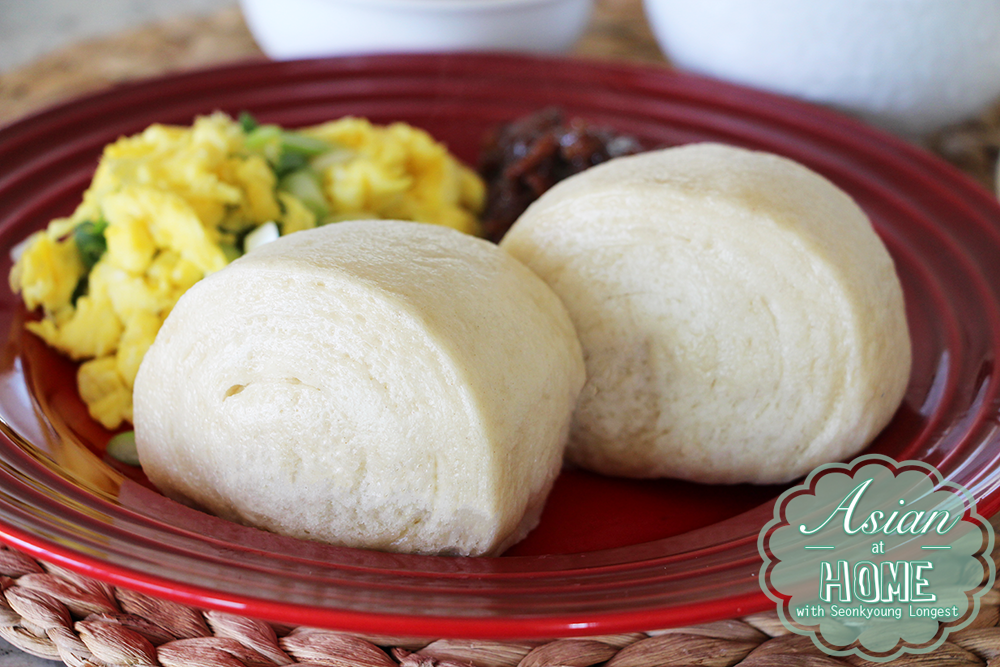 Give enough time and be patient for rising the dough is main key of this recipe.  If not, you might end up dense steamed buns and you don't want that happen. So, do not skip any of rising step on this recipe(total 3times) and give more time if the dough rises slower some reason.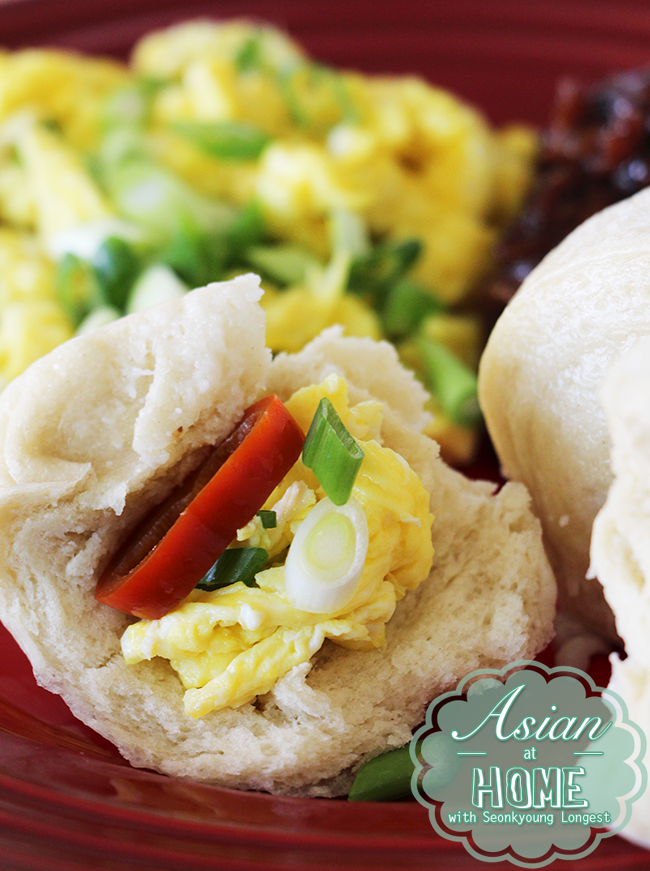 Hope you guys give this recipe a try and have fun in your kitchen~! 😀
Chinese Steamed Buns (Mantou 馒头)
Author:
Seonkyoung Longest
Ingredients
½ cup Warm milk
¼ cup Warm water
2 Tbs. Vegetable oil
1 Tbs. Active dry yeast (3/4 tsp. more than 1 individual package dry yeast)
2½ cups All purpose flour (use blenched flour if you want complete white buns)
¼ cup White sugar
1½ tsp. Baking powder
1½ tsp. Salt
Instructions
Combine warm milk, water, oil and yeast in a mixing bowl and whisk to let yeast dissolve. Let it sit for 5 to 10 minutes and let yeast to activate and grow.
Meanwhile add flour, sugar, baking powder and salt in a large mixing bowl and whisk to combine. Make a well middle of dry ingredients(flour mixture) and pour wet ingredients(milk mixture).
Slowly incorporate dry and wet ingredients together with a spatula. When enough flour has been incorporated into wet ingredients , begin to use hands to forms a dough.
When dough came together and there are no dry bits left in mixing bowl, take out dough from mixing bowl to a work surface; start kneading dough with both hands. Knead dough about 5 minutes until it's elastic, really soft and very smooth.
Form dough as a bowl and put it back to mixing bowl; cover with a plastic wrap and let it rise for 1 hour or become its double of size at warm place.
Push middle of dough with your index finger and reshape dough; cover with a plastic wrap and let it rise another 45 to 50 minutes at warm place.
Roll out dough to ¼" thin on a work surface. Roll now-flat dough 2" wide long log. Sprinkle flour as needed, but keep it less as possible or if it's not necessary don't use it at all. Cut into 1" wide pieces, you will have 10 equal pieces of Mantou.
Place buns on paper cupcake cups. (you can also use parchment paper or coffee filter as well)
Arrange on a bamboo or steel steamer. (you might need 2 depending on the size of your steamer) Cover them with a clean damped kitchen towel. Let it rest for additional 30 minutes.
Meanwhile, fill a wok or steamer pot with water and bring it to boil over high heat. Place steamer with buns into wok or steamer pot; make sure water is not touching buns. Cover with a lid and steam for 12 to 15 minutes or until buns are fluffy and fully cooked.
Tilt lid tiny bit for a slow air circulation for 2 to 3 minutes before open lid. If you open lid right away, nice fluffy buns will sink down on you and you don't want that happen.
Serve hot, enjoy!