Hi guys!
I have this recipe request from "Pearl Walton" and THANK YOU SO MUCH for your recipe request!
Please let me know what you want to see next from me, you guys are the Asian at Home Family!!!! I would love to make the recipes that you want to see from me!!!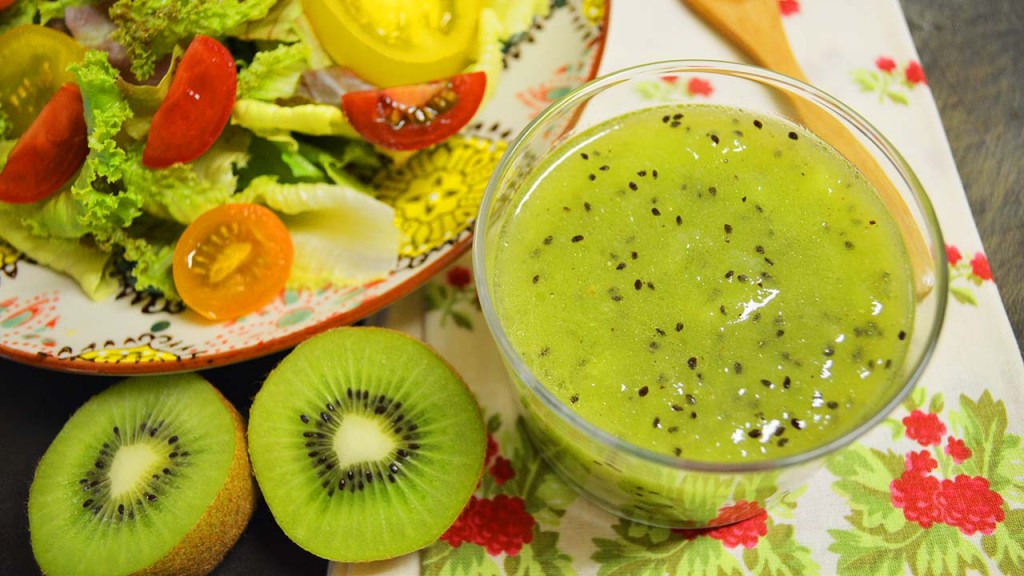 Kiwi helps digestion, blood pressure, boost immunity, heart disease, clean out toxins and protects from DNA damage.
1 kiw had more vitaminC more than 2 oranges or 6 apples!! Can you believe that?! It is so AWESOME!!!
Hope you try this Kiwi Dressing Recipe at home, and enjoy your healthy, fruity and delicious salad!! 
Kiwi Dressing
Author:
Seonkyoung Longest
Ingredients
4 kiwis, peeled
¼ small onion
Fresh juice from ½ of lemon
2 Tbs. honey (More if you prefer sweeter taste)
¼ cup natural flavored oil, such as sunflower, grape seeds, avocado, canola, olive oil.
¼ tsp. salt
⅛ tsp. black pepper
Instructions
Add all ingredients in a blender or food processor and blend until smooth. Serve with your favorite green or salad mixture. Keep it in a refrigerator for a week.
Nutrition Information
Calories:
1365
Fat:
117g
Saturated fat:
12g
Unsaturated fat:
101g
Carbohydrates:
88g
Sugar:
65g
Sodium:
605mg
Fiber:
13g
Protein:
5g