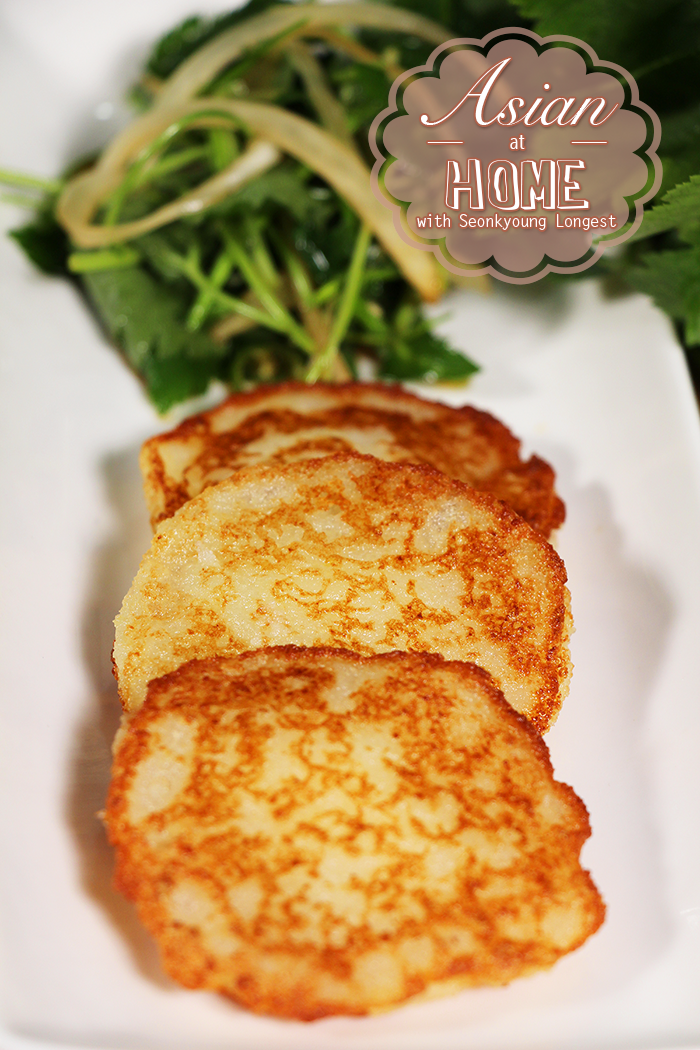 Hi guys!
Today I'm sharing delicious Korean style potato pancake!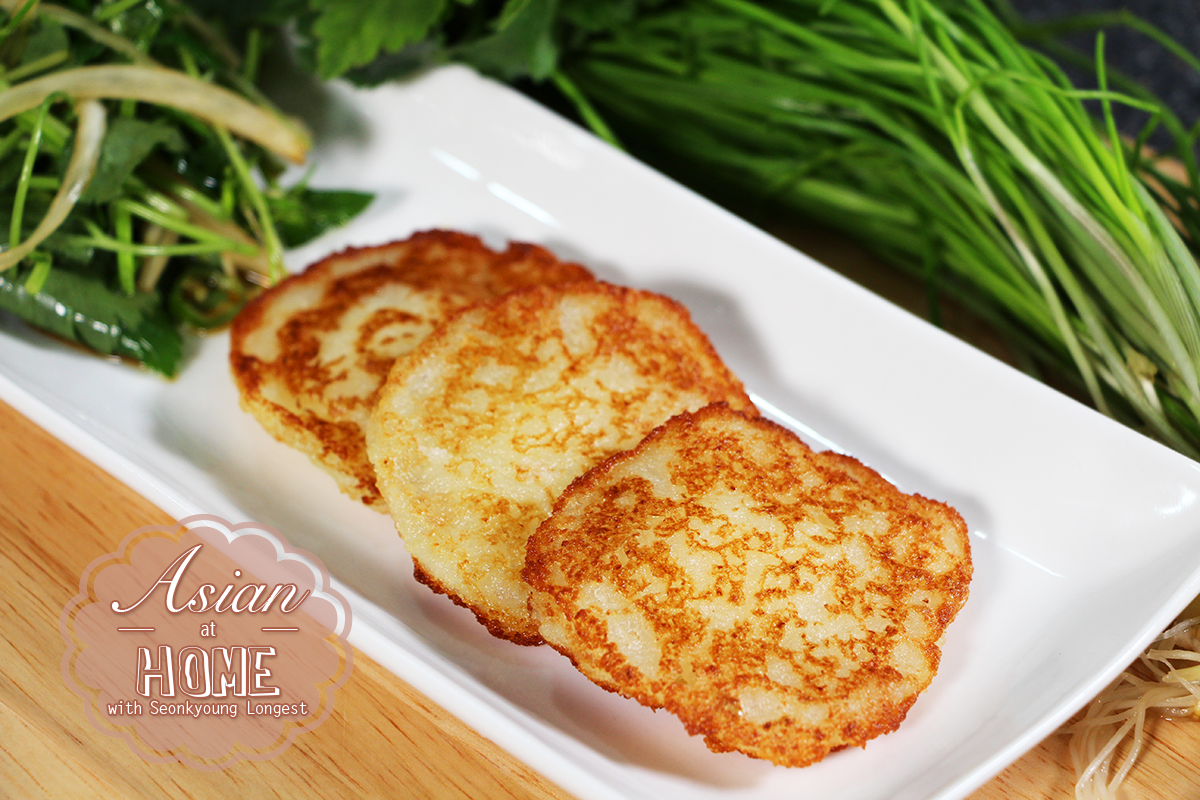 I'm not a huge fan of potato, so even I was live in Korea, I really didn't eat a lot of potato pancakes.
But when I went back to Korea last couple of months I got a chance to enjoy this potato pancake! Of course, I felt in love!! lol
This is so simple, pure potato taste and scrumptious!
The ingredients can't be simpler than this and super easy steps to follow!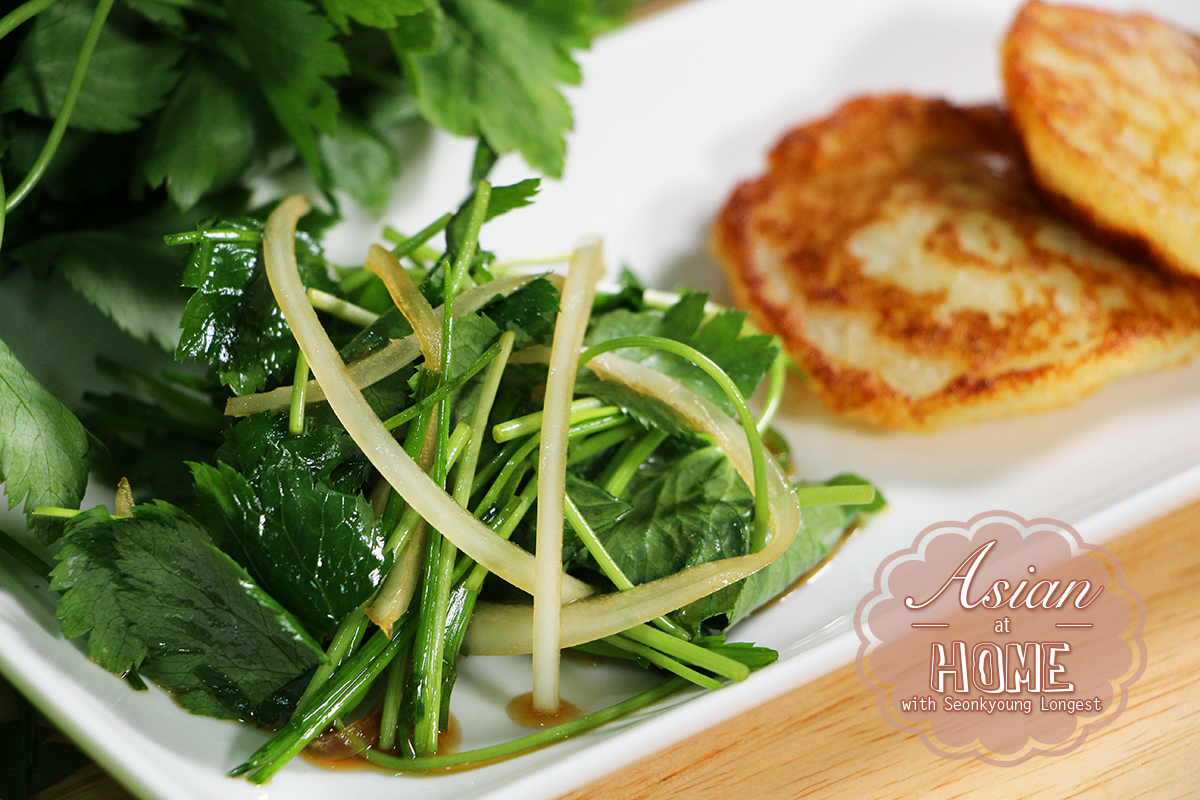 You can serve this pancakes with soy sauce and vinegar mixture, but I liked the idea of serving with a simple Korean style herb salad.
I used Chamnamul(very close to Italian parsley) and Dallae(Close to chive, but it's wile and has unique fragrance.). Both are unique Korean spring herbs and hard to find in U.S. Even you find them in U.S it just doesn't taste same, I don't know why? Korean ones just more tender, flavorful and has more fragrance.
But doesn't mean you can't use it, I just wanted to inform you. 😉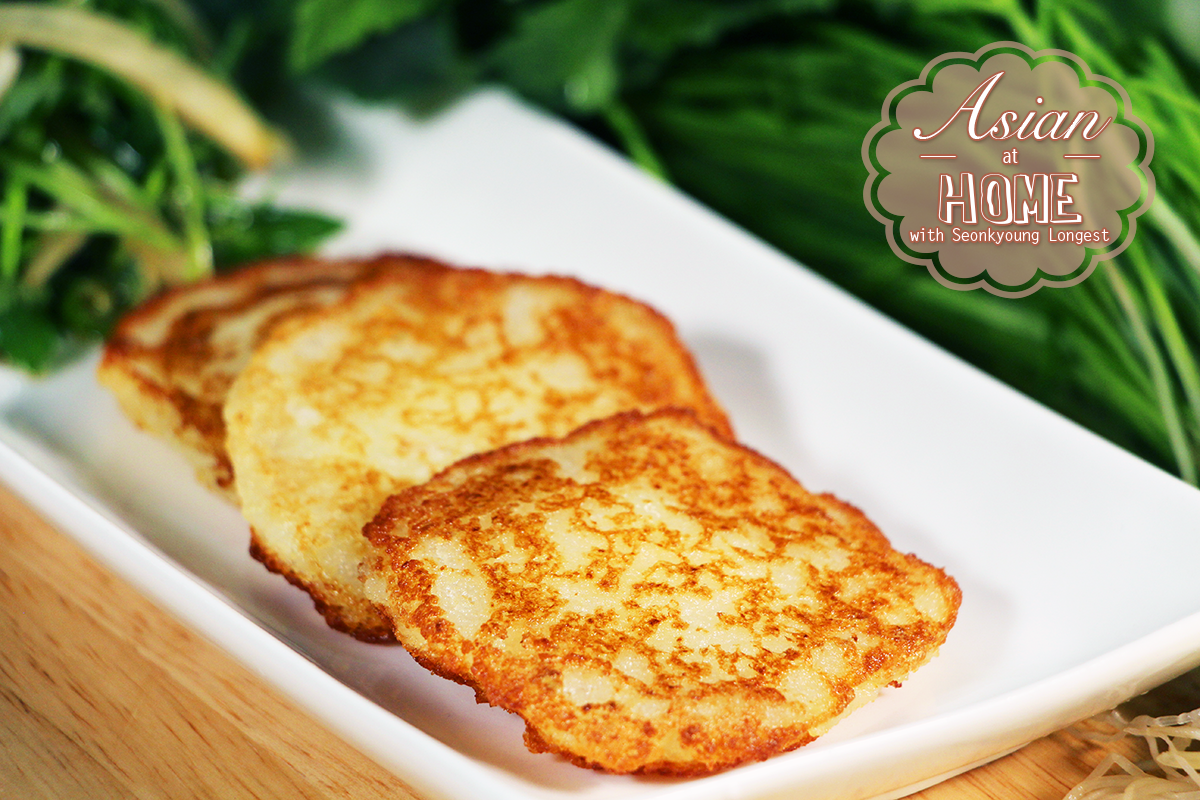 I really loved this Korean potato pancake, probably going to make it sometime this week!! 🙂
Hope you guys enjoy this recipe and try one day!
Oh, if you wanna learn how to make cocktails we had on the video, here is the links!
♥ Makgeolli Mojito Recipe, What we were drinking on this video (막걸리 모히토 레시피):
♥ Cafe Joseon Recipe (카페조선 레시피):
Print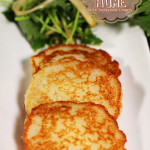 Korean Potato Pancake Recipe : 바삭 쫄깃 감자전 만들기
---
Description
[url href="http://seonkyounglongest.com/wp-content/uploads/2015/06/IMG_2485-copy-1024×683.png"]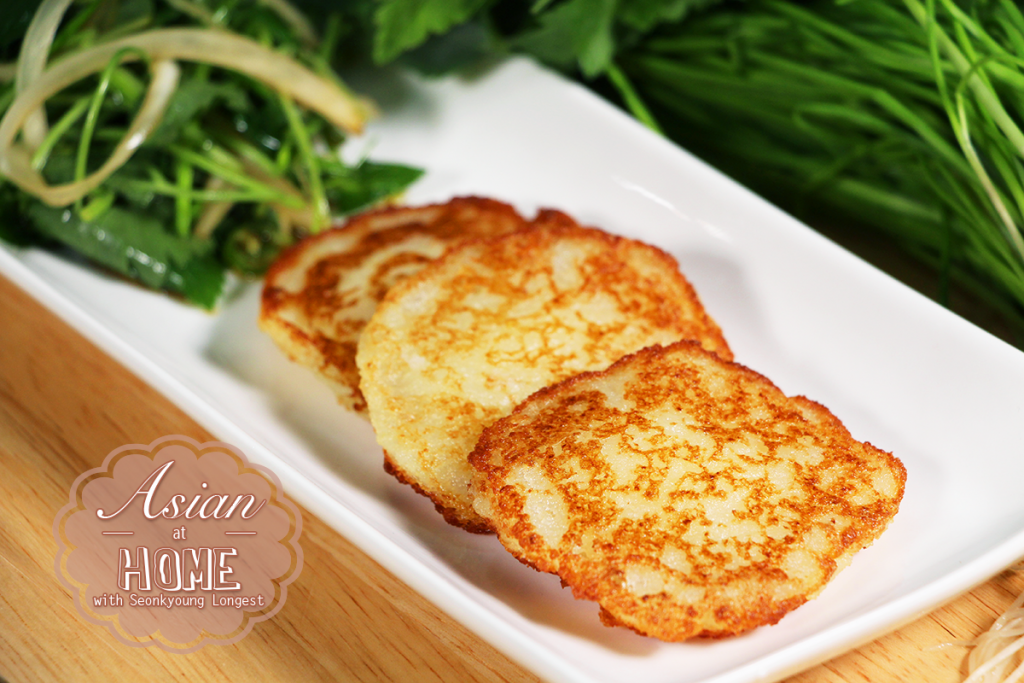 [/url]
---
Scale
Ingredients
5

Large size yukon gold potatoes (approximately

2

lb.)

1/4

of medium size onion

1 1/2 cup

cold water

2 tsp

. Salt
Cooking oil
For the Salad
2

Tbs. Soy sauce

2

Tbs. Fermented plum sauce (Maesil-aeg) or plum juice

1

to

2

tsp. Juice from fresh lemon

2 tsp

. Sesame oil

2 tsp

. Sesame seeds
About

2 cup

s of baby green leaves and herbs (I recommend parsley, cilantro, chive, arugula and/or kale.)

1 tsp

. Gochugaru (Korean red pepper flakes) or 1 green chili, optional
---
Instructions
Cut potatoes and onion roughly into cubes, doesn't have to be perfect- we are going to ground them up.
[url href="http://seonkyounglongest.com/wp-content/uploads/2015/06/Screen-Shot-2015-06-02-at-10.34.00-AM.png"][/url]
In a blender, add potato, onion and water; blend everything until smooth but not super smooth.
[url href="http://seonkyounglongest.com/wp-content/uploads/2015/06/Screen-Shot-2015-06-02-at-10.34.25-AM.png"][/url] [url href="http://seonkyounglongest.com/wp-content/uploads/2015/06/Screen-Shot-2015-06-02-at-10.48.29-AM.png"][/url]
Strain them through a strainer over a large mixing bowl to collect all liquid. Stir and push potato mixture with a spoon against the strainer to get rid of as much excess liquid as possible; Transfer solid potato mixture to another mixing bowl and set aside bowl of liquid that we collected, for 30 minutes. Liquid contains lots of potato starch and it will sink down on bottom of bowl.
[url href="http://seonkyounglongest.com/wp-content/uploads/2015/06/Screen-Shot-2015-06-02-at-10.34.55-AM.png"][/url] [url href="http://seonkyounglongest.com/wp-content/uploads/2015/06/Screen-Shot-2015-06-02-at-10.35.30-AM.png"][/url] [url href="http://seonkyounglongest.com/wp-content/uploads/2015/06/Screen-Shot-2015-06-02-at-10.35.44-AM.png"][/url]
After 30 minutes, you can see liquid separated in 2 layers. Move it gently to sink and pour top part of liquid carefully. As you pouring liquid, you will see white potato starch sunk down on bottom of bowl. Pour out liquid as much as you can, collect potato starch and add into solid potato mixture.
[url href="http://seonkyounglongest.com/wp-content/uploads/2015/06/Screen-Shot-2015-06-02-at-10.35.59-AM.png"][/url] [url href="http://seonkyounglongest.com/wp-content/uploads/2015/06/Screen-Shot-2015-06-02-at-10.36.12-AM.png"][/url]
Add salt into potato mixture and combine well.
[url href="http://seonkyounglongest.com/wp-content/uploads/2015/06/Screen-Shot-2015-06-02-at-10.36.26-AM.png"][/url] [url href="http://seonkyounglongest.com/wp-content/uploads/2015/06/Screen-Shot-2015-06-02-at-10.37.05-AM.png"][/url]
Heat a large skillet over medium-high heat; add enough cooking oil to cover surface. (about 4 tablespoon.) Spoon out potato mixture for your desire pancake size. I like sand dollar pancake size.
Cook for 3 to 4 minutes, until golden brown, then carefully flip it over. Cook another 2 to 3 minutes until potato pancake is fully cooked and golden brown. Remove cooked potato pancakes from heat and place on a plate that covered with paper towels. Repeat until your batter is gone and add oil as needed.
[url href="http://seonkyounglongest.com/wp-content/uploads/2015/06/Screen-Shot-2015-06-02-at-10.37.11-AM.png"][/url] [url href="http://seonkyounglongest.com/wp-content/uploads/2015/06/Screen-Shot-2015-06-02-at-10.37.23-AM.png"][/url] [url href="http://seonkyounglongest.com/wp-content/uploads/2015/06/Screen-Shot-2015-06-02-at-10.37.54-AM.png"][/url] [url href="http://seonkyounglongest.com/wp-content/uploads/2015/06/Screen-Shot-2015-06-02-at-10.38.18-AM.png"][/url] [url href="http://seonkyounglongest.com/wp-content/uploads/2015/06/Screen-Shot-2015-06-02-at-10.38.45-AM.png"][/url] [url href="http://seonkyounglongest.com/wp-content/uploads/2015/06/Screen-Shot-2015-06-02-at-10.39.19-AM.png"][/url] [url href="http://seonkyounglongest.com/wp-content/uploads/2015/06/Screen-Shot-2015-06-02-at-10.39.46-AM.png"][/url]
When you are ready to serve your potato pancakes, make salad. In a large mixing bowl, combine soy sauce and next 4 ingredients. Toss greens, herbs and chili with dressing and serve immediately with potato pancakes.
[url href="http://seonkyounglongest.com/wp-content/uploads/2015/06/Screen-Shot-2015-06-02-at-10.40.00-AM.png"][/url] [url href="http://seonkyounglongest.com/wp-content/uploads/2015/06/IMG_2480-copy-300×200.png"][/url]
---