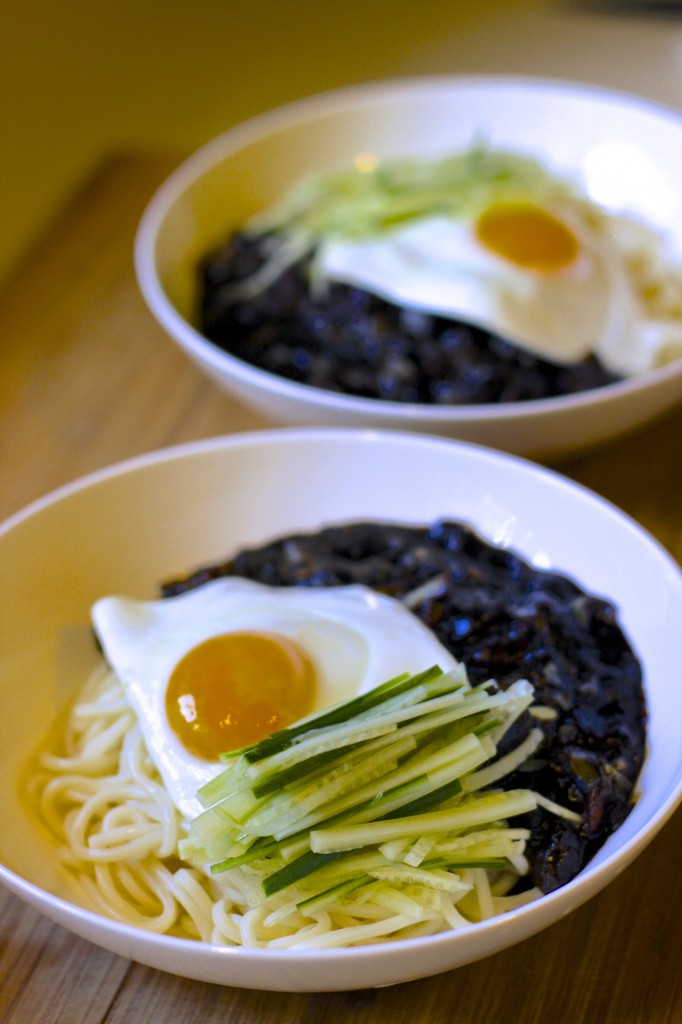 Yeah, Yeah, it's Jjajangmyeon time!! hehehe
This is one of the most delicious yet, easy recipes!!!
The ingredients are very simple, and it doesn't take time so much to cook so hope you give it a try one day! ^__^
Watch my cooking video is always the ideal before you cooking. As I always tell you, 1 time watching is better than 10 times reading. ^__^
Good luck in your kitchen and have fun!!!

Jjajangmyoen / Jajangmyeon (Korean Black Noodles) 짜장면 
Jjajangmyeon (Korean Black Noodles)
This is a very popular Korean Chinese food everyone loves!!!
Author:
Seonkyoung Longest
Ingredients
1 lb. pork shoulder, cut into 1 inch cubes
½ teaspoon salt
4 cloves garlic, chopped
2 green onions, chopped
1 Tablespoon grated ginger
⅓ cup black bean paste (Jajang or choonjang)
1 large sweet onion, medium diced
¼ of large cabbage, medium diced
¼ cup rice wine
1 cup chicken stock
1½ Tablespoon sugar
1½ teaspoon corn starch
2 portions of fresh Jjajang noodles (You can also use dried udon noodles)
Instructions
Heat a wok over medium high; add pork cubes and salt. Stir fry until it gets golden brown crispy outside about 5 minutes. When you have about a couple Tablespoons pork fat in a wok*, add garlic, green onion and ginger. Stir fry for a minute or until you can smell all the aroma. Now add black bean paste, and stir fry for 1 minute; add onion, stir fry for 3 minutes. Finally add cabbage, increase heat to high and stir fry additional 3 minutes. Add rice wine, and stir until all alcohol evaporates. Add chicken stock and sugar, stir to combine. Bring it to hard boil and then reduce heat to medium, simmer for 15 to 20 minutes with out cover.
Meanwhile, bring a big pot of water to boil, cook noodles by following the directions of the package you are using. Drain, rinse with cold water and finish rinsing with hot water to bring the noodle's temperature back. Drain well, and set aside.
Mix corn starch with 1½ teaspoon cold water.  Add corn starch mixture into Jjajang sauce, while you are stirring.
In a serving bowl, add noodles and top with Jjajang sauce. If you like to, add cucumber strips, fried egg or sweet corn for your taste. Enjoy!!
Notes
*Seonkyoung's Tip: Do not drain the pork fat, this is where the greatest flavor coming from for this dish. This is not a healthy food you should eat everyday. when you trying to make this as a healthy food, it won't be good as it should be and as it can be.
Nutrition Information
Calories:
1988
Fat:
63g
Saturated fat:
21g
Unsaturated fat:
36g
Carbohydrates:
179g
Sugar:
43g
Sodium:
2105mg
Fiber:
19g
Protein:
154g
Cholesterol:
438mg