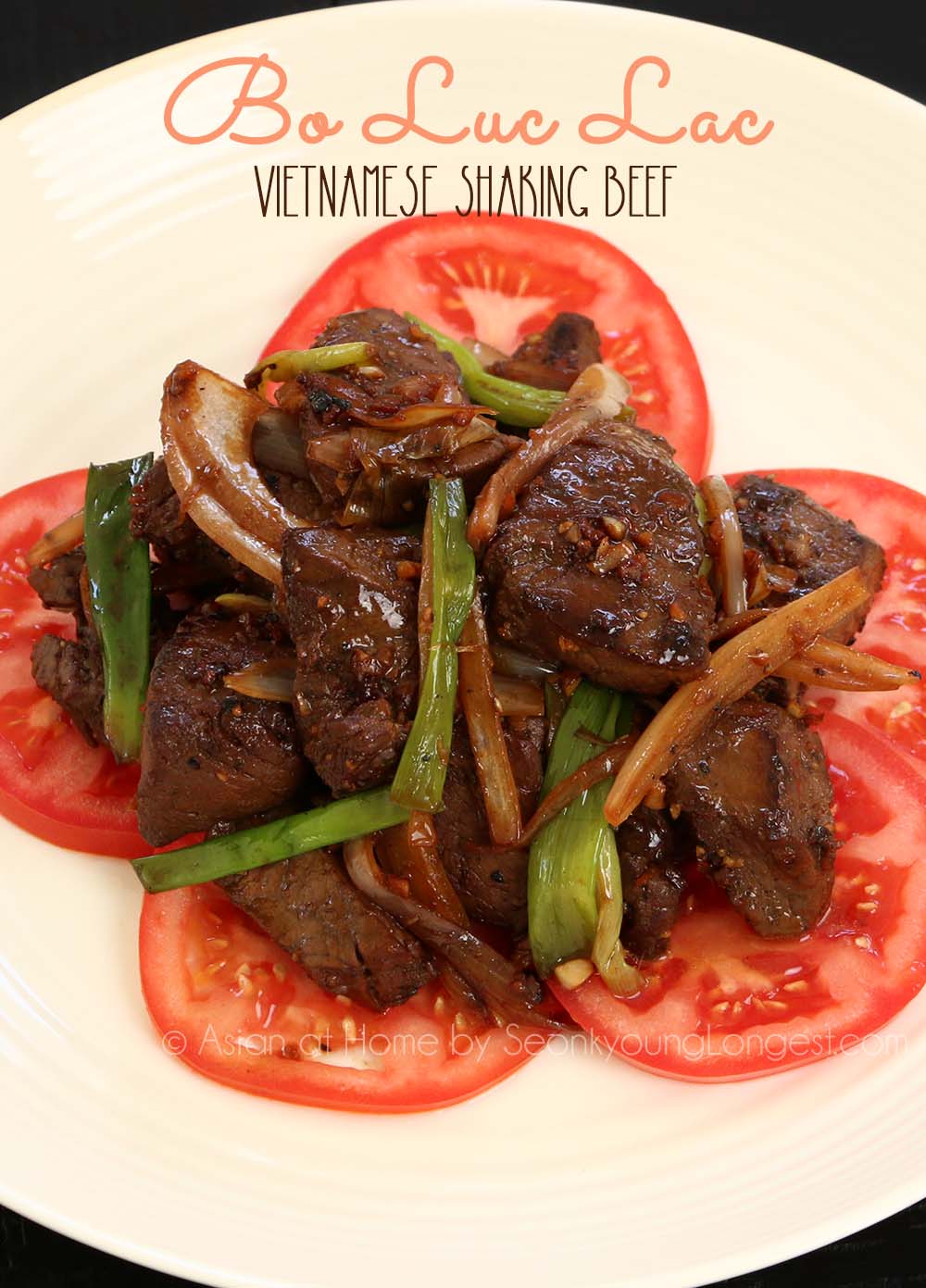 Hi guys!
Today I'm going to share how to make Bo luc Lac, Vietnamese wok-seared steak- Shaking Beef!
If you love beef/steak, this is definitely a must try!! So flavorful and totally different way to enjoy your steak! Bo Luc Lac literally means shaking beef.
I learned how to make this shaking beef from my dear friend, Be, who is excellent at Vietnamese cooking! 🙂 This recipe is a bit different than her original recipe btw, I had to make my own version, you know! lol
I hope you guys give this garlicky, oniony, savory goodness Vietnamese style steak, shaking beef a try at home!!!
Shaking Beef (Bo Luc Lac)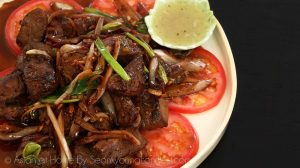 Author:
Seonkyoung Longest
Ingredients
For Marinate Beef
1 lb filet mignon or Rib-eye, remove silver skin and cut into 1-inch cubes


1 Tbs soy sauce
1 Tbs fish sauce
¼ tsp dark soy sauce, optional
1 Tbs sugar
1 tsp black pepper
2 tsp vegetable or canola oil
For Cooking
1 Tbs cooking oil
2 Tbs unsalted butter
4 cloves garlic, chopped
1 shallot, sliced
3 to 4 green onions, cut halves in lengthwise and cut into 2-inch pieces

For Lime Dipping Sauce
1 lime
½ tsp salt
¼ tsp black pepper
Instructions
Combine all ingredients for marinate beef in a large mixing bowl and mix well with your hand. Cover with a plastic wrap and let it marinate for 2 hours in a refrigerator.


Meanwhile make lime dipping sauce by adding all ingredients together in a small mixing bowl. Set aside.


Heat a large cast iron skillet over high heat; add cooking oil and swirl to coat. Add marinated beef, spread as one layer so they will sear nicely. Cook 1 minute each side, or until nicely seared and cooked until your desire doneness.


Add butter, garlic, shallot and green onions, stir everything together and cook until vegetables got soften, about 30 seconds. Remove from heat, transfer to a serving plate and serve immediately with lime dipping sauce. Serve on a bed of tomato slices or salad for your taste.