Hi guys!
I've been traveling for over 2 weeks now. I'm visiting my family in WA right now and will be in Korea in a week to visit my husband! 🙂 It's been so much fun and lovely time with my family in WA but can't wait to see my love in Korea! I'm super excited!!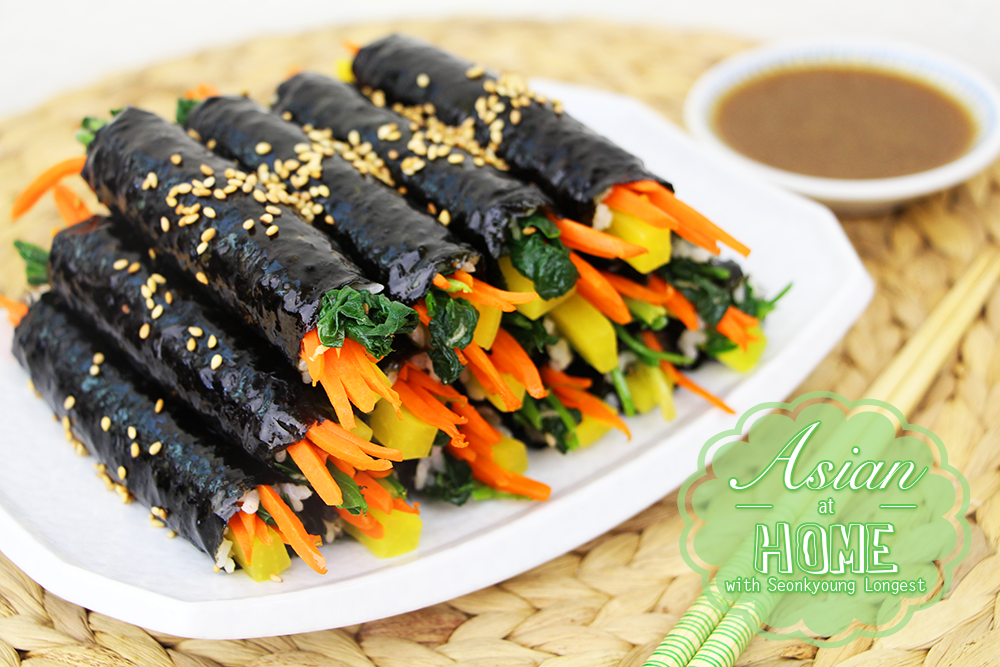 Today here in WA, it's very sunny and beautiful! Sunny day mostly makes me craving Korean Kimbap(Gimbap), which is the most popular picnic food in Korea. We have so many different kinds of kimbap and today I'm going to share with you that very easy and simple to make yet, super addictive! We call Mayak Kimbap; Mayak means drug and this kimbap has this odd name because it's really addictive when you start eating it, very hard to stop. lol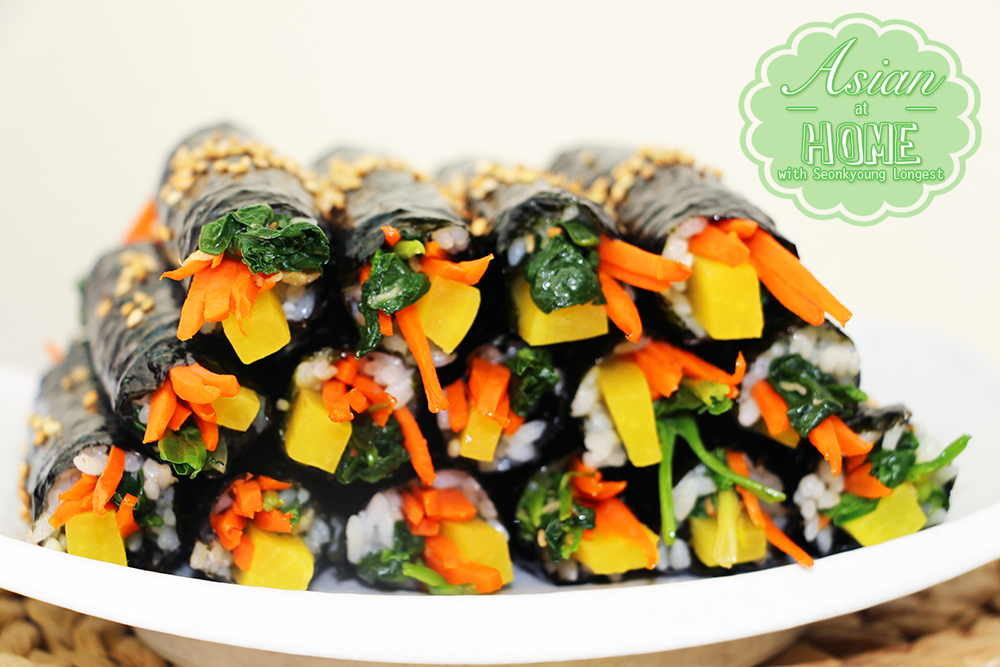 As you can see, they are adorable!! So small, tiny and cute!
The ingredients in kimbap is only 3 kinds and no animal product/protein inside, so it's perfect vegetarian and vegan menu! 🙂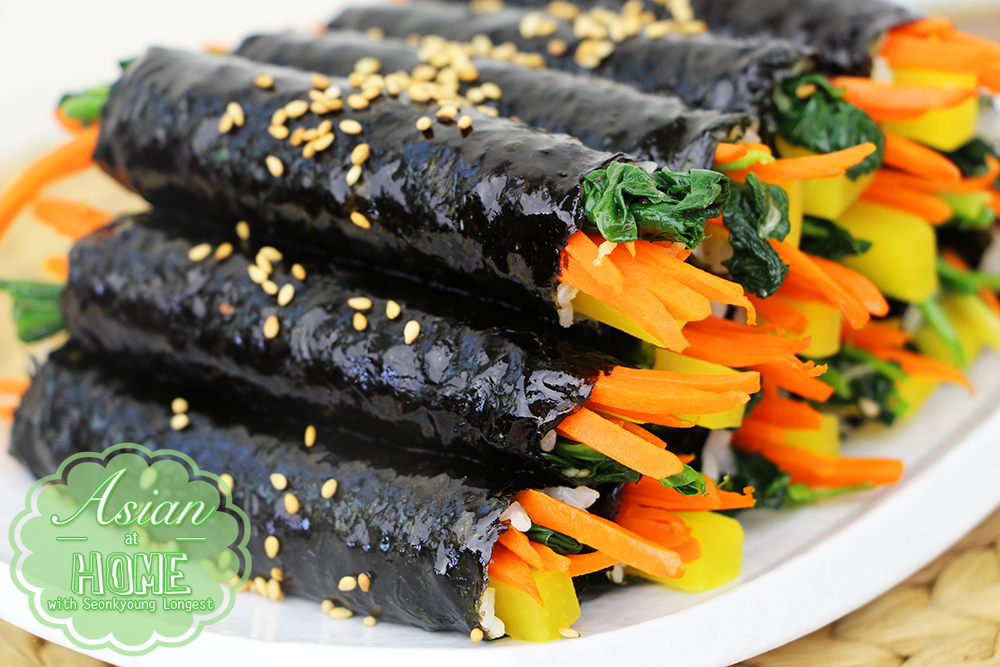 It's also perfect party/finger food, and the filling can be customized for your taste.
I hope you give a try this Drug Kimbap at home and enjoy with your loved ones! 😀
Print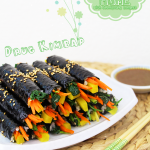 Drug Gimbap (Mini Kimbap) 마약김밥 만들기
---
Author:

Prep Time:

20 mins

Cook Time:

10 mins

Total Time:

30 mins

Yield:

2

to

3

1

x
Description
[url href="http://seonkyounglongest.com/wp-content/uploads/2015/03/IMG_1460-copy-300×200.png"]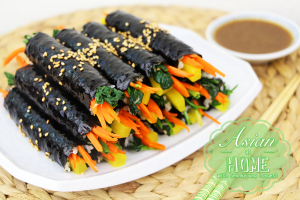 [/url]
---
Scale
Ingredients
2 1/2 cup

Warm cooked medium grain rice(How to make perfect rice tutorial click HERE)

1/4 tsp

. Salt

1/4 tsp

. Pepper

1 tsp

. Sesame oil

4

sheets full size dried seaweed(Gim/Nori), cut into quarter as 16 squares
[url href="http://seonkyounglongest.com/wp-content/uploads/2015/03/Screen-Shot-2015-03-02-at-1.53.57-PM.png"][/url] [url href="http://seonkyounglongest.com/wp-content/uploads/2015/03/Screen-Shot-2015-03-02-at-1.54.04-PM.png"][/url]

16

long strips(4" long, 1/4" wide) Korean pickled radish(Danmooji)
[url href="http://seonkyounglongest.com/wp-content/uploads/2015/03/Screen-Shot-2015-03-02-at-1.53.07-PM.png"][/url]

1 cup

julienned carrot, sautéed with 1Tbs. oil and 1 tsp. salt over high heat for

2

minutes until soften.
[url href="http://seonkyounglongest.com/wp-content/uploads/2015/03/Screen-Shot-2015-03-02-at-1.53.27-PM.png"][/url] [url href="http://seonkyounglongest.com/wp-content/uploads/2015/03/Screen-Shot-2015-03-02-at-1.53.36-PM.png"][/url]

1 cup

Korean spinach side dish(For the recipe click HERE)
[url href="http://seonkyounglongest.com/wp-content/uploads/2015/03/Screen-Shot-2015-03-02-at-1.53.17-PM.png"][/url]
Sesame oil and sesame seeds
For the Sauce
1

Tbs. Soy sauce

1

Tbs. Rice vinegar

1/2

Tbs. Honey

1 tsp

. Dijon mustard
Combine all ingredients in a small mixing bowl and whisk until smooth.
[url href="http://seonkyounglongest.com/wp-content/uploads/2015/03/Screen-Shot-2015-03-02-at-2.08.26-PM.png"][/url] [url href="http://seonkyounglongest.com/wp-content/uploads/2015/03/Screen-Shot-2015-03-02-at-2.08.31-PM.png"][/url]
---
Instructions
In a mixing bowl, combine rice, salt pepper and sesame oil. Gently mix well without smashing rice.
[url href="http://seonkyounglongest.com/wp-content/uploads/2015/03/Screen-Shot-2015-03-02-at-1.54.21-PM.png"][/url] [url href="http://seonkyounglongest.com/wp-content/uploads/2015/03/Screen-Shot-2015-03-02-at-1.54.26-PM.png"][/url]
On working surface, place 1 sheet of Gim(Nori), shiny side down. Place about 1 tablespoon of seasoned rice on him and spread out evenly.
[url href="http://seonkyounglongest.com/wp-content/uploads/2015/03/Screen-Shot-2015-03-02-at-1.54.36-PM.png"][/url] [url href="http://seonkyounglongest.com/wp-content/uploads/2015/03/Screen-Shot-2015-03-02-at-1.54.55-PM.png"][/url]
Place 1 piece of pickled radish(Danmooji) top of rice; 2/3 of way down, closer to you so you will have room to roll it. Place small amount carrot and spinach as well. Lift up end nearest you and tuck over, rolling upwards tightly.
[url href="http://seonkyounglongest.com/wp-content/uploads/2015/03/Screen-Shot-2015-03-02-at-1.55.28-PM.png"][/url] [url href="http://seonkyounglongest.com/wp-content/uploads/2015/03/Screen-Shot-2015-03-02-at-1.56.05-PM.png"][/url][url href="http://seonkyounglongest.com/wp-content/uploads/2015/03/Screen-Shot-2015-03-02-at-1.56.16-PM.png"][/url] [url href="http://seonkyounglongest.com/wp-content/uploads/2015/03/Screen-Shot-2015-03-02-at-1.56.20-PM.png"][/url]
Place kimbap on a plate seam side down. Repeat until you are done with all ingredients, you will end up with16 Drug Kimbaps.
[url href="http://seonkyounglongest.com/wp-content/uploads/2015/03/Screen-Shot-2015-03-02-at-1.56.40-PM.png"][/url]
Brush Drug Kimbaps with sesame oil all around and garnish with sesame seeds.
[url href="http://seonkyounglongest.com/wp-content/uploads/2015/03/Screen-Shot-2015-03-02-at-2.08.03-PM.png"][/url] [url href="http://seonkyounglongest.com/wp-content/uploads/2015/03/Screen-Shot-2015-03-02-at-2.08.12-PM.png"][/url]
Enjoy with or without the sauce!
[url href="http://seonkyounglongest.com/wp-content/uploads/2015/03/Screen-Shot-2015-03-02-at-2.08.39-PM.png"][/url] [url href="http://seonkyounglongest.com/wp-content/uploads/2015/03/Screen-Shot-2015-03-02-at-2.08.43-PM.png"][/url][url href="http://seonkyounglongest.com/wp-content/uploads/2015/03/Screen-Shot-2015-03-02-at-2.08.46-PM.png"][/url]
---