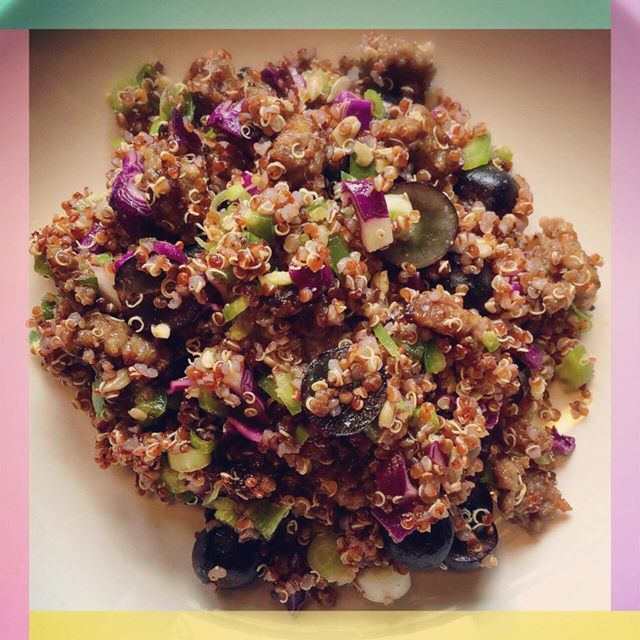 Hi guys!
Today I want to share my 2 healthy quinoa recipes with you all!  I created 2 delicious quinoa recipes, one with shrimp and mango and another one with pork sausage and grape. 
They are totally different 2 quinoa salads so pick what you want!  😀  
Summer is coming and we are trying to eat healthier. So when I went to grocery store, I garbed a box of red quinoa since I've never tried it. (I've only tried white one.) I remembered you guys were telling me red quinoa is actually tastier too, so I wanted to try it out. After I tried, I actually thinking red one has a bit more stronger cent, the taste was same to me. 
But I've learned eating colorful food is very good for you, so it made me feeling even healthier! 🙂 
Cooking quinoa is very easy, it's easier than cooking rice!! 
I cooked 1 cup of quinoa to make these 2 salads, which could feed 2 to 4 people each time. All the quinoa package has a directions to follow. Basically 1 cup quinoa with 2 cups water and bring it to boil and cook for 10 to 12 minutes on medium low heat with cover. I always let them rest about 10 minutes after done cooking so they can finish cooking process properly. 
So here is another version of Red Quinoa Salad with Pork Sausage and Black Grape!
Surprisingly I liked this one better than prawn with mango one?! I think because how well balanced all the flavors(savory-sausage, tangy-lime, spicy-jalapeno, sweet-grape and bitter-quinoa) and it really surprised me! The texture worked so well too! 🙂 Lots of crunch and juicy textures! 
I think it would be great as a meal (we had as our lunch!), side dish or make a bunch and bring it to a potluck party! 
I hope you guys try this recipe and fall in love with quinoa! 
Love Love Love!!!
XoXo
Red Quinoa Pork Sausage Salad with Black Grape
Author:
Seonkyoung Longest
Ingredients
2 links bratwurst, removed from casing
¾ cup fully cooked red quinoa
¼ cup chopped red cabbage
2 green onion, chopped
1 jalapeno, chopped and seeded if you like
10 black grapes, cut into halves
Fresh juice from ½ lime or lemon
¼ tsp. salt
⅛ tsp. black pepper
Instructions
Heat a large skillet over medium high heat; add bratwurst and break down with an wooden spoon while cooking, about pea size. Remove from heat when they fully cooked and nice golden brown outside.
In a large mixing bowl, add quinoa and rest of all ingredients. Add cooked pork sausage and toss until all ingredients well combined.
Serve immediately.
Notes
You can use other type of sausage if you like! 🙂
Nutrition Information
Serving size:
2
Calories:
463
Fat:
22g
Saturated fat:
4g
Unsaturated fat:
9g
Carbohydrates:
51g
Sugar:
1g
Sodium:
864mg
Fiber:
7g
Protein:
18g
Cholesterol:
51mg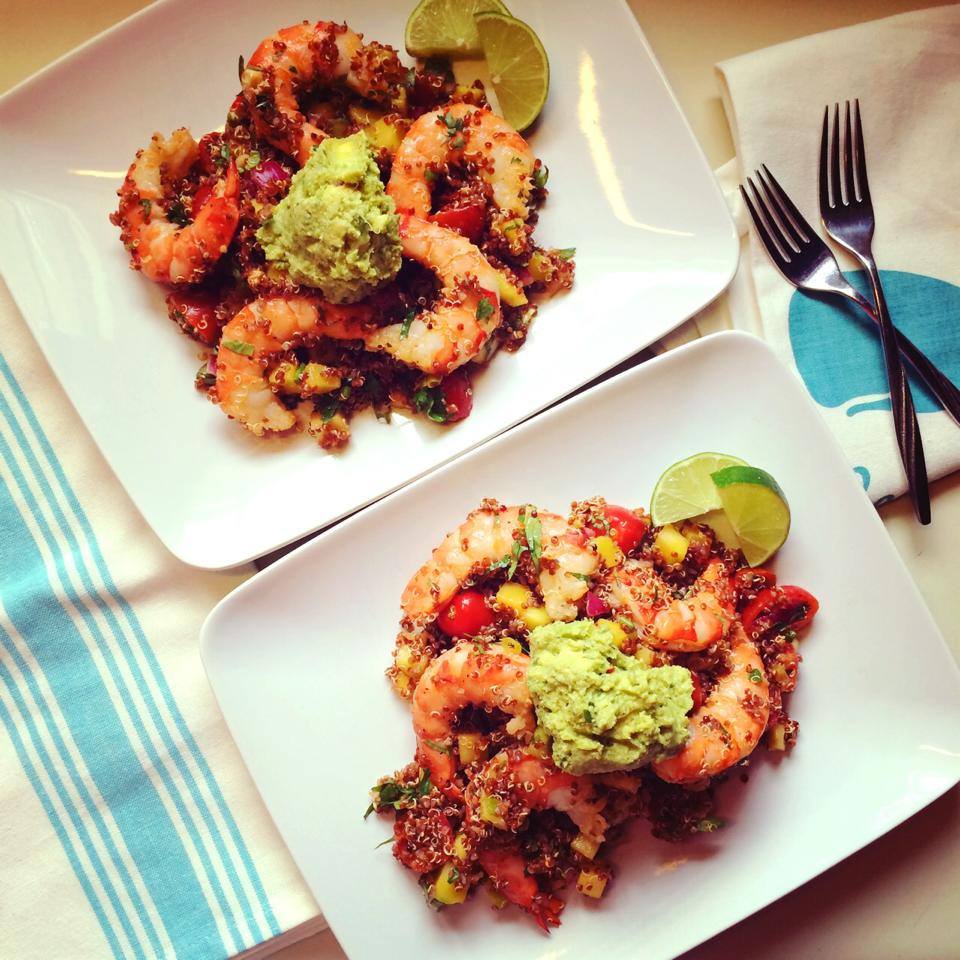 If you want to see the first version of my red quinoa salad, click here!